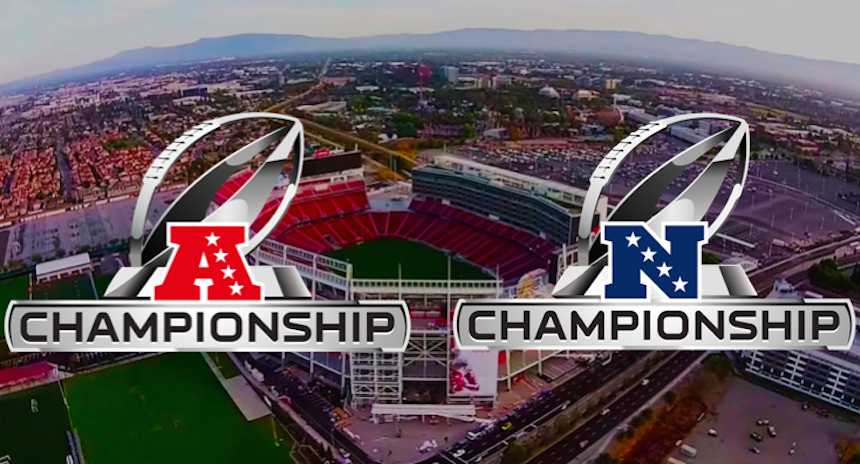 NFL Playoffs: Conference Championship Opening Line Report
In the Wild Card round all four road teams were victorious but it was all home teams winning in the Divisional Round, setting up Conference Championship matchups of Patriots/Broncos and Cardinals/Panthers.
Patriots at Broncos (Sunday at 3:05 pm ET): BetOnline was the first to open this game and they started with Patriots -2.5 but were quick to move to Patriots -3.5. Soon after, most of the market then opened Patriots -3 which is where the line has now settled at.
It's interesting to see how the divisional round games impacted the point spreads. Prior to the weekend, 5Dimes listed the lookahead line for Pats/Broncos at Patriots -1.5, so it appears that this weekend's games impacted the point spread by 1.5 points. Early bettors appear to be low on Manning and the Broncos, and feeling more confident in a healthy Gronkowski and the Patriots.
To further prove that early bettors weren't impressed by the Broncos win on Sunday afternoon, Denver is receiving just 20% of spread bets and 23% of moneyline bets so far. We've also recently added betting percentages for money wagered from a sharp offshore sportsbook and they're reporting that over 80% of money is on the Patriots. It's also noteworthy that despite the Arizona-Carolina line being available longer, New England-Denver is receiving far more bets which means more public money and handle.

Cardinals at Panthers (Sunday at 6:40 pm ET): BetOnline was once again the first to open this game and it happened to be during the 2nd quarter of Carolina/Seattle. The Panthers were in such control that sportsbooks considered them a shoe-in for the NFC Championship game and BetOnline opened with Panthers -5. This proved to be a bit of an overreaction though, as they eventually dropped to Panthers -3 by the end of the game. The rest of the market then opened Panthers -3 where it currently stands.
Prior to this weekend's games, 5Dimes listed the lookahead line of Carolina -2.5 and many thought that Arizona at +2.5 would be a steal. Then the Cardinals nearly blew it against the Packers while the Panthers handled the Seahawks, and this caused the 0.5 point adjustment from sportsbooks.
Again, early bettors are sold on the favorite in this one, as Carolina is getting 70% of spread bets and 64% of moneyline bets.
Below shows the current Super Bowl odds and exact matchups at 5Dimes sportsbook.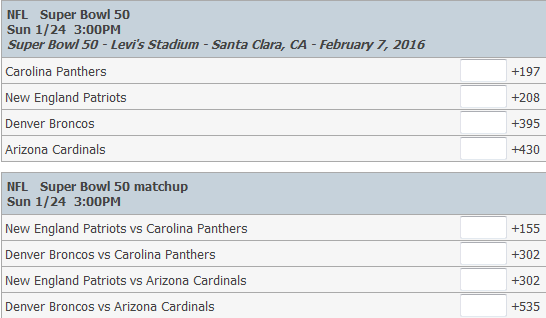 Prior the the start of the season, the Packers and Seahawks were +550 co-favorites to win the Super Bowl with the Colts listed third at +800, but none of those teams are still alive. The Patriots were +900, Broncos +1500, Panthers +4500, and Cardinals +3000 to win the Super Bowl before the year.
And here are lookahead moneylines for potential Super Bowl matchups:
Super Bowl lookahead moneylines at 5Dimes NE -130 vs. ARZ +110 DEN -125 vs. ARZ +105 NE -110 vs. CAR -110 CAR -150 vs. DEN +130

— Sports Insights (@SportsInsights) January 18, 2016