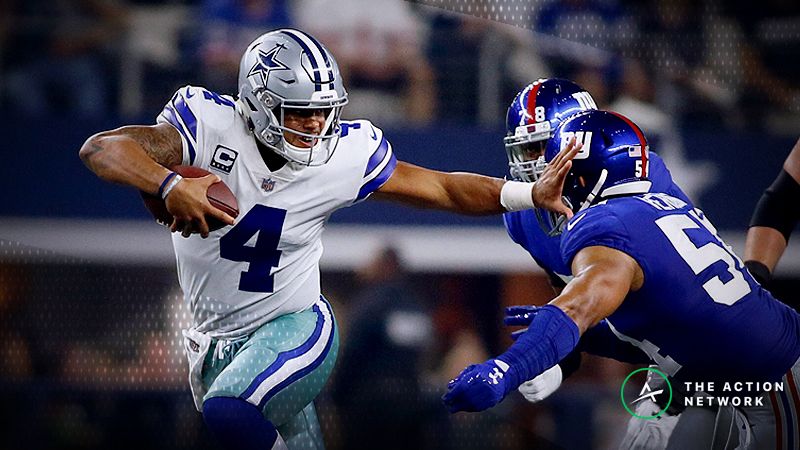 NFL Betting Tip: Week 1's Low-Scoring Teams Offer Over/Under Value
In Week 1, the New York Giants scored 15 points in a loss to the Jacksonville Jaguars. The G-Men's opponent on Sunday night, the Dallas Cowboys, also struggled to put points on the board. In their opener, the 'Boys found the end zone just once and had a successful two-point conversion to tally eight total points.
The offensive struggles by the Giants and Cowboys hurt over bettors. Each team went under its Week 1 total by more than a touchdown. The public hasn't forgotten the poor performances and expects the Giants-Cowboys Sunday Night Football game (8:20 p.m. ET) to be a low-scoring affair.
More than 60% of tickets are on the under. Since 2003, only 133 out of 3,856 (3.4%) NFL games in the Bet Labs database have closed with 60% or more of tickets on the under. It appears casual bettors are overreacting to slow starts, and that could be costly.
Dating back to 2003, the over is 447-405-11 (53%) in games when both teams went under the previous week. Oddsmakers know recreational gamblers tend to chase results.
If both teams went under in their last game, bookmakers will shade the total to the under anticipating public money. The lower over/under makes it easier for the over to hit.
This strategy works the best early in the season when we can take advantage of bettors putting too much emphasis on a small sample of player and team performances.
In Weeks 2-4, it has been profitable to bet the over when both teams went under the previous week: 93-56-1 (62%). A $100 bettor would have returned a profit of $3,289 following this system.
The sample size is not huge, but that is an inherent problem with the 16-game NFL season. However, the results have been consistent, returning a profit in 13 of the past 15 seasons.
Recreational bettors are playing the under after the Giants and Cowboys failed to go over their Week 1 totals. Go against the grain and bet the over — history is on your side.
Week 2 system matches
Atlanta Falcons vs. Carolina Panthers (44.5)

Los Angeles Rams vs. Arizona Cardinals (45)

Jacksonville Jaguars vs. New England Patriots (45)

Dallas Cowboys vs. New York Giants (42)
This article was originally posted on ActionNetwork.com by John Ewing. Sports Insights is part of The Action Network.