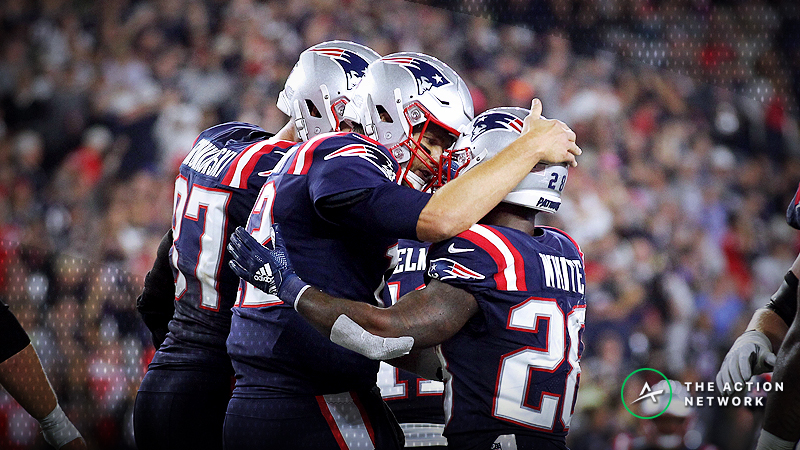 Oddsmakers Struggling to Adjust Over/Unders for Historic NFL Scoring
Through six weeks of the 2018 NFL season, teams are scoring 24.1 points per game. According to Pro Football Reference, that would set a record for the highest-scoring season in NFL history.
With teams scoring at a historic pace, overs are currently 51-42 (54.8%) on the season.
Through the last three weeks, oddsmakers have had an especially hard time adjusting for explosive offense, with overs posting a 26-19 (57.8%) record.
Here's the week-by-week breakdown so far this season based on line data from Pinnacle:
Bettors wagering $100 on every over this season would have made a profit of $666.
The more telling stat is that not only are 54.8% of all games going over the closing total, but they're doing it by an average margin of 2.17 points, according to Bet Labs.
Oddsmakers have certainly been trying to adjust, evidenced by the Kansas City Chiefs-New England Patriots closing over/under of 59.5 in Week 6.
Unfortunately for the sportsbooks, New England won, 43-40, sending the final score sailing over the historically high total.
Despite the fast start for overs, this season's current return on investment (ROI) of +7.2% still trails 2011-12 (+10% ROI), 2016-17 (+8.1%) and 2014-15 (+7.6%) in terms of the most profitable NFL seasons for overs through six weeks.
This article was originally posted on ActionNetwork.com by PJ Walsh. Sports Insights is part of The Action Network.