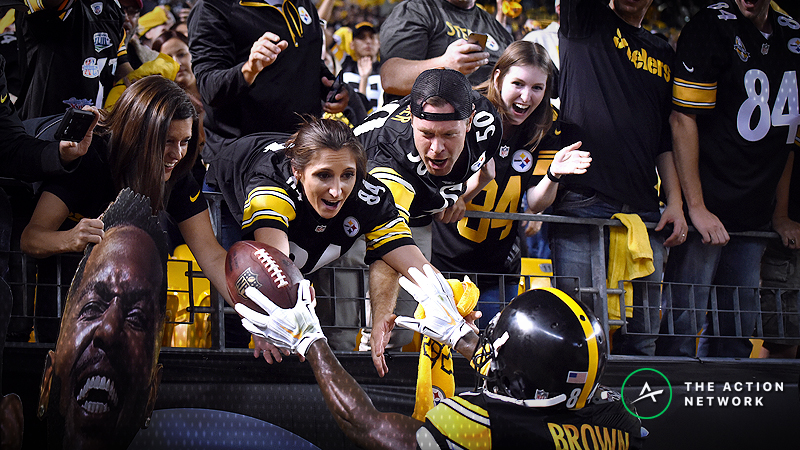 Falcons-Steelers Offering Highest Over/Under of NFL Season
NFL teams are seemingly scoring at will this season, resulting in an incredible 24 points scored per game per team. If the season ended today, it would set a record, according to Pro Football Reference.
With scoring soaring, books have struggled to set over/unders high enough, resulting in overs posting a 34-29 (54%) record through four weeks.
Oddsmakers have had enough.
In Weeks 1-4, 10 games closed with over/unders of 50 and above. In Week 5 alone, seven games are currently listed with totals of at least 50.
And the icing on the cake is Sunday's Atlanta Falcons-Pittsburgh Steelers matchup sporting a total of 57.
According to our Bet Labs software, only 10 games have closed with over/unders of at least 57 since the start of the 2003 season.
Bet Labs uses archived NFL line data from Pinnacle, which is currently at 57. However, most of the market is already at 57.5. Should Pinnacle adjust to the market consensus, this total will join six other games in history with totals above 57.
As of Tuesday morning, only 47% of bets on the total in Falcons-Steelers were on the over.
For those wondering, the Oakland Raiders-Kansas City Chiefs game on Christmas Day in 2004 closed with an over/under of 60, the highest closing total in our database. The Chiefs won that matchup 31-30.
This article was originally posted on ActionNetwork.com by PJ Walsh. Sports Insights is part of The Action Network.