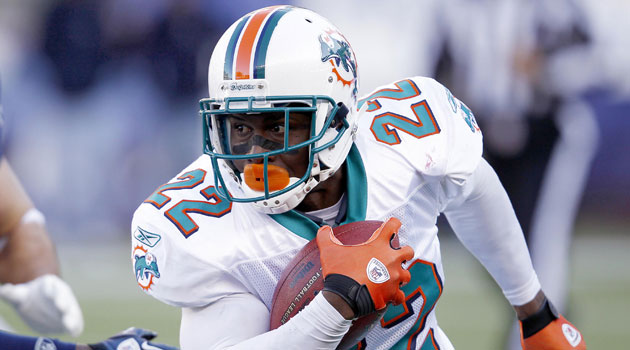 NFL Marketwatch – Miami Dolphins vs. Houston Texans
Welcome to the 2012-13 edition of NFL Marketwatch, where the team at Sports Insights gives sports fans unprecedented insight into the NFL point-spread market.
Every week we analyze the sports betting marketplace to pinpoint which games the public is chasing and which the sharps are pounding.
Overall Record: 0-0
The goal of this weekly column is to highlight games that offer true line value. Often, if a line looks too good to be true, there is a reason. You'll occasionally need the worst teams on the board to come through. We typically buy on bad news and sell on good.
Miami Dolphins at Houston Texans (9/9 – 1:00 p.m. ET)
Last year our NFL marketwatch turned in another terrific season, going 12-5 (70.6%) to push our all-time record to 160-116 (58.0%). In our first edition of the new season, we aim to provide bettors with unique insight and information from the sportsbook's perspective. Ready for another winning season? Let's get things kicked off.
Prior to last season, the Houston Texans had managed just one winning season in their short franchise history and commentators constantly knocked their porous defense for its inability to contend despite an elite offense filled with playmakers like Arian Foster and Andre Johnson. That all changed last season under new defensive coordinator Wade Phillips, whose unit allowed just 17.4 points and 285.7 total yards per game — good for second and fourth in the league, respectively. Although the team was bounced from the playoffs in the divisional round (in large part due to an injury to quarterback Matt Schaub), the Texans have been deemed a sleeper Super Bowl contender by fans and analysts alike.
The Dolphins, on the other hand, are a different story. Miami won just six games last year and have undergone a thorough roster makeover this offseason. All-Pro wide receiver Brandon Marshall was re-united with Jay Cutler in Chicago. Vontae Davis, who had emerged as one of the league's top young cornerbacks, was dealt to the Colts in exchange for draft picks. The team also drafted Texas A&M quarterback Ryan Tannehill with their first round pick, and the converted receiver will supplant last year's starter Matt Moore behind center.
This type of discrepancy explains why the Texans opened as a 6.5-point favorite at Pinnacle, but the line movement has been nothing short of extraordinary. Houston is currently receiving 82% of spread wagers, but even that lopsided betting percentage is tough to justify a five point line move. The line has blazed past key numbers at 7 and 10 and currently sits at 11.5.
The table below shows a breakdown of the spread betting percentages from our six contributing sportsbooks.
Teams

Market %

Sprtsbk

BetUS

Carib

WagerWeb

5Dimes

SIA

MIA
HOU
18%
82%
16%
84%
23%
77%
9%
91%
7%
93%
37%
63%
12%
88%
While many may believe this movement is due to the team's announcement that rookie Tannehill, and not last year's starter Moore, would get the nod, the line movement does not corroborate that hypothesis. Tannehill was named the starter on August 20th, which caused the line to move from +7 to +8; however, the line did not hit 10 until a week later on August 27th.
The chart below shows the changes in spread betting percentages and line movement since this game opened at Pinnacle.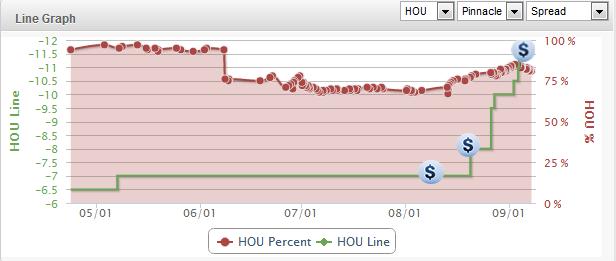 It certainly appears that this lopsided public betting has created value on the Dolphins, but perhaps more importantly, they fit our vaunted 80/20 rule. Since 2004, underdogs receiving 20% or less of spread bets have gone 84-63 during the regular season, resulting in 16.56 units earned and an 11.3% return on investment (ROI).
In addition, our Betting Systems triggered a Smart Money move on Miami +7.5 at Buckeye. Considering that you can now find the Dolphins at 13 by shopping for the best line, there appears to be tremendous value on the road dogs.
Once again we're going to fade the public, follow the sharp money, and take the visiting underdog.

Game to Watch (0-0)
Miami Dolphins +13 (Sports Interaction)
It should be another exciting week of NFL Football action. Keep Marketwatch handy and your browser pointed to SportsInsights.com for the latest real-time updates.
Enjoy the games!
Daniel Fabrizio
President
SportsInsights.com