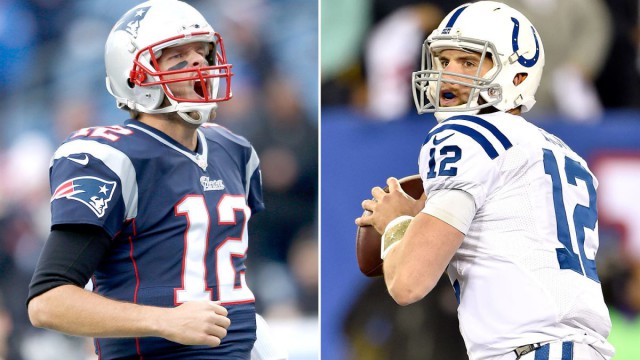 NFL Game of the Week: New England Patriots at Indianapolis Colts
"I can feel it coming in the air tonight, oh lord. And I've been waiting for this moment for all my life." Those famous lyrics by the one-and-only Phil Collins can aptly describe the feelings of Colts and Patriots fans who have been zealously anticipating this game ever since the AFC Championship and the unrelenting Deflategate fall out.
They're not alone in eagerness, as this game has received nearly double the number of bets of any other Week 6 matchup. In fact, there has been more than three times the number of bets placed on this game than Denver/Cleveland, Kansas City/Minnesota, Houston/Jacksonville, Chicago/Detroit, Washington/New York Jets, Miami/Tennessee, San Diego/Green Bay, Baltimore/San Francisco and New York Giants/Philadelphia. That's more than half of this weekend's games!
Over the offseason Indianapolis was listed as a 1-point favorite by CG Technology, but that line has changed more dramatically than Renee Zellweger's face. Although the Colts have a winning record at 3-2, the team has actually been outscored 113-99 and franchise quarterback Andrew Luck is dealing with a shoulder injury. On the other side of the ball, the Patriots have gone 4-0 while outscoring their opponents 149-76. In fact, the Pats are currently listed at +600 to go undefeated during the regular season and +1250 to go 19-0 and win the Super Bowl.
The Patriots opened as a 7-point favorite at CRIS and have received a whopping 92% of spread bets which ties for the most lopsided public betting in our database. This ridiculously one-sided betting has moved New England from -7 to -10, meaning the line is now 11-points off from preseason expectations. Considering the volume of bets, this could be the most lopsided game we've ever seen.
We also spoke with Ryan Oakes from the William Hill sportsbook in Las Vegas, who reported that New England was receiving 95% of total tickets and 98% of total dollars wagered. Considering the recent history between these two teams, it's easy to understand why bettors are so optimistic about New England.
Tom Brady is an MVP front-runner, Andrew Luck has throws for more interceptions than touchdowns this season, and the Patriots have outscored the Colts 191-73 in their past four meetings (including a 45-7 blowout in the AFC Championship game). Even so, this seems like a massive overreaction.
Since 2003, teams receiving no more than 20% of spread bets have gone 104-84 ATS (55.3%) and double-digit underdogs receiving such limited support have gone 21-13 ATS (61.8%).

We always recommend buying on bad news and selling on good, and there aren't many better opportunities than this game. Indy has underwhelmed in the early going, while New England has throttled their competition. Add in the Patriots recent domination over the Colts and the "F*** you" factor and we have the perfect storm.
The Colts fit our updated 80/20 betting system, which has gone 37-14 ATS with +20.47 units won and a 40.1% return on investment (ROI). We have also found that home underdogs of at least 7-points have gone 118-90 ATS (56.7%) with +18.49 units won.
There has clearly been an influx of public money on the Patriots, which has been responsible for the move from -7 to -10. That means that bettors can essentially get three free points based on public perception. That type of contrarian value is tough to ignore — even if recent history doesn't bode well for Indy.
In Week 1, Ben Roethlisberger passed for 351 yards against the Patriots defense. Since then they have faced a trio of subpar quarterbacks including Tyrod Taylor, Blake Bortles and Brandon Weeden. This secondary has been largely untested since losing Darrelle Revis and Brandon Browner over the offseason. If Andrew Luck is healthy, he could post a huge game and help the Colts stay competitive.
The screenshot below displays how the Colts spread and public betting trends have moved since opening on Sunday:

These numbers are subject to change before kickoff, so bettors should be sure to visit our free NFL odds page for the latest lines, injuries, public betting trends and more.

Have any questions for the staff at Sports Insights? Utilize our live chat to speak with a customer service representative or e-mail us at help@sportsinsights.com.
David Solar is the Content Manager for Sports Insights and can be reached directly at David@sportsinsights.com.