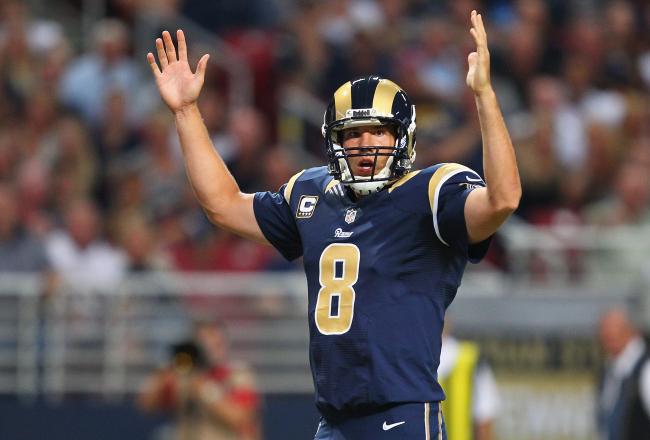 NFL Early Line Moves of Interest – Week 3
After two weeks of action, it is fair to say that it has been business as usual in the NFL — that is to say, highly unpredictable and filled with more surprises than the ending of The Usual Suspects. It's no shock that the winner of the Cardinals/Patriots game would be 2-0, but who thought that team would be Arizona?
Seriously, after just two weeks we have only six remaining undefeated teams. We bore witness as Peyton Manning threw three interceptions in a single quarter, while his brother Eli piled up over 500 yards to overcome a 14-point third quarter deficit. The league's leading rusher, C.J. Spiller, wasn't even the opening day starter. The leader in receptions, Danny Amendola, went undrafted out of Texas Tech and played in just one game last season due to injury.
For sports bettors, this unpredictability can make it difficult to properly gauge value. For years, visitors have been undervalued. This season home teams are 23-9 overall and 19-12-1 against the spread (ATS). Home underdogs have been even better with an 8-3 record. Obviously this sample size is insignificant, but it will be interesting to monitor this situation to see if this is a passing trend or the new norm.
This weekend should have plenty of great matchups highlighted by New England's showdown with Baltimore, but the following games have had the most eye-catching line movement at the market setting Cris sportsbook.
St. Louis Rams (1-1) at Chicago Bears (1-1) – 1:00 PM EST on Sunday
Coming into the season, expectations for Chicago were higher than Ricky Williams at a Ziggy Marley concert. Bovada listed the Bears with pre-season 16/1 odds to win the Super Bowl, and Las Vegas sportsbooks reported taking a lot of action on Lovie Smith's squad. The logic was simple enough. The defense had always been championship caliber and by adding potent weapons in Brandon Marshall and Michael Bush, Jay Cutler would finally show why management gave up two first round picks to pry him away from Denver. Unfortunately through two weeks Cutler has completed just 51.6% of his passes with five interceptions.
On the other side, the Rams have exceeded early projections. Former number one pick Sam Bradford has been the height of efficiency, completing a whopping 71.7% of his passes with a 4:1 touchdown to interception ratio. After nearly knocking off the Lions in week 1, St. Louis was able to knock off an up-and-coming Washington Redskins team, 31-28, in week 2.
Despite their performance, the Rams opened up as an 8-point underdog for Sunday's game in Chicago. The public betting has been incredibly even (the Rams are currently receiving 51% of spread bets), yet the line has dropped a full point to the key number of 7. That line movement would seem to indicate that early sharp money likes the road dog.
It's worth nothing that both teams could be without their leading rushers as Matt Forte is out indefinitely with a high ankle sprain while Steven Jackson is considered questionable due to a hamstring injury. This is a situation that we will continue to monitor, but the early movement on this game definitely makes it a line to watch.
San Francisco 49ers (2-0) at Minnesota Vikings (1-1) – 1:00 PM EST on Sunday
It's still incredibly early, but so far the Niners have looked like the most well-rounded team in the NFL. They looked dominant in a 30-22 victory over the Packers — at Lambeau Field no less — in which the game wasn't nearly as close as the score would indicate. Last week they held a potent Lions offense to under 300 total yards in yet another game that wasn't as close as the final score indicated. This squad has dominated the line of scrimmage on both sides of the ball and does not turn the ball over. In fact, QB Alex Smith — who throughout his career has been regarded as a liability — has now gone 216 consecutive passes without an interception.
We constantly preach the philosophy of buying on bad news and selling on high, meaning this could be the perfect time to fade the 49ers. San Francisco opened as a 6-point favorite, but with 95% of spread bets taking the road favorite, the line has moved to -7. In fact, if you shop for the best line you can already see lines of 7.5 at Bovada and Carib.
San Fran is a run-heavy team that was not built to cover large spreads. They are physical at the line of scrimmage and love to pound the run. Between their affinity for the ground game and the presence of Adrian Peterson for the Vikings, it's tough to imagine that the clock will be stopped too often. Add to that our 80/20 betting system, and this quickly becomes a fascinating game for contrarian bettors.
Green Bay Packers (1-1) at Seattle Seahawks (1-1) – 8:30 PM EST on Monday
There is a palpable energy that comes with hosting a Monday Night game. You're the only game on television for an entire nation of avid football fans. A day's worth of built up anticipation is just waiting to be unleashed when your home team takes the field. Behind the 12th man, Seattle already boasts one of the best home field advantages in football, so next Monday's game should be electric.
Seattle may be lead by a rookie quarterback, but Russell Wilson looked pretty polished in Sunday's 27-7 beat down of the Cowboys. In that game the former Wisconsin Badger did a great job managing the game, completing 15 of 20 passes with no turnovers. The 'Hawks played to their strengths, pounding the run with Marshawn Lynch and completely stifling the Cowboys ground game.
The Seahawks opened as a 4.5-point underdog but, according to our public betting trends, are receiving just 21% of spread bets. Despite this lopsided betting the line has dropped significantly and currently sits at +3 (+105). This reverse line movement would indicate that early sharp money likes the home dog. It is interesting to note that the line did hit -3 (-110), however the juice was moved to +105 almost immediately.
What do you think? Will the Packers show why they flirted with perfection last season? Would you feel comfortable betting against the 49ers? Are the Rams — and for that matter all of the NFC West — better than we originally believed? Leave your thoughts and opinions in the comments section below.