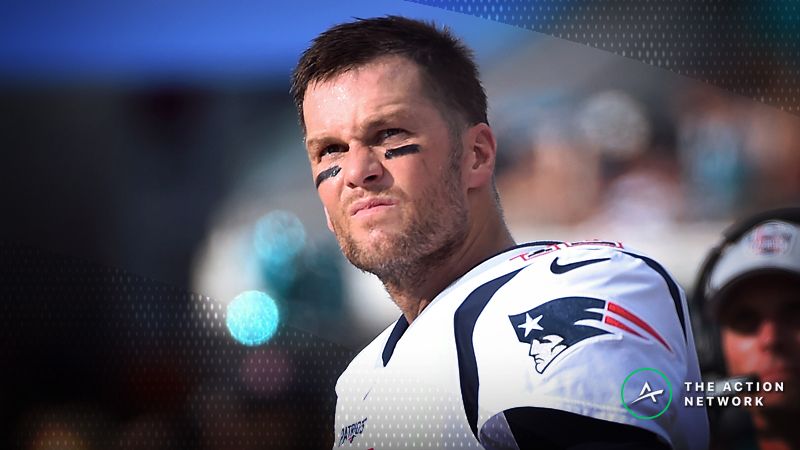 Brady Receiving Lowest Public Betting Support in 1,771 Days
The New England Patriots are not off to the hottest of starts and concern is aflutter in the greater Boston area. I, for one, am very concerned … but then again, we've seen this before.
The interesting tidbit about this week's game against the Dolphins is that bettors have seemingly lost faith in the Pats. These folks don't live under rocks, either, as I think everyone knows that:
A) The Patriots have gotten off to rough starts before.
B) The Patriots always cover.
C) The Patriots really always cover after a loss (75% against the spread since 2003).
There have been just five times since '03 in which they've lost two straight games, so this is a very rare spot. The Patriots are 4-1 ATS in that mini sample and have covered by a measly 17.6 points on average. Ho-hum.
Regardless, the Pats' support has taken a hit over the last day, as their spread betting percentage has fallen from the low-50s to just 43%.
The last time Tom Brady received 43% of bets or less? Nov. 24, 2013 against Peyton Manning and the Denver Broncos, who were 9-1 at the time. New England closed with 39% of bets as a 1-point favorite and won, 34-31.
The Patriots did garner just 42% of spread tickets against the Texans in Week 3 of the 2016 season, but that game was started by Jacoby Brissett as Brady served his four-game Deflategate suspension.
By the time Sunday rolls around, that 2013 Denver game will be 1,771 days ago. I wish it was 1,776 days ago because then I could make some poor attempt at a patriotic pun, but it wasn't meant to be.
There have been just 12 times since 2003 that a Brady-led Patriots team has received 43% of bets or less in 224 regular season games. They actually closed with 47% in Week 1 vs. Houston — the first regular-season game since November 2014 in which Brady started and New England garnered less than 50%.
The Patriots have fared well in these games, but then again, they always fare well. Brady is 24-13-2 ATS (64.9%) when getting less than 50% during the regular season and 149-101-8 ATS overall (59.6%).
Whether their support stays this low remains to be seen, but generally speaking, percentages tend to even out in the latter stages of the week. If you see a team with 70% of bets on Thursday, there's a decent chance they'll have 60% by Sunday.
I was surprised to see the Pats dip this far below 50% out of the blue, but given their poor play and Miami's 3-0 ATS start, I assume bettors are going to wait to see if the Patriots' play turns around before betting on them again.
In full transparency, I myself have taken the Pats at -6.5. Perhaps some folks are holding off because their book is at -7, but I recommend buying low on Brady and Belichick if you can get the better number.
This article was originally posted on ActionNetwork.com by Mark Gallant. Sports Insights is part of The Action Network.