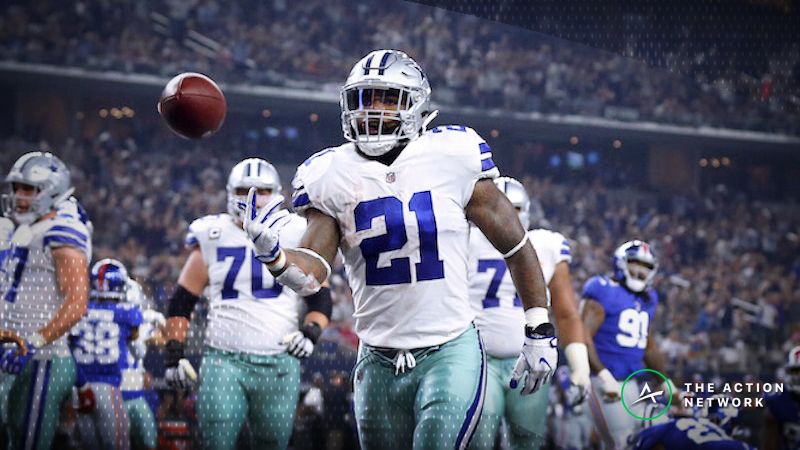 3 Thanksgiving Day NFL Trends to Know: Favorites Tend to Cover on Short Weeks
Turkey, pumpkin pie and football. It must be Thanksgiving. If you are going to bet the NFL's three-game slate on Thursday, here are a few strategies to follow for a profitable Turkey Day.
Chicago Bears (-3.5) at Detroit Lions (12:30 p.m. ET, CBS)
Washington Redskins (+7.5) at Dallas Cowboys (4:30 p.m. ET, FOX)
Atlanta Falcons (+13) at New Orleans Saints (8:20 p.m. ET, NBC)
A word to the wise: Most of these sample sizes on these trends are small, so use the research below as a starting point, not as the only factor, in your decision-making process.
---
Gobble, Gobble, Chalk
Favorites on Thanksgiving are 27-11 (71.1%) against the spread since 2003 per Bet Labs. Teams favored by six or more points have gone 14-3 ATS.
This is a small sample but it follows a larger trend. On a short week, four days between games, favorites are 93-62-4 (60.0%) ATS since 2003.
The Thanksgiving holiday is the shortest week of preparation in the season with teams playing day games. The more talented and better coached teams (usual the favorite) have an advantage in these instances.
Betting the chalk on Thanksgiving not only works for the full game but for first-half and second-half bets, as well. Since 2005, first-half favorites have gone 24-12-2 ATS while second-half favorites are 26-11-1 ATS.
Don't Fade the Public
One contrarian sports betting strategy is to fade the public. The idea is simple, whichever team casual bettors are loading up on, simply bet the other team.
Unfortunately, this tactic is not profitable during the holiday. Favorites tend to receive the majority of spread tickets and the chalk has crushed on Thanksgiving.
Teams getting fewer than 50% of spread bets: 13-24 ATS
Fewer than 40% of spread bets: 6-16 ATS
Fewer than 30% of spread bets: 1-9 ATS
Divisional Unders
Unders are more profitable in high-total games (more than 44 points) featuring division rivals. What's the theory behind this trend? Increased familiarity between teams tends to favor lower scoring games.
Betting division unders late in the season (Week 11 or later) has returned a profit of +51.64 units since 2003.



We have a three divisional matchups on Thursday, but only Bears-Lions and Saints-Falcons have an over/under of more than 44 points.
This article was originally posted on ActionNetwork.com by John Ewing. Sports Insights is part of The Action Network.