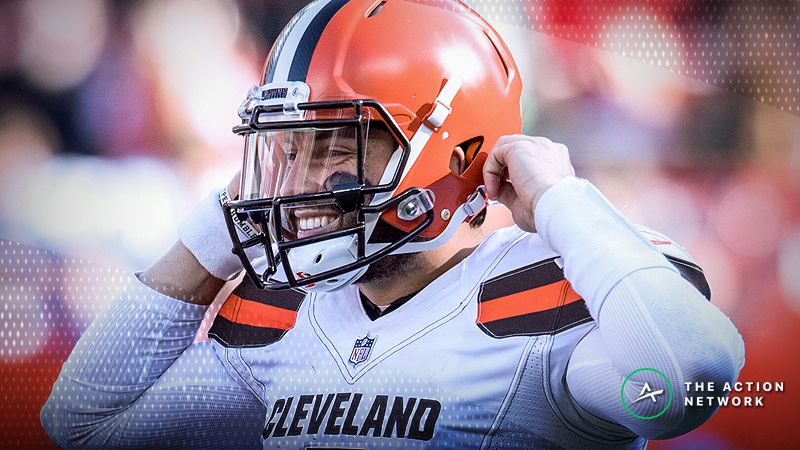 NFL Betting Tip: Lopsided Action Leading to Chiefs-Browns Value
The public loves to cheer for the league's best teams and high-scoring offenses. As a result, most wagers are placed on these teams, often as favorites.
Since oddsmakers can easily anticipate this behavior, sportsbooks react by shading their lines and forcing public bettors to lay extra points when betting on the chalk.
Contrarian bettors can find value by taking mispriced underdogs and fading the public. Betting against the public is one of the most popular and simplest strategies used by sports bettors.
On Sunday, the Kansas City Chiefs travel to Cleveland to play the Browns (1 p.m. ET, CBS). Oddsmakers opened the Chiefs as 10.5-point favorites.
Andy Reid's team is 7-1, leads the NFL in scoring (averaging 36.3 points per game) and quarterback Patrick Mahomes is the MVP favorite.
Public bettors' checklist for the Chiefs:
League's best team ✅
High-scoring offense ✅
Bonus: MVP-caliber quarterback ✅
Chiefs-Browns is the most bet game on Sunday's slate and is also the most lopsided. More than 80% of spread tickets (see live odds) have been placed on Mahomes & Co.
Casual bettors are loading up on Kansas City, which means smart gamblers should take Cleveland.
Since 2003, teams getting 20% or less of wagers have gone 114-92-9 (56%) against the spread (ATS) per Bet Labs. Late in the season — defined as Week 9 to 17 — there has been even more value fading the public as teams getting 20% or less of bets have gone 46-31-5 (60%) ATS.
Two questions you are asking yourself: Does this trend hold against the best teams in the league such as the Chiefs, and what impact will the firing of Hue Jackson have on the Browns?
Fading Elite Teams
Betting against the public has been a profitable strategy regardless of opponent.
Against teams that have won 70% or more of their games such as the Chiefs, going against the grain and wagering on the team getting 20% or less of bets has gone 56-34-4 (62%) ATS since 2003.
Hue Gone
The Browns fired Hue Jackson after they went 3-36-1 straight up and 13-27 ATS during his tenure. Jackson is the 23rd coach to be fired in-season since 2003.
The previous 22 teams went 9-13 straight up following their coach's dismissal, an improvement from how these teams had played before the coach left town.
Teams that fired their coach in-season also have a winning ATS record in the first game after the coach gets canned.
It is a small sample, but it is not hard to believe that a talented team such as Cleveland could improve after ridding itself of the biggest problem holding it back.
Line Movement
Considering the skewed betting percentages, you'd expect the line to be moving in Kansas City's favor. It's not. Since opening, Cleveland has moved from +10.5 to +9.
A reverse line movement bet signal has been triggered on the Browns.
Reverse line movement is when the line moves in the opposite direction of the betting percentages and is often an indication of sharp action.
The public loves the Chiefs. Sharp bettors are on the Browns. Which team are you going to bet?
This article was originally posted on ActionNetwork.com by John Ewing. Sports Insights is part of The Action Network.