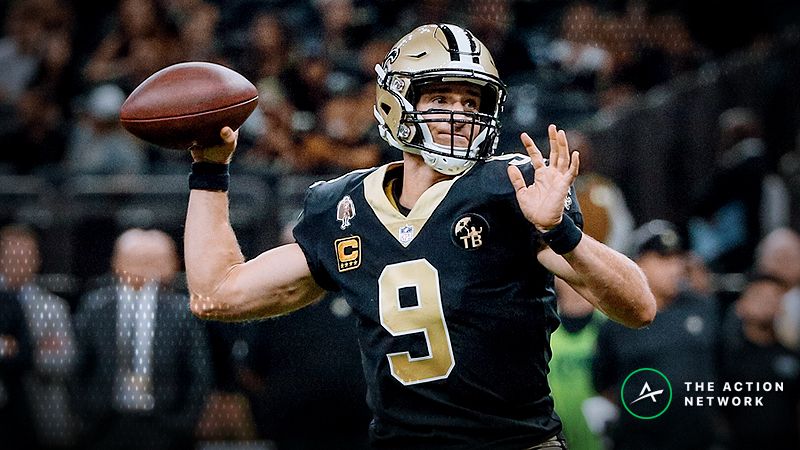 NFL Betting Tip: 3 Contrarian Strategies Offering Week 3 Betting Value
Week 3 in the NFL is a great time to be contrarian. Teams that got off to a slow start, such as the New Orleans Saints, offer buy-low opportunities while the red-hot Kansas City Chiefs could be overvalued.
There are three situational trends I'm eyeing for Week 3 :
Buying low on teams that failed to cover in Weeks 1 and 2
Fading teams in home openers
Betting the over after both teams went under the previous week
Buy low on teams 0-2 ATS
A loss to the Tampa Bay Buccaneers and a narrow victory against the Cleveland Browns is not how the Saints imagined their season would begin. Bettors weren't expecting them to start off slowly, either.
More than 60% of spread tickets were on the Saints in Weeks 1 and 2. New Orleans burned gamblers by failing to cover by an average of 12.5 points. Bettors have had enough.
A majority of spread tickets (see live data here) are on the Atlanta Falcons as 3-point favorites against the Saints on Sunday. This could be the worst time to jump off the New Orleans bandwagon.
Since 2003, teams that fail to cover the spread in back-to-back games to start the season have gone 65-51 (56%) ATS in Week 3. According to Bet Labs, these teams are even more profitable if they are underdogs, such as the Saints:
Seven teams have started the 2018 season 0-2 ATS (see NFL ATS dashboard). Five are underdogs in Week 3.
Game matches
New Orleans Saints at Atlanta Falcons (1 p.m. ET)
Buffalo Bills at Minnesota Vikings (1 p.m. ET)
San Francisco 49ers at Kansas City Chiefs (1 p.m. ET)
New York Giants at Houston Texans (1 p.m. ET)
Arizona Cardinals at Chicago Bears (4:25 p.m. ET)
Home-field advantage?
Back-to-back road games are a brutal way to start the season, but it hasn't slowed down the Kansas City Chiefs. KC is 2-0 with victories over the Los Angeles Chargers and Pittsburgh Steelers. Kansas City was an underdog in each game.
After trips to the coasts, the Chiefs return to the Midwest for their home opener in Week 3. Bettors like Kansas City to cover at Arrowhead. More than 70% of bets are on Patrick Mahomes and the NFL's highest-scoring offense.
Casual bettors are reasoning that if KC can have that kind of success on the road then nothing can stop them at home. The only problem is that home-field advantage is overrated.
Since 2003, home teams are covering the spread less than 50% of the time, and teams such as the Chiefs that start the season with consecutive road games have been dreadful in their home openers:
Betting against teams in Week 3 home openers after starting the season with back-to-back road games has gone 26-9-2 ATS.
Game matches
San Francisco 49ers at Kansas City Chiefs (1 p.m. ET)
New York Giants at Houston Texans (1 p.m. ET)
Dallas Cowboys at Seattle Seahawks (4:25 p.m. ET)
Bet the over after both teams go under
The Houston Texans and New York Giants have started the season 0-2. Offense has been a problem for both teams.
The Texans are averaging 18.5 points one season after topping 30 points per game with Deshaun Watson at quarterback. The G-Men are having a harder time finding the end zone, managing 14 points per game, which is a disappointment considering the weapons Eli Manning has at his disposal.
Houston and New York each went under their Week 2 totals. Because of the teams' recent offensive struggles, it is natural to want to bet the under again when the Texans and Giants play, but history says the over has value.
According to Bet Labs, the over is 449-407-11 (53%) in games when both teams went under the previous week. Oddsmakers know recreational gamblers tend to chase results.
If both teams went under in their last game, bookmakers will shade the total to the under anticipating public money. Lower totals make it easier for the over to hit.
This strategy works best early in the season when savvy bettors can take advantage of the market putting too much emphasis on a small sample of team performances.
Since 2003, it has been profitable — 95-58-1 (62%) — in Weeks 2-4 to bet the over when both teams went under the previous week. In addition to Texans-Giants, there are four other plays for this system in Week 3.
Game Matches
Cleveland Browns vs. New York Jets (Thursday, 8:20 p.m. ET)
Miami Dolphins vs. Oakland Raiders (Sunday, 1 p.m. ET)
Houston Texans vs. New York Giants (Sunday, 1 p.m. ET)
Arizona Cardinals vs. Chicago Bears (Sunday, 4:25 p.m. ET)
Seattle Seahawks vs. Dallas Cowboys (Sunday, 4:25 p.m. ET)
The sample size is not huge for any of these trends, but the results have been consistent year to year. If you buy the reasoning, there is situational value to be found in Week 3.
This article was originally posted on ActionNetwork.com by John Ewing. Sports Insights is part of The Action Network.