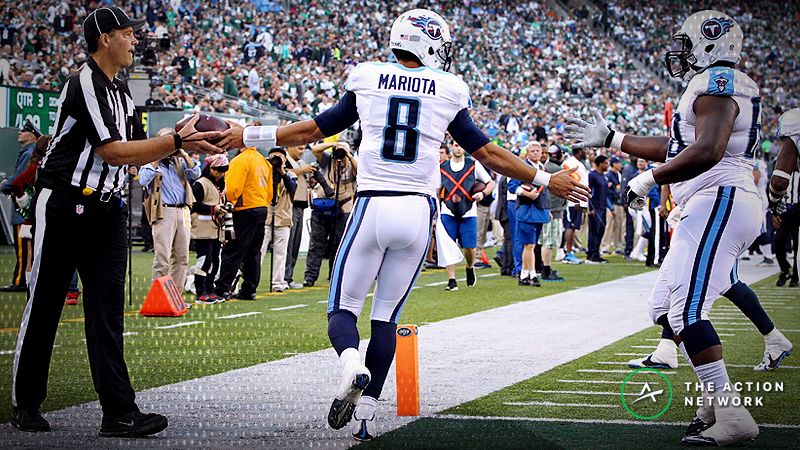 NFL Betting Tip: Buy Teams Following Bad Offensive Games
NFL offenses are better than ever. Through six weeks there have been 504 touchdowns, 4,489 total points scored and 328 touchdown passes. All of those marks are NFL records.
So how in the heck did the Tennessee Titans get shut out Sunday in a season in which teams are averaging 24.1 points per game — an NFL record?
Baltimore Ravens had more sacks (11) than Marcus Mariota had completions (10). And those 11 sacks by the Ravens — who were also 12 of 17 on third downs and held the ball for more than 37 minutes — were one short of an NFL record.
Nothing went right for Tennessee, and now the Titans cross the pond to face the Los Angeles Chargers for their first game in London. And after Tennessee became the first team to score zero points this season, oddsmakers opened the Titans as 7-point underdogs.
Bettors have no interest in backing a team that can't score in an era when offense is king. Only 22% of spread tickets are taking Tennessee, making Titans-Chargers the most lopsided Week 7 game (see live odds).
While I understand a gambler's hesitation to play Tennessee, it is important not to overreact to one game. Teams are rarely as good or bad as they looked the previous week.
Often, teams that perform poorly one week will exceed expectations the next.
Since 2003, NFL teams that struggled to score in their previous game (with fewer than 10 points) have gone 394-337-15 (54%) against the spread (ATS) in their following game per Bet Labs.
Oddsmakers know recency bias will affect casual bettors' judgement. What the public last saw influences how they wager the following week. Knowing that, bookmakers will inflate the lines against teams that had a poor offensive game.
Contrarian gamblers have profited by going against the grain and betting low-scoring teams. This strategy is even more effective if there is lopsided public action:
Since 2003, teams that scored fewer than 10 points and have received 30% or fewer of spread tickets have gone 145-91-4 (61%) ATS in their next game. A $100 bettor would have returned a profit of $4,540 following this system.
Sharp bettors have already taken Tennessee plus the points. A reverse line movement Bet Signal from Sports Insights — when the line moves in the opposite direction of the betting percentages — was triggered on the Titans +7.
The consensus number is now Tennessee +6.5 across the betting marketplace.
Don't worry if you missed out on 7.. According to The Action Network NFL model, the Titans should be underdogs of just a field goal. There is still value in Tennessee at +6.5.
This article was originally posted on ActionNetwork.com by John Ewing. Sports Insights is part of The Action Network.