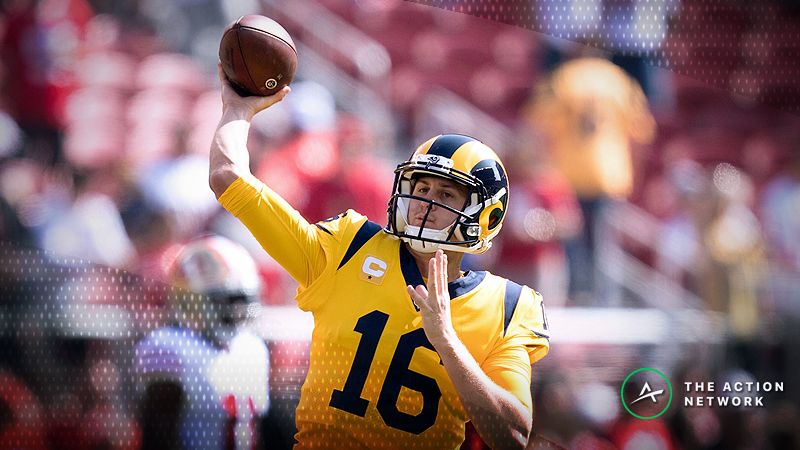 NFL Prop Bet: When Will the Undefeated Rams Finally Lose?
The Los Angeles Rams are the only undefeated team remaining in the NFL. Sean McVay's team moved to 7-0 with a 39-10 win over the San Francisco 49ers on Sunday in the Rams' most complete game of the season.
Todd Gurley scored three touchdowns, Jared Goff threw two touchdown passes and the Rams defense, led by Aaron Donald, had seven sacks, two interceptions and two fumble recoveries.
After a dominant performance and a hot start to the season, can LA finish with a perfect record?
According to The Action Network's NFL simulation, there is a 4.2% chance the Rams go 16-0. Even though Goff & Co. are favored to win each of their remaining games, it is extremely difficult to finish a season undefeated.
If a perfect season is unlikely, when will the Rams suffer their first loss? The oddsmakers at Bovada.lv are offering a prop bet for this question with five wagering options:
Week 8 vs. Packers: +320
Week 9 at Saints: +125
Week 10 vs. Seahawks: +1000
Week 11 vs. Chiefs: +325
Any Other Week: +240
Of these wagering opportunities, which is offering gamblers value?
You can go ahead and cross the Packers off. Green Bay opened as a 10-point underdog against Los Angeles in Week 8 — the biggest underdog spread of Aaron Rodgers' career. Rodgers is great, but as a dog he has struggled to win.
In his career, the Packers' star quarterback has closed as an underdog of three or more points 22 times, winning only won seven of those games. Plus, C.J. Beathard — the same quarterback who lost by more than four scores to the Rams — almost beat Green Bay in Lambeau on Oct. 15.
And even if you happen to like Green Bay to win, it's available at +371 on the moneyline at BookMaker, a much better price — with higher limits — than this prop is offering.
The Saints are the favorites to hand the Rams their first loss of the season. After losing its opener, New Orleans has won five straight.
Drew Brees leads the NFL in completion percentage (77.3%) and has thrown 13 touchdown passes and no  interceptions, has the Saints offense averaging 34.0 points per game (2nd in NFL).
This is the toughest game remaining on the Rams' schedule, and even though it will be played in the Superdome, our model gives LA a 51.6% chance of winning.
This is a coin-flip game, and if you were making your decision based solely on the outcome of this one matchup, there would be value betting the Saints +125 to be the Rams' first loss.
However, in order to feel confident in placing this wager we need LA to win against Green Bay and then lose to New Orleans. The probability of this sequence occurring is 38.6%.
The implied probability of the game against the Saints (+125) being the Rams' first loss is 44.4% (100/(100 + 125)), therefore there is no value in placing this bet.
If it's not the Saints, most bettors will likely wager on the Chiefs – another high-powered offense that can keep pace with the up-tempo Rams. However, this wager does not offer value either.
Can you say trap game? Sandwiched between the Saints and the Chiefs games is a division showdown with the Seahawks.
LA has a nearly 75% chance of winning this matchup, so it's not like our model is predicting a massive upset. But at +1000, the odds are inflated.
Seattle has won three of its last four games with the lone loss a two-point defeat to LA.
The Seahawks have shown they can compete with the Rams, and if McVay's team gets caught looking ahead to a potential showdown with potentially a 9-1 Chiefs team, anything can happen.
Smart money will take the Seahawks, squares will bet the Saints and Chiefs but for my money, I like "Any Other Week" at +240.
None of the teams after the Rams' Week 12 bye is particularly imposing. LA has at least a 64.0% chance of winning each game.
Instead, I prefer this bet because McVay values rest. Los Angeles already has a 3.5-game lead over second-place Seattle in the NFC West. Our model gives the Rams a 99.4% chance of winning the division and makes them virtual locks for the playoffs.
Plus, with the Rams holding a 1.5-game lead over the 5-1 Saints and a tiebreaker over the 4-2-1 Vikings, there is a good chance that Los Angeles won't have anything to play for late in the season.
In Week 17 last year, McVay rested 12 starters including Goff, Gurley and Donald. That game wasn't meaningless either. LA could have fallen from the 3-seed to 4-seed.
McVay valued the health of his players over postseason positioning. The Rams lost in Week 17, 34-13, to the 6-10 San Francisco 49ers.
Betting on "Any Other Week" assumes the Rams will win their next four games, which is not a lock.
But if LA emerges from its bye week unscathed, you can count on McVay resting his starters, increasing the likelihood it loses one of the final games of the season.
This article was originally posted on ActionNetwork.com by John Ewing. Sports Insights is part of The Action Network.