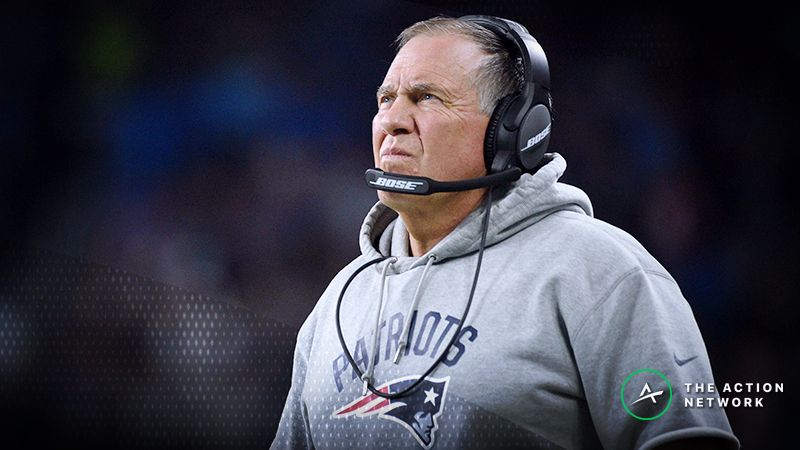 September Struggles Nothing New to Patriots Bettors
It's September and the New England Patriots are once again experiencing early season struggles.
Following New England's losses to the Jacksonville Jaguars and Detroit Lions, mainstream sports media are questioning whether this is just business as usual for the Pats, or signs of cracks in the team's 17-year dynasty.
Considering New England closed as a 2.5-point favorite (Pinnacle) at Jacksonville in Week 2, even the most ardent of Patriots haters could chock that up to a tough road matchup against a playoff-caliber team.
However, a 26-10 loss to Detroit as a 7-point favorite is much more concerning for New England, especially after managing only 10 points against a defense that gave up 48 points to the Jets in Week 1 and 30 points to the 49ers in Week 2.
Many are throwing around the idea of this stretch representing typical September struggles for New England without offering much data to back it up. Sure, you can use regular win-loss records, but that doesn't take into account the strength of the opponent, injuries, ball-deflation suspensions, etc.
Luckily, the very efficient NFL betting market does most of the work for us by determining point spreads that we can use to measure how good a team is supposed to be in any given matchup. As I mentioned above, a loss as a 2.5-point favorite isn't as concerning as one as a 7-point favorite.
Therefore, I fired up our Bet Labs software to look at how New England has performed in the month of September and compared to all other months.
For the purposes of this analysis, I started with the 2014 season since it's considered the start of New England's September swoons, highlighted by Trent Dilfer's infamous hot take that the Patriots were "not good anymore" following a 41-14 loss to the Kansas City Chiefs.
Here's a look at New England's monthly against-the-spread (ATS) and straight-up (SU) regular-season records since the start of the 2014 season:
Based on the data, it's quite evident that the Patriots have experienced struggles in the month of September. While it's tough to define an 11-5 record as "struggling," it certainly is when factoring in ATS results and a cover margin of -1.53 points per game.
Cover margin is simply the average number of points a team is winning (or losing by) against the spread in a given sample.
With the Pats 8-8 ATS, September is clearly the worst month for New England, compared to a 33-16-2 (67.3%) ATS record from Oct. 1 through the end of the regular season, with a cover margin of +4.34 points. 
New England will play Miami on Sept. 30, its final September game this season. The line is currently off the board, so be sure to download The Action Network's mobile app for live NFL odds and betting percentage data.
This article was originally posted on ActionNetwork.com by PJ Walsh. Sports Insights is part of The Action Network.