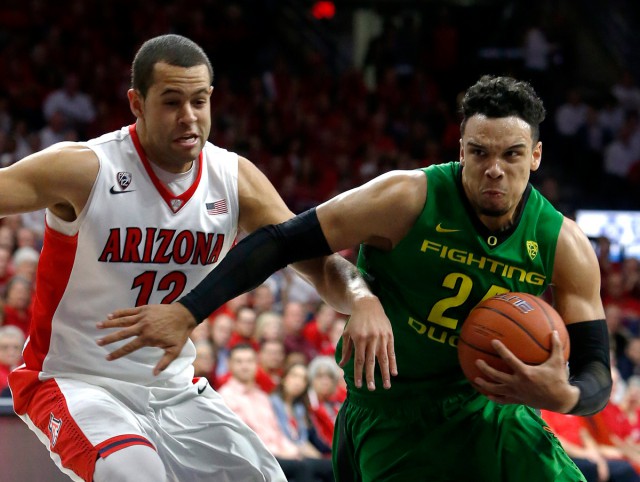 NCAAB Game of the Week: Arizona vs. Oregon
Tonight in the semifinals of the Pac-12 Tournament, the 15th-ranked Arizona Wildcats (25-7 overall, 12-6 conference) will face off against the 8th-ranked Oregon Ducks (26-6 overall, 14-4 conference). Both teams have firmly clinched a spot in the NCAA Tournament, but this game should have a tremendous impact on seeding.
Arizona opened as a 1-point favorite at the market-setting CRIS sportsbook but, according to our public betting trends, both teams are receiving roughly 50% of spread bets. The screenshot below displays the individual betting trends from our seven contributing offshore sportsbooks.

It's interesting to note that although public betting has been evenly split, Arizona has moved from -1 to -1.5 at CRIS. However our newly added money percentages, which are available to Sportsbook Insider subscribers, help to decipher the factors responsible for this half-point line move. Although Arizona is receiving just 49% of spread bets, they have received 86% of total dollars wagered. This indicates that although there's no consensus among square bettors, sharp bettors are loading up on the Wildcats.
The line graph below displays how public betting has affected the spread at CRIS.

We have seen similar public betting trends on the moneyline where Arizona has received 44% of all wagers, but 79% of total dollars wagered. This is particularly surprising since square bettors will frequently load up on small moneyline underdogs (like Oregon) as opposed to betting them on the spread.
In addition to these sharp money indicators, there are several historical trends which indicate that Oregon is being overrated and Arizona is being underrated by oddsmakers. For starters, bettors would have gone 127-110 ATS (53.6%) by fading top-10 teams in conference tournament games. Additionally, our research revealed that Arizona's Sean Miller (31-20 ATS, +9.28 units) has been one of the most profitable postseason coaches in our Bet Labs database.
Over the past few years, we have constantly explained that bettors can take advantage of public perception by betting against ranked teams — but what happens when two ranked teams square off? Traditionally, we have found that bettors are far more willing to take the points and lay the underdog when two supposedly elite teams are playing each other.
Since our contrarian approach means always taking unpopular viewpoints, we correctly assumed that the opposite would be true. Since 2005, the favorite has gone 144-118 ATS (55%) in postseason games featuring two ranked teams. If that opponent is ranked in the top-10, that winning percentage jumps to 61.5%.

When these two teams last played back in late January, Oregon defeated Arizona by 8-points. Public bettors are prone to overreacting to recent results and we always recommend buying on bad news and selling on good news as part of our contrarian strategy. For that reason (any many others) this might be the optimal opportunity to buy low on Arizona.
These numbers are subject to change before tip-off, so bettors should be sure to visit our free college basketball odds page for the latest lines, injuries, public betting trends and more.

Have any questions for the staff at Sports Insights? Utilize our live chat to speak with a customer service representative or e-mail us at help@sportsinsights.com.
David Solar is the Content Manager for Sports Insights and can be reached directly at David@SportsInsights.com.