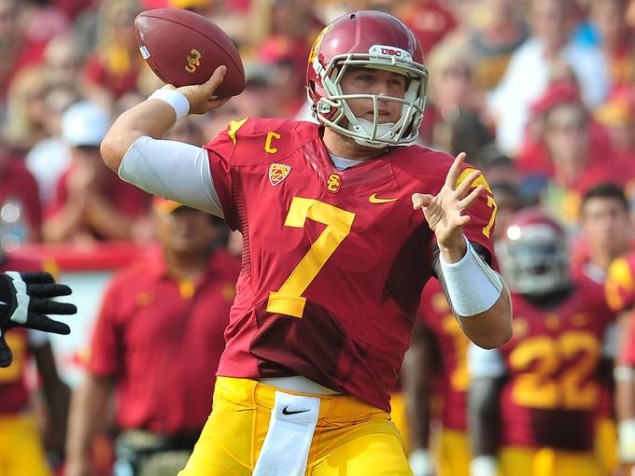 NCAA Football Marketwatch – Arizona vs. USC
Welcome to the 2012-13 edition of NCAA Football Marketwatch, where the team at Sports Insights gives sports fans unprecedented insight into the NCAA Football point-spread market.
Every week we analyze the sports betting marketplace to pinpoint which games the public is chasing and which the sharps are pounding.
Overall Record: 0-4
The goal of this weekly column is to highlight games that offer true line value. Often, if a line looks too good to be true, there is a reason. You'll occasionally need the worst teams on the board to come through. We typically buy on bad news and sell on good.
Arizona vs. USC (10/27 – 3:30 p.m. ET)
Entering the season USC was ranked as the top team in the country and quarterback Matt Barkley was considered a heavy favorite to win the Heisman Trophy. Although losing to Stanford on September 15th has made these goals far more difficult to achieve, the Trojans can still garner BCS Championship consideration if they run the table. With home games scheduled against #4 Oregon and #5 Notre Dame, such a feat would be an incredible accomplishment; but that long and difficult road starts this week in Arizona.
USC is led by a high-powered offense, which is loaded with dynamic weapons and future NFL draft picks. Quarterback Matt Barkley has received most of the attention on this potent unit, but perhaps it's his receivers who deserve a larger share of the credit.
After hauling in 111 receptions last season, Robert Woods established himself as one of the nation's premier receivers. Even so, he may not be the best receiver on his own team. Sophomore WR Marquise Lee (60 receptions for 784 yards and 8 TD's) has great speed and an unparalleled ability to adjust to the deep ball, which has helped Lee quickly establish himself as one of the most difficult matchups in college football.
For Arizona (4-3, 1-3 Pac-12), new head coach Rich Rodriguez has been instrumental in the team's offensive renaissance. Led by senior signal-caller Matt Scott, the Wildcats rank fifth in the nation in passing yards with 352.3 per game, and second in the conference in scoring (trailing only Oregon).
USC opened as a 6.5-point favorite at Pinnacle and, according to our College Football betting trends, is currently receiving 76% of spread bets and 86% of parlay wagers. Despite this heavily one-sided public betting, the line has dropped to -6 at Pinnacle.
The table below shows a breakdown of the spread betting percentages from our seven contributing sportsbooks.
Teams

Spbk.com

BetUS

Carib

Wager

5Dimes

SIA

CRIS

USC
Arizona
82%
18%
71%
29%
88%
12%
81%
19%
59%
41%
80%
20%
67%
33%
A number of betting systems have also been triggered on this game, indicating that sharp money is taking the home underdog.
The chart below shows the changes in spread betting percentages and line movement since this game opened at Pinnacle.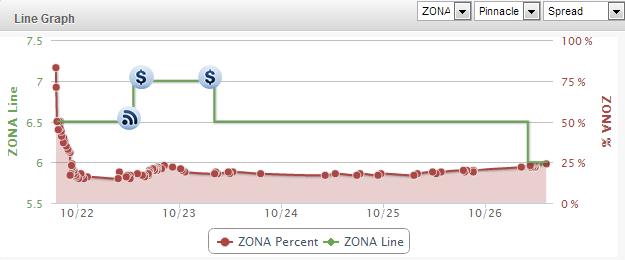 This season, our marketwatch selections have gotten off to a slow start, but the contrarian approach has been profitable. On the year, underdogs receiving less than 20% of spread bets are 22-17 with +3.97 units won and a 10.2% return on investment. With that in mind, we will make sure to shop for the best line, fade the public, and take the home underdog.
Game to Watch (0-4)
Arizona +6.5
It should be another exciting week of NCAA Football action. Keep Marketwatch handy and your browser pointed to SportsInsights.com for the latest real-time updates.
Enjoy the games!
Daniel Fabrizio
President
SportsInsights.com