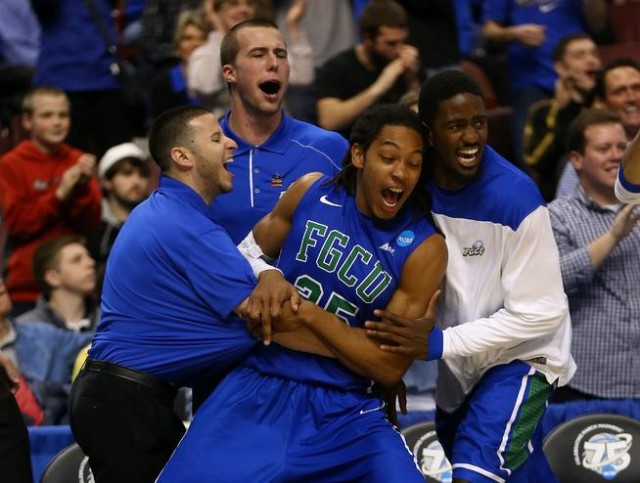 Examining Nate Silver's Sweet 16 Projections
Before a single game was played in the 2013 NCAA Basketball Tournament, the team at Sports Insights examined Nate Silver's pre-tournament projections in an attempt to spark the debate over whether or not new-age data analysis has a place in the uniquely unpredictable world that is March Madness.
Following the Round of 32, Silver recalculated his projections for all remaining teams and posted the results on his critically acclaimed FiveThirtyEight blog in the New York Times.
Before putting Silver's updated Sweet 16 projections under the microscope, let's take a look back to see how well his initial projections performed in the opening rounds.
So far so good
Of the eleven teams that Silver gave the best chance at winning the Big Dance, ten still remain. The only team to be eliminated was Gonzaga, who was upset by the 9th seeded Shockers of Wichita State.
However, it's important to note that Silver only gave the Zags a 6.1% chance of winning it all, which was the lowest of all eleven teams.
Interestingly, Silver left both Georgetown and New Mexico off the list, which validates his selection process as both high seeds were knocked off in the Round of 64 by Florida Gulf Coast and Harvard, respectively.
Which teams' chances at winning it all have increased from the Round of 64 to now?
According to Silver, Louisville is now the clear front-runner moving forward.
At the outset of the tournament, Silver gave Rick Pitino's squad a 23.8% chance at hoisting the title. However, after two impressive victories Silver now gives the Cardinals a 32.4% chance of cutting down the nets — an increase of 8.6%.
One of the main reasons for this change is the fact that Louisville has dominated both opponents (NC A&T and Colorado State) thus far and is playing great basketball at the right time.
Also, Louisville faces a low seed in the Sweet Sixteen (12th seeded Oregon) and, while an Elite 8 matchup against Duke or Michigan State is anything but a lay-up, the game will be played in Indianapolis, which is a de-facto home game for the Cardinals.
Beyond Louisville, Silver also upped the chances of Florida winning it all, as the Gators went from 13.2% to 21.3%. Ohio State also benefited, moving from 5.4% to 6.8%. Duke remains unchanged at 6%.
Which teams' chances have decreased?
The biggest loser in Silver's Sweet 16 Projections, is Indiana.
The Hoosiers fell from 18.4% to 10.9%, likely a result of their poor performance against a relatively weak Temple team. Also, Silver believes Indiana could have a tough matchup against Syracuse, who plays a suffocating 2-3 zone defense rarely seen by Big Ten teams. Also, the game will be played in Washington, D.C., which bodes well for the Orangemen faithful who have a reputation for travelling well.
Kansas also saw their odds drop. The Jayhawks fell from 7.9% to 4.5%, largely due to the fact that they haven't looked very impressive thus far and must now face a red-hot Michigan squad and potentially Florida in the Elite 8.
How do these projections compare to the sportsbooks' odds?
At the outset of the Tournament, the future odds at Bovada listed Louisville and Indiana as co-favorites to win it all at +500, with Florida close behind at +700.
Currently, Bovada has adjusted their odds to make Louisville even more of a favorite at +300, while Florida is now listed at +475 (which aligns nicely with Silver's updated projections).
However, while Silver dropped Indiana's chances from 18.4% to 10.9%, their future odds remain unchanged at +500. This discrepancy means that either Silver is undervaluing the Hoosiers or Bovada is overvaluing the Hoosiers, creating serious value for sports bettors depending on which side you take.
Putting Cinderella into Perspective
Of all the upsets thus far in the Tournament, none is more surprising or impressive than Florida Gulf Coast University (FGCU). By taking down both Georgetown and San Diego State, the Eagles became the first 15-seed in Tournament history to reach the Sweet 16.
Although FGCU was Silver's highest rated 15-seed, Silver's model only gave the Eagles a 3.3% chance to reach the Sweet 16 and a 0.001% chance to win it all.
While FGCU's astounding run is nothing short of historic, Silver notes that this is not the most unlikely event in Tournament history. That honor belongs to the 2011 Virginia Commonwealth (VCU) team who won five games (including the play-in game) during their improbable run to the Final Four.
Before the 2011 Tournament began, Silver gave VCU a 12-in-10,000 chance (820 to 1) to reach the Final Four.
If FGCU reaches the Final Four this season, they will overtake VCU as the "Greatest Overachiever in Tournament History" (Silver gave the Eagles 2,043 to 1 odds to reach the Final Four).
What do you think?
Has Silver proven enough thus far in the Tournament to change your mind about the value of new-age data analysis in college basketball? Is Louisville a shoe-in for the National Title? Can FGCU continue to wear the glass slipper and match (or exceed) VCU's epic 2011 run? Do you agree with Silver that Indiana is destined for a loss? Or do you side with the sportsbooks and still believe the Hoosiers have what it takes to win it all?
Either way, make sure to check in with our College Basketball Betting Trends page for the latest odds and public betting percentages.