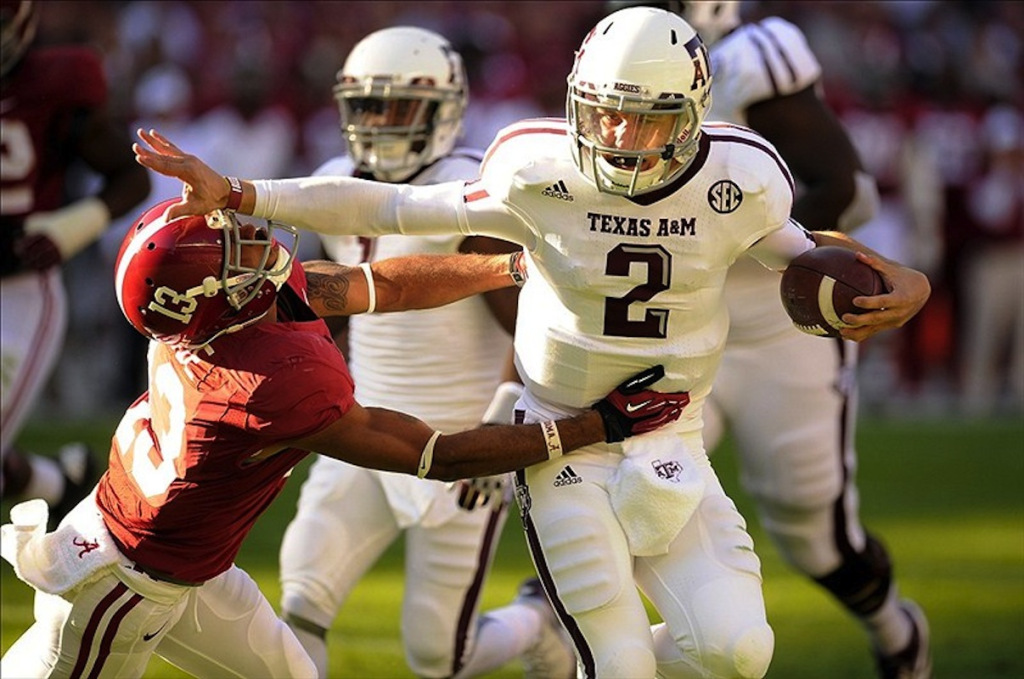 Is Johnny Football Manziel A Lock to Win The Heisman?
The Heisman Trophy presentation will take place this Saturday in New York City, and if you listen to even a minute of sports talk, you will hear two names debated ad nauseam: Notre Dame linebacker Manti Te'o and Texas A&M quarterback Johnny "Football" Manziel. Both players have a fair claim to the prestigious award but obviously, only one of them can walk away with the trophy.
Even though only one defensive player has ever won the Heisman (Michigan's Charles Woodson in 1997), Te'o is the unquestioned leader for the undefeated Fighting Irish — anchoring what may be the nation's top defense.
While Te'o would only be the second defensive player to ever be deemed the most outstanding player in college football, Manziel could join an even more exclusive club by becoming the first freshman winner in the history of the award. Although he did redshirt last year, Johnny Football burst onto the scene in a huge way this season by tallying over 4,500 total yards and leading the Aggies to a 10-2 record — including an unlikely upset over previously unbeaten Alabama.
Right now, oddsmakers seem to have their opinions cemented with Sportsbook.com listing the 6'1″ dual threat quarterback as a -550 favorite to win the Heisman. The table below displays the 2012 Heisman Trophy betting odds from Monday (prior to the field being narrowed) as well as the key statistics from what bookmakers considered to be the leading candidates.
| | | | |
| --- | --- | --- | --- |
| Name | School | Heisman Resume | Odds |
| Johnny Manziel | Texas A&M (10-2) | 3,419 passing yards; 1,181 rushing yards; 43 total TD | -500 |
| Manti Te'o | Notre Dame (12-0) | 101 total tackles; 7 INT; 1.5 sacks | +200 |
| Collin Klein | Kansas State (11-1) | 2,490 passing yards; 890 rushing yards; 37 total TD | +700 |
| Braxton Miller | Ohio State (12-0) | 2,039 passing yards; 1,271 rushing yards; 28 total TD | +3000 |
| Marqise Lee | USC (7-5) | 112 receptions; 1,680 yards; 14 TD | +4000 |
| Kenjon Barner | Oregon (11-1) | 1,624 rushing yards; 22 total TD | +4000 |
Early Monday evening, the Heisman finalists were announced with just Manziel, Te'o and Klein snagging invites. This announcement caused the odds to shift with Manziel's odds improving to -550, Te'o remaining stagnant at +200 and Collin Klein receiving a slight bump to +500.
It's apparent that Manziel looks primed to make history as the first freshman in the award's storied history. Not only is he a heavy favorite, but there is a strong case to be made against his competition. Voters tend to overlook defensive players, and Woodson's incredible ability in the return game, coupled with his involvement in the passing game, helped him buck this trend.
Collin Klein, who played in the Big 12 where defenses are significantly softer than the SEC, posted inferior numbers across the board. Based on his team's undefeated record and his impressive performance this season, it would seem Braxton should have been a finalist; unfortunately voters must have felt uncomfortable casting a vote for the mobile quarterback due to the sanctions placed on Ohio State by the NCAA.
It's also important to shop for the best line, regardless of whether you are betting spreads, moneylines, or even futures and props. If you thought Collin Klein was somehow going to win the Heisman, betting him as a +500 favorite at Sportsbook.com would be foolish as he is available at +2000 at Bovada. It's also interesting to note that Manziel is a -1000 favorite at Bovada and perhaps more telling, the Heisman prop has been taken off the board entirely at Bookmaker where Johnny Football was a -1300 favorite as of Monday afternoon.
But what do you think? Can Te'o pull off the shocker and win the Heisman? Will voters shy away from handing this prestigious award to a Freshman? Is there any value on Optimus Klein at 20/1? Make sure to leave your thoughts in the comments section below.