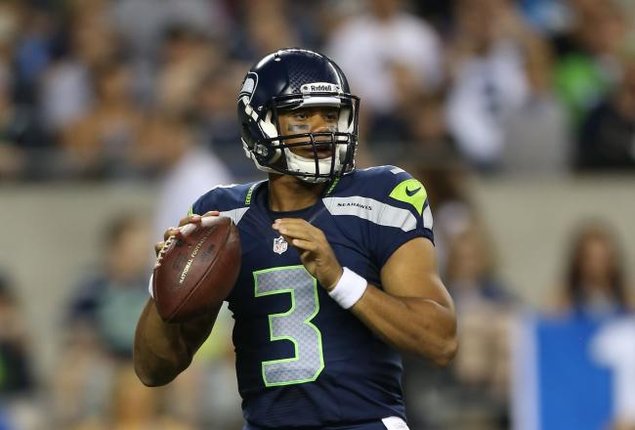 Monday Night Football Betting Trends
Chaotic. That's the most fitting way to describe yesterday's slate of NFL games. Although a vast majority of the discussion this morning has surrounded the ineptitude of the replacement officials, let's look at the thrilling match-ups that we were lucky enough to witness.
Back-up quarterback Shaun Hill led the Detroit Lions to a 14-point comeback in the final twenty seconds, only to lose the game on a controversial 4th down call in overtime. Blaine Gabbert accounted for 80 of his 155 passing yards on a game-winning touchdown strike to Cecil Shorts in the last minute. The Raiders and Ravens each picked up a victory on Sunday with last-second field goals, while the Jets and Chiefs waited until overtime to work their magic. In a week in which underdogs went 11-4 against the spread (ATS) and visitors went 10-5 ATS, we began moving away from the home field bias we had observed in the first two weeks.
Tonight the Packers (-3.5) will travel to Seattle to take on the Seahawks, so unfortunately there are no road dogs to take this week. But are there any historic Monday Night Football trends that sports bettors should be aware of?
According to our BetLabs software, since 2004 the favored team has gone 85-66 on Monday night — good for 16.13 units earned and a 10.7% return on investment. We have also noticed that road teams tend to be undervalued in MNF games with visitors posting a 79-72 record and 3.76 units earned (2.4% ROI). When you combine those two filters, we discover the road favorites have gone 33-20 for 11.7 units earned and a staggering 22.1% ROI.
Another interesting trend concerns the total in Monday Night games. Our database shows that the over has actually gone 63-59 for 2.8 units earned on Monday Night making it far from a lucrative system. However, since the league changed their rules concerning illegal contact in 2007 it has been a different story entirely. The table below — using data taken from Pinnacle — shows over/under information from 2004 to the present.
| | | | | |
| --- | --- | --- | --- | --- |
| System | Record | Winning % | Units Earned | ROI |
| All Overs | 915-878 | 51% | +1.49 | 0.1% |
| MNF Overs | 63-59 | 51.6% | +2.8 | 2.3% |
| All Overs '07-'12 | 669-628 | 51.6% | +16.19 | 1.2% |
| MNF Overs '07-'12 | 48-39 | 55.2% | +7.9 | 9.1% |
As you can see, if you bet every Over since 2004 you would have barely cracked a profit (0.1% return on investment). However, since 2007 betting the Over has actually been significantly more profitable.
If you don't remember, back in 2007 the NFL made it illegal for defensive players to make significant contact with a receiver when they have advanced five yards beyond the line of scrimmage. That rule change has allowed for passing records to be shattered, including Drew Brees NFL-record 5,476 passing yards last season and Tom Brady's historic 50-touchdown season back in 2007. In the process, games around the league have been higher scoring and the Overs have been hitting with more frequency — particularly on Monday Night.
The total opened at 47.5 on this game at Pinnacle and currently 59% of wagers are on the over. Despite those fairly even betting percentages, the total has dropped to to 45.5. There have been no betting systems triggered on the total, but we will continue to monitor this game.
Who do you like tonight? Are you taking any action on tonight's game? Leave your thoughts in the comment section below.