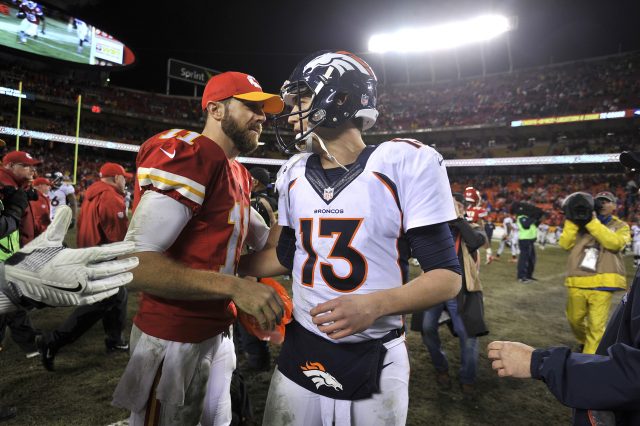 Monday Night Countdown: Gambling Edition
Ah, the Chiefs. They've been putting together a solid run of football for the past couple seasons, but then again…we're talking about the Chiefs here. Are they for real or are they frauds? Is Alex Smith actually a top-tier QB as his 120.5 QB rating suggests? Dear lord, no…at least not until we see him rattle off a good playoff run. Andy Reid's clock skills are holding him back!
A touchdown favorite, Kansas City hosts the Broncos in a divisional matchup. Both teams are trying to "get off the schneid" as the kids say, with both losing two straight games.  A Chiefs win would move them to 6-2 and make it very hard for any other team to take the AFC West from them.
Right now, the Chiefs are -7 essentially across the entire market other than Bovada. Given their hot start, bettors are expecting the Chiefs to bounce back from their two straight defeats. They're getting close to 70% of spread bets, but are still at that same opening line. Seemingly any time a book has moved the line to 7.5 with reasonable juice, Broncos buyback has pushed it back down to seven.

The line hasn't reached 6.5 anywhere all week and likely won't since most last minute bettors will be squares on the Chiefs.
The total originally opened at 44.5, but is down to 42 with ~10 MPH winds expected to factor in a bit.

The over is getting about 60% of bets, but money is closer to split. Interestingly enough, the over has gone 3-0-1 in meetings between these two teams since 2015.
Check the latest lines at our free NFL odds page and follow us on Twitter @SportsInsights and @ActionNetworkHQ for news and notes for the game.