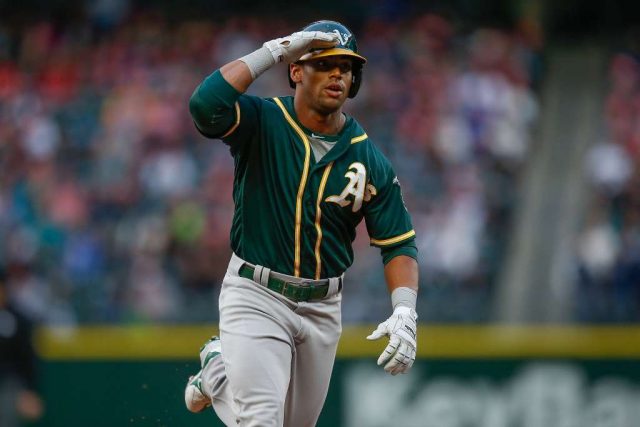 MLB Game of the Week: Oakland Athletics at Texas Rangers
Throughout the season, we will utilize the tools available to Sportsbook Insider subscribers to analyze the most interesting MLB line moves across the sports betting marketplace. By examining sharp money indicators like steam moves and reverse line movement, we will be able to identify which games have been hammered by well-respected bettors and pinpoint the top value plays for contrarian bettors.
There's a full slate of action today with several new series beginning, but the most interesting game is an AL West showdown between the Texas Rangers and Oakland Athletics. Last season the Rangers were the most profitable team for moneyline bettors (95-67, +27.71 units), earning as much money as the next four teams combined. Despite their prior success, there's reason to believe bettors should sell high and fade the reigning AL West champs.
The Rangers opened -165 at the market-setting Bookmaker.eu, and early public action has been hammering the home favorite. As you can see from the screenshot below, Texas has received 76% of moneyline tickets with particularly one-sided action at BetUS, Sports Interaction and Sportsbook.com — the three squarest sportsbooks we track.
[click image below to enlarge]

Despite receiving more than three-fourths of moneyline tickets, the Rangers have actually slipped from -165 to -136 at Bookmaker. Line movement that contradicts our public betting trends is known as reverse line movement, and it's an excellent indicator that sharp money has taken the Athletics.
That sharp money is confirmed by our money percentages, which show that Oakland has actually received 58% of moneyline dollars. Although the A's have only received 24% of moneyline tickets, they have received the majority of total dollars wagered. That indicates that large wagers (typically placed by wise guys or betting syndicates) have taken the road underdog.
[click image below to enlarge]

Since opening, Oakland has moved from +140 to +123 at Bookmaker. The A's are receiving more dollars than tickets and there's been a 17-cent reverse line movement, so it's clear that sharp money has taken the underdog. That's further confirmed by our bet signals, including a Pinnacle steam move which was triggered on Oakland +135 earlier this morning.
Sports Insights has been tracking steam moves from all of our available sportsbooks since 2007, and the moves triggered at market-setting sportsbooks like CRIS and Pinnacle have been highly profitable. Over the past ten seasons, the Pinnacle steam move has gone 4,562-4,186 (52.15%) with +302.2 units won on the moneyline and 5,241-4,850 (51.9%) with +33.9 units won on the total. That means $100/game bettors would have earned $33,610 following this simple strategy. Since the regular season started last Sunday, the Pinnacle steam move has gone 18-10 with +7.1 units won.
In addition to these sharp money indicators, there are a number of historical trends which point towards value on the A's. We constantly preach the value of betting against the public, but that's particularly true when you're dealing with underdogs in divisional rivalries with high totals.
Since 2005, underdogs receiving less than 30% of moneyline tickets have gone 4,376-6,329 with +14.62 units won and a +0.1% return on investment (ROI). That record improves to 2005-4904 (+22.12 units, +0.5% ROI) in divisional rivalries and 1135-1588 (+59.17 units, +2.2% ROI) when the closing total is 8.5 or greater. At the time of publication, the total for this matchup was 9.5.
In addition to this one-sided public betting on the moneyline, we've also seen bettors taking Texas in parlays and on the runline. At the time of publication, the Rangers were receiving 84% of runline tickets and 85% of parlay tickets. This further validates our claim that Oakland is offering bettors contrarian value.
Bettors should note that most of the sharp money indicators came down this morning when Oakland was still available between +130 and +135. They're currently +123 at Bookmaker, which means that some of the value has been sucked out. That said, bettors with access to multiple sportsbooks can still find Oakland +127 by shopping for the best line.
The only plays we officially endorse are our MLB Best Bets, which have gone 8-1 with +6.15 units won to start the season. We have two pending Best Bets for tonight's games, but those picks are available exclusively to Sportsbook Insider Pro subscribers.
Interested in receiving our MLB Best Bets? Sign up now for a 4-day trial of Sportsbook Insider Pro. In addition to our Best Bets, subscribers have access to real-time odds, public betting trends, money percentages, steam moves, reverse line movement alerts, contrarian plays, our nightly betting hangout and many other unique features.
Have any questions for the staff at Sports Insights? Make sure to utilize our live chat or call us directly at 877-838-2853.