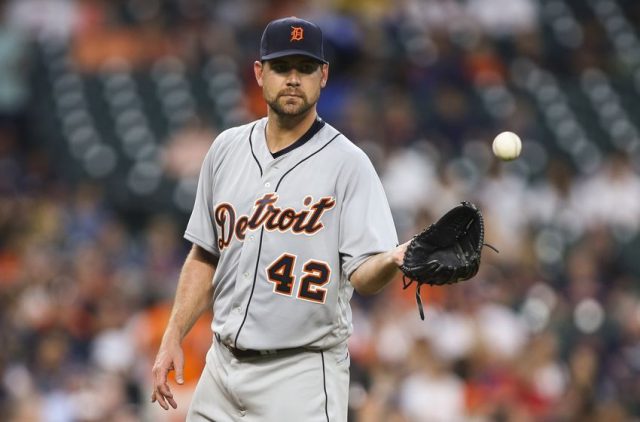 MLB Game of the Week: Detroit Tigers at Chicago White Sox
With the Donald Trump's speech at the Republican National Convention taking place tonight, it's easy to forget that there are nine MLB games scheduled including one that's offering tremendous value for contrarian bettors. This evening at 8:10 PM eastern, the Detroit Tigers (49-46) will face off against the Chicago White Sox (46-48) in an AL Central showdown.
The White Sox, who will send James Shields to the mound, opened as -140 favorites at the market-setting Bookmaker.eu sportsbook. According to the public betting trends available at our seven contributing sportsbooks, they have received 62% of moneyline bets and 71% of runline bets.

It's interesting to see that although the White Sox are receiving 62% of tickets, they're only receiving 49% of total dollars wagered according to our newly added money percentages. That indicates that although they're receiving a majority of public support, there have been several large bets placed on the Tigers. This can oftentimes indicate sharp action, but I wanted to analyze the line movement to confirm this theory.
I found that even though the Tigers are only receiving 38% of moneyline bets, the line has dropped from +120 to +108 at Bookmaker. Line movement that contradicts public betting trends is commonly known as reverse line movement, and it's an excellent indicator of sharp money.
The screenshot below, which is available to Sportsbook Insider subscribers, displays the line movement since opening at Bookmaker.

You can see that early public money on the White Sox caused the Tigers to move from +120 to +127 before sharp money hammered Detroit. On Wednesday evening at 10:51 PM eastern, there was a steam move triggered at BetOnline which caused the Tigers to plummet from +127 to +113 in less than thirty minutes.
This season the BetOnline MLB steam move has gone 373-325 (+26.28 units) which means that $100/game bettors would have earned $2,628 by following every move. That confirms my initial instinct that sharp money likes the road 'dog, but there are several additional reasons to back the Tigers this evening.
Back on February 11, 2015, the San Diego Padres signed James Shields to a four-year contract worth $75 million. In 33 starts last season Shields went 13-7 with a 3.91 ERA and 216 strikeouts, which would be more impressive if he hasn't also given up a league leading 33 home runs. Perhaps those lofty home run totals should have been a red flag for bettors.
In 19 starts between San Diego and Chicago, Shields has gone just 5-14 (-8.73 units) which makes him the third-best pitcher to fade this season. Shields has also struggled with control, currently owning a 9.4% walk rate. As we explained in an earlier blog post, walk rate is one of the most important statistics for MLB bettors and anything above 9% is considered awful.
According to Bet Labs, bettors would have gone 3,394-3,459 (49.5%) with +194.45 units won by fading every home team with a starting pitcher whose walk rate is above 9%. That includes a 217-212 record (+8.08 units) during the 2016 season.
We have also previously explained that underdogs are vastly undervalued in divisional rivalries — especially when there's a high total. Since the start of the 2005 season, underdogs have produced a +0.6% return on investment (ROI) in divisional games and a -3.5% ROI in non-divisional games. When the closing total is at least 10.5, the ROI skyrockets from 0.6% to 7.8%.

At the time of publication, the total for tonight's game was 10.5 which further indicates that the Tigers are offering value.
Betting on baseball can be a long grind, especially when you're constantly taking moneyline underdogs throughout a 162-game regular season. The expectation shouldn't be winning every game, but rather exploiting market inefficiencies and capitalizing on public perception.
I should point out that the Tigers are currently +112 at Pinnacle which highlights the importance of shopping for the best line. It's also important to know that most of the sharp action took Detroit when they were a slightly larger underdog, which means that some of the value has already been sucked out. That said, I still think they're being undervalued tonight.
These numbers are always subject to change, so make sure to visit our free MLB odds page for up to the moment lines, betting trends, injuries and more.
Have any questions for the staff at Sports Insights? Utilize our live chat to speak with a customer service representative or e-mail us at help@sportsinsights.com