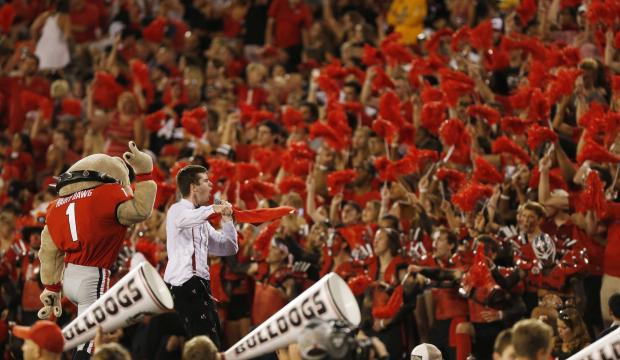 Mississippi State at Georgia: Public Bulldogs vs. Sharp Bulldogs
Before the season started, it wasn't too likely that both Mississippi State and Georgia would have identical 3-0 records. Mississippi State crushed LSU at home 37-7 last week while Georgia got a comfortable win over Samford a week after beating Notre Dame 20-19 in South Bend. With both teams coming in on highs, how is the betting market reacting?
BetOnline was the first to open this line on Sunday afternoon at Georgia -4. The line quickly moved to -7 within five minutes before public wagers consistently came in on Mississippi State. At that point, UGA fell to -5 but it was only a matter of minutes before shifting back up to UGA -6.5. That's where the line currently stands around most of the market, but CRIS (a sharp, respected offshore sportsbook) lists UGA at -7.
Early public wagers have been all over Mississippi State yet the line has increased on Georgia multiple times. In fact, at the time of publication, Mississippi State was a very trendy public underdog getting 67% of spread bets.

As you can see from our public betting breakdown, 5 of the 7 books are taking lopsided action on Mississippi State. It looks like it will be public Bulldogs (Mississippi State) against sharp Bulldogs (Georgia) in Athens on Saturday night.