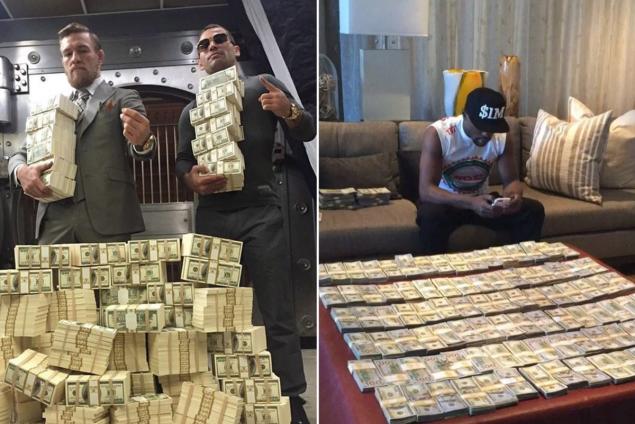 Mayweather McGregor Attracting Record Betting Handle
The betting market is taking record handle on Mayweather/McGregor, not only on the outcome of the fight but on the plethora of prop bets offered. Both the Nevada market and offshore market have seen a huge number of tickets come in on McGregor while the bigger bets have come in on Mayweather. The fight that most books compare to, Mayweather/Pacquaio in 2015, drew 4.6 million PPV buys and an estimated wagering handle of about $50 million in Nevada.
For Mayweather/McGregor, we've been tracking the odds since lines first opened, and it's almost crazy to think you can bet on the best boxer of this generation at -500 against a boxer making his debut.
Now that we're just days away from the fight, sportsbooks around the market have upped their betting limits in order to take bigger wagers. Most sportsbooks in Nevada have been stunned by the action they're getting on the fight. We've summarized a bit of that below.
Via South Point: A $880,000 wager was taken on Mayweather (-550) at South Point two weeks ago. In mid-February, South Point opened Mayweather -2700. They've taken 2,010 betting slips on McGregor and 274 on Mayweather. A pair of $200,000 wagers on Mayweather (-550) were also taken on Thursday in what should be an oncoming onslaught of Floyd money.
Via Stratosphere: "On a boxing match, I think it will be the biggest decision we've had at our books," said Ed Malinowski, sportsbook director at the Stratosphere hotel and casino in Las Vegas.
Via William Hill US: Nick Bogdanovich, Director of Trading, recently said: "The handle is insane. It is easily going to pass the handle for any fight ever booked in the state of Nevada. The liability is equally insane, as tickets are coming in on Conor McGregor at about an 18-1 clip." On Thursday afternoon, they took a $1.2 million bet on Mayweather that would pay out $240k.
Via CG Technology: Matthew Holt, VP of Business Development, said that the fight "will certainly beat the Mayweather/Pacquaio record for wagering handle on a fight. We are almost there for what we did on that fight already as of Tuesday afternoon". Jason Simbal, the VP of risk management for CG Technology, said he expects to write four times as much action over the next week than what he's booked since opening June 15 with Mayweather -950 and McGregor +650. Referring to the Mayweather/Pacquaio fight, Simbal said "You know what, I think we might write more for this one".
Via MGM Sports: "If McGregor wins, we will be cashing tickets for 48 hours straight. It will be ridiculous," MGM Resorts sports book director Jay Rood said.
Via Westgate: The average bet size on Mayweather is over $8,000. The average bet size on McGregor is $186. Mayweather opened -2500 and is now -600.
The offshore market is also getting a ton of action on this 'exhibition' fight, especially in terms of prop bets. We've summarized some of the offshore market below:
Via BetOnline: "McGregor winning in RD 1 (+2000) already the biggest exposure of any prop in history of BetOnline. Would be bigger loss than any 2017 MLB game". The prop bet is listed at +2000 odds now, but it opened at +5000 odds.
Via Bookmaker: "In terms of handle, we've already eclipsed the Mayweather/Pacquiao fight," Cooley said. "It will be the largest handle for money and tickets in our combat sports history here at BookMaker.eu." Cooley added, "It's not going to trump what we do for a marquee Sunday Night Football game or the National Championship, but will certainly exceed some of the lesser NFL and Bowl games on the schedule."
Via Ladbrokes: More than 5 million bets around the industry will be placed on Mayweather vs. McGregor.
Via Paddy Power: "It is easily our biggest boxing betting market of all time, predicting more than £200 million in bets – with most of the money expected to come in the 36 hours before the bout." They've even paid out winnings on Mayweather already, and this fight will attract more than 3x the previous record of Mayweather/Pacquaio in 2015.