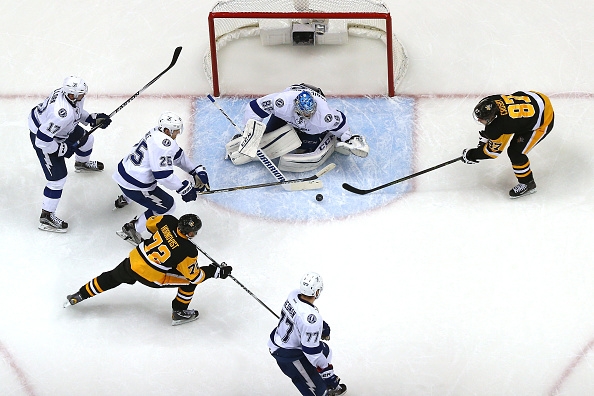 Lightning at Penguins Game 7 Preview
The Lightning will face the Penguins in Pittsburgh tonight for Game 7 of the Eastern Conference Finals. Tampa Bay found themselves up 3 games to 2 with a chance to close out Pittsburgh at home in Game 6, but the Penguins kept the pressure on to avoid elimination and are now big -210 favorites to make it to the Stanley Cup.
Here's a look at how the series odds have changed over the course of the seven-game set:
Matchup
Opener
After Game 1
After Game 2
After Game 3
After Game 4
After Game 5
After Game 6
PIT-TB
PIT -203
TB +175
PIT -125
TB +105
(TB up 1-0)
PIT -220
TB +185
(tied 1-1)
PIT -440
TB +350
(PIT up 2-1)
PIT -210
TB +175
(tied 2-2)
TB -190
PIT +165
(TB up 3-2)
PIT -210
TB +175
(tied 3-3)
Bettors have been able to get both teams at + money this round, which has been a common theme throughout the playoffs this year. The back-and-forth complexion of every series has made every game intriguing, even if markets like Tampa Bay and San Jose end up meeting in the Final. For the TB/PIT series, Lightning to win in 7 games was listed at +650 odds and Penguins to win in 7 games was listed at +400 odds.
For Game 7, Pittsburgh opened -190 at 5Dimes sportsbook and have moved to -210 behind 60% of moneyline bets. Pittsburgh is even as high as -230 at CRIS, and below shows the betting patterns there since opening:

Pittsburgh has been the better team overall in this series but the public has slightly inflated the price on Pittsburgh for Game 7. As of Thursday morning, public bettors have boosted the line on Pittsburgh, meaning there could now be some value on Tampa Bay. The Lightning will once again be without starting goaltender Ben Bishop, but his backup Andrei Vasilevskiy has been adequate as his fill-in. For those who are unsure who wins, there could be some value on the total in this game.
**Another point we've highlighted in the past is the added perception that in these must-win games for both teams, referees put their whistles down and let the players play. This should make for fewer called penalties and tighter games, which essentially should lead to less scoring. But does that theory hold true? According to Nate Silver of FiveThirtyEight.com, "Game 7 officials call penalties at a rate of nearly half the regular season."
This has mostly been proven by a betting perspective in terms of the total, as 60% of Game 7's have gone Under the total since 2005. Here are Game 7 betting trends since 2005 via BetLabsSports.com:
| Filter | Record | Units Won |
| --- | --- | --- |
| Visitors | 24-23 | +10.5 |
| Underdogs | 21-26 | +4.1 |
| Favored in Previous Game | 27-20 | +7.1 |
| Won Previous Game | 24-23 | +5.9 |
| Unders | 23-16-8 | +4.0 |
Despite historically going under the total, 61% of bettors are taking the Over 5.5 for tonight's Game 7.
Lastly, here are the potential Stanley Cup Final odds:
San Jose -130 / Tampa Bay +110
Pittsburgh -145 / San Jose +125