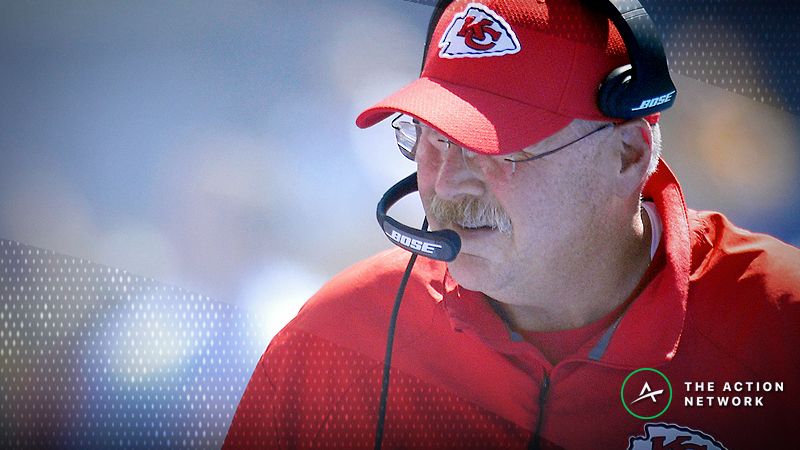 Chiefs Receiving Record Public Betting Support Against Steelers
Week 2 in the NFL season is a time when recency bias can run rampant, taking over the minds of bettors. What they watched in Week 1 outweighs other important factors when placing bets, oftentimes leading to contrarian betting value.
In fact, Week 2 has been the most profitable week of the season to bet against the public. However, that's not what I'm here to talk to you about.
Instead, I'd like to inform you all that the Kansas City Chiefs are in line to receive the highest percentage of spread bets EVER for an underdog. Currently at 81%, Kansas City (+4) is the apple of the public's eye.
The highest percentage of spread bets an underdog has ever received was 80%, when the Titans (+3) visited the Jaguars in Week 1 of the 2011 season. They ended up losing the game, 16-14, but covered thanks to those three points.
The second- and third-most heavily bet dogs also covered:
Bengals +1 (79% of bets) at Jaguars, 9/30/2012: Final score CIN, 27-10
Chargers +3 (79% of bets) at Panthers, 10/24/04: Final score SD, 17-6
There are a few factors playing into this phenomenon. First, as I mentioned before, there's recency bias.
The Chiefs, especially their offense, looked great in their 38-28 win over the Chargers last week. Meanwhile, the Steelers tied the Cleveland Browns, who aren't exactly the pedigree of the NFL.
In addition, there are also a couple of red flags on Pittsburgh's side. James Conner looked great in Week 1, but I'm sure bettors would be much more willing to take the Steelers if Le'Veon Bell plays.
There's also this:
Ben Roethlisberger (elbow) doesn't practice Wednesday. https://t.co/PPD1TO928R

— FantasyLabs NFL (@FantasyLabsNFL) September 12, 2018

Although Roethlisberger says he's fine and all signs point to him playing this week, his banged-up elbow certainly isn't going to help woo people into betting on Pittsburgh.
It's no guarantee that the Chiefs break the underdog public betting record, but even if they don't, they'll remain in rare territory.
Just 1.8% of dogs have received at least 70% of bets, while a mere 0.5% have received at least 75% of bets.
This article was originally posted on ActionNetwork.com by Mark Gallant. Sports Insights is part of The Action Network.