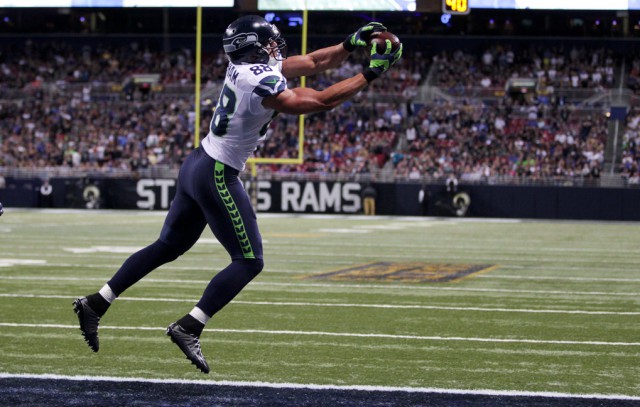 Impact of NFL Total Movement on Week 6 DFS Value
In a new feature, we wanted to highlight players that were offering value based on line movement across the sports betting marketplace but before that, it's worth touching on the recent news out of Las Vegas.
On Thursday night the Nevada Gaming Control Board ruled that daily fantasy sports is a form of gambling and will require a license to operate in the state. Essentially, the board found that DFS constitutes gambling and is not a game of skill. That means sites like FanDuel and DraftKings will no longer be allowed to accept players from Nevada. Daily fantasy sports had already been banned in Arizona, Iowa, Louisiana, Montana and Washington, making Nevada the sixth state to prohibit the increasing popular contests.
This ruling shouldn't come as much of a surprise, especially following the recent allegations of insider information by DFS site employees and investigations and probes by the FBI. Since obtaining these licenses would seemingly be an admission that daily fantasy is actually a form of gambling, it seems unlikely that either FanDuel or DraftKings will return to Nevada any time soon.
The decision could also set the stage for other state to take similar measures, and it doesn't seem far-fetched to imagine local casino's attempting to offer their own version of daily fantasy in the near future. That said, daily fantasy is still entirely legal in most states and there are a number of players offering value this week.
Since prices are released on Monday, there are a lot of variables that can change throughout the week and skew player value. While injuries are one of the biggest factors, we wanted to examine how line movement on the over/under could affect player prices. If oddsmakers are expecting more points to be scored, players in those games should see an uptick in value.
This week we opted to examine three games in which the total dropped at least 1.5-points at Pinnacle. Using this data we were able to pinpoint a few players with waning value at DraftKings. This shouldn't be the only factor that you consider, but it does indicate a negative factor working against these players.
Cincinnati Bengals at Buffalo Bills (Opened 44, Dropped to 42)
Although 65% of bettors are currently taking the over, the Bengals/Bills total dropped 2-points at Pinnacle which indicates that sharp money is taking the under in this game. That means bettors may not want to pay up for A.J. Green ($7,600) who is the fifth most expensive wide receiver this week.
At the same price point, Julian Edelman is an excellent option to replace Green. The Patriots/Colts total (54.5) is 12.5-points higher and Edelman has been a reception machine over his career. There are currently 8 Pro Trends on Edelman over at Fantasy Labs, which makes him an intriguing play this week.
Bettors will also want to know that LeSean McCoy ($5,400) was upgraded to probable for this week's game while teammate Karlos Williams ($5,300) has been downgraded to doubtful. With McCoy playing, the potential value on cheap flyers like Boobie Dixon ($3,300) has been severely limited.
Miami Dolphins at Tennessee Titans (Opened 44.5, Dropped to 43)
Public betting has been evenly split in this game, yet the total has dropped 1.5-points from 44.5 to 43. This news could adversely affect a number of players including Dolphins TE Jordan Cameron ($3,000). Considering Zach Ertz is less expensive ($2,900) and has a very favorable matchup against the Giants, he could be an interesting replacement.
It should also be noted that the Titans secondary has been terrific this season, so be careful more inserting Jarvis Landry ($6,200), Rishard Matthews ($4,200) or Kenny Stills ($3,000) into your lineup. If you already have Matthews in your lineup, consider spending the extra $100 to replace him with Anquan Boldin ($4,300) who leads all wide receivers with 9 Pro Trends this week.
One interesting value play could be the Dolphins D/ST which seems underpriced at just $2,800.
Carolina Panthers at Seattle Seahawks (Opened 42.5, Dropped to 40.5)
After dropping two points since opening, the Panthers/Seahawks game is now tied for the lowest Week 6 over/under. That should be enough reason to stay away from this game, but who are some potential replacements?
With a strong core of linebackers, it's not too surprising that the Panthers have been the leagues best team at stopping opposing tight ends. What is surprising is how expensive Jimmy Graham is this week. The Seahawks have attempted to utilize their big offseason acquisition more as a blocker, than as a receiver. As a result, Graham has averaged just 10.7 fantasy points per game — 13th best among tight ends.
Despite these struggles, Graham is still the third most expensive tight end this week at $5400. By swapping Graham for Tyler Eifert ($4,900), Antonio Gates ($4,600) or Richard Rodgers ($3,100), owners can give themselves the flexibility to spend at other positions.
It's also to interesting to see Marshawn Lynch listed at $6,900 despite missing last week's game with an injury. Admittedly Carolina's run defense has been poor, but in such a low scoring game there would seem to be a number of superior options. The Packers are 10.5-point favorites against San Diego and the total is 50.5. If Green Bay takes an early lead, Eddie Lacy could get a huge workload which would make him an excellent value at $6,300.
We stress that line movement on the total is only one factor to consider, but sportsbooks should be releasing NFL player props on Sunday afternoon. Make sure to follow us on twitter since those over/unders can help shed additional light on players offering value.
For anybody interested in Daily Fantasy (DFS) make sure to check out Fantasy Labs for access to Pro Models, Lineup Optimizer and other unique data for your Week 1 lineup.
Have any questions for the staff at Sports Insights? Utilize our live chat to speak with a customer service representative or e-mail us at help@sportsinsights.com.
David Solar is the Content Manager for Sports Insights and can be reached directly at David@sportsinsights.com.