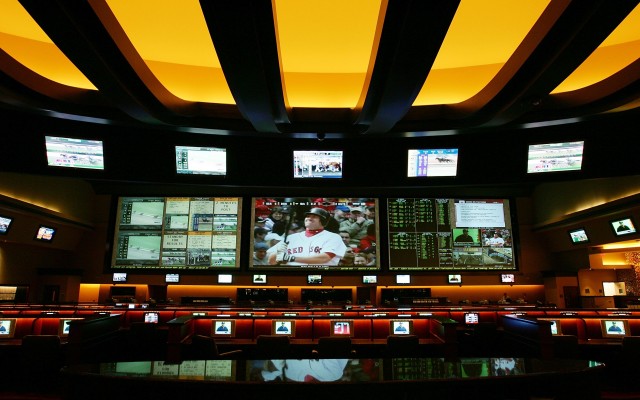 Identify MLB Sharp Money Using Our Free Odds Page
We are frequently inundated with questions about sharp money indicators. Bettors constantly want to know how to determine which teams are being pounded by wise guys or betting syndicates, and there are two simple ways to track this.
The first strategy is by following steam moves, which are sudden drastic and uniform line movement across the entire sports betting marketplace. Unfortunately, this feature is only available to our Sportsbook Insider Pro subscribers. The other way bettors can easily identify sharp money is by looking for reverse line movement, which is when a line moves against our public betting percentages.
For those who are unfamiliar, we receive public betting percentages from seven contributing sportsbooks: Sportsbook.com, Sports Interaction (SIA), BetUs, Carib, GT Bets, 5Dimes and BetDSI (CRIS). These books range from square to sharp and offer a representative sample of how each game is being bet.
Lines can move for a number of reasons including weather and injuries, but most of the time line movement is based on public betting. Sportsbooks seek to minimize their risk by setting their lines at a point where 50% of the money will be placed on each side. If a 90% of the money is being placed on a 5-point favorite, oddsmakers will move that team to -5.5 or -6 to encourage action on their opponent. If the money is split evenly on both sides, sportsbooks can simply sit back and collect the vig for an easy profit.
Although sportsbooks don't disclose the amount of money being placed on each side, bettors are able to view the percentage of bets placed on each team by visiting our free MLB odds page. In fact, by simply comparing the opening lines with the current lines bettors can easily identify reverse line movement.
Let's pretend that the Boston Red Sox open as a -150 favorite against the New York Yankees. If Boston receives 80% of moneyline bets, you would expect that oddsmakers would adjust their lines to Boston -155 or -160. However, if the line drops to -145 or -140, it means that although more bettors are taking Boston, more money has actually been placed on New York. This is an excellent example of reverse line movement, which would indicate that large money from wise guys or betting syndicates has been placed on the Yankees.
The screenshot below further demonstrates examples of real sharp money in the MLB using our free odds page:
(Click to enlarge image)

As you can see, we've circled two games involving reverse line movement:
Despite receiving just 24% of moneyline bets, the Tampa Bay Rays moved from -105 to -109 at Bookmaker.
Despite receiving just 28% of moneyline bets, the New York Yankees moved from +100 to -129 at Bookmaker.
This would indicate that sharp money heavily bet TB -105 and NYY +100. If you shop for the best line, you can see that Tampa Bay is still available at -104 at Sportsbook.com. Unfortunately, the Yankees game moved 20 cents which makes finding a comparable line difficult. Sharp money clearly pounded the Yankees, but much of the value has already been sucked out. In this instance, bettors might be better suited by laying off this game entirely.
In our 2015 Betting Against the Public report, we explained that the sweet spot for contrarian betting involved teams receiving less than 30% of moneyline bets. We would also suggest that anybody looking for reverse line movement focus on teams at this threshold.
Have any questions for the staff at Sports Insights? Make sure to utilize our live chat or call us directly at 877-838-2853.
David Solar is the Content Manager at Sports Insights and can be reached directly at david@sportsinsights.com.