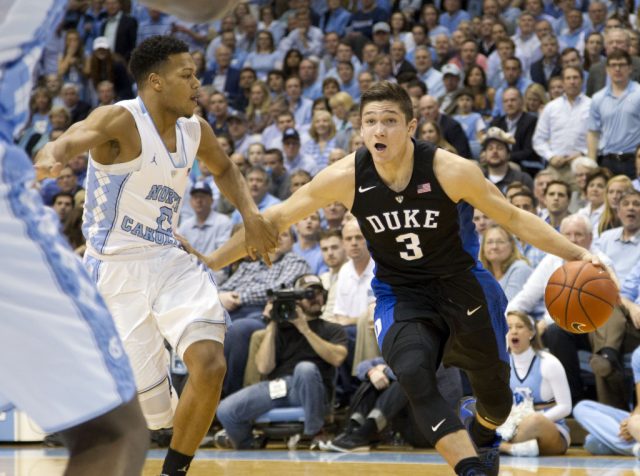 How is Public Money Affecting the UNC-Duke Line?
The Tobacco Road Rivalry will be renewed tonight as the 18th-ranked Duke Blue Devils (18-5, 6-4 ACC) host the 8th-ranked North Carolina Tar Heels (21-4, 9-2 ACC). Since 2005, the road team has gone 16-7 ATS and the underdog has gone 14-10 ATS in this heated rivalry. Perhaps that explains why bettors are taking the points and hammering the Tar Heels.
North Carolina opened as 3-point underdogs at the market-setting Bookmaker and, according to our public betting trends, they have received 64% of spread tickets and 65% of spread dollars. This one-sided public betting has caused the line to drop from Tar Heels +3 to +2.  Since there have been no bet signals triggered on this game, we can safely assume that public money is solely responsible for this one-point line move.
(Click image to enlarge)

It's interesting to note that public bettors typically love taking favorites, but that's not always the case. Although the majority of spread bettors have taken the underdog in just 22.5% of college basketball games, that number jumps to 42.2% when two ranked teams play each other. In fact, the underdog has received the majority of spread bets in 12 of the 24 Duke/UNC games in our database.
In the past, we have explained that the value derived from betting against the public is directly correlated with the number of bets placed on a game. Sportsbooks are willing to accept one-sided public betting on small conference games, but that's not necessarily the case for marquee matchups like Duke-North Carolina.
"Public betting has very little impact on the college basketball oddsmaking landscape, particularly early in the season when the majority of our handle is from sharper players," according to Scott Cooley, a spokesman for Bookmaker.eu. "We don't do a ton of shading in college basketball. But if there's a big TV game that's generated a lot of hype, we may consider moving a little bit toward the chalk."
By betting against the public in these marquee matchups, contrarian bettors are able to get free points based purely on public perception. Historically that's been an effective strategy, but that's particularly true when you're able to fade the trendy underdog. With casual bettors lining up to take the higher ranked Tar Heels plus the points, contrarian bettors should consider going against the grain and back the Blue Devils.
The screenshot below, which is available to Sportsbook Insider subscribers, displays the betting activity for tonight's game.
(Click image to enlarge)

We have frequently explained how college basketball rankings are often overvalued by casual bettors, but what happens when two ranked teams face off? Our research found that home-court advantage has been a factor, with home teams going 420-389 ATS (51.2%).
Using our bracket simulator tool, we also found that Duke would beat North Carolina in 46.9% of their matchups on a neutral court, which translates to implied odds of +113. It's an inexact science, but a moneyline of +113 indicates that Duke should be a 1.5-point underdog on a neutral court.
Home-court advantage is usually valued at around 3-points, but the Blue Devils enjoy one of the nation's best home crowds at Cameron Indoor Stadium – perhaps closer to 3.5 or 4-points. Based on that information, it appears that oddsmakers nailed it with their opening line, but there might be slight value on Duke -2.
---
These numbers are subject to change before tip-off, so bettors should be sure to visit our free college basketball odds page for the latest lines, injuries, public betting trends and more.
Have any questions for the staff at Sports Insights? Utilize our live chat to speak with a customer service representative or e-mail us at help@sportsinsights.com.