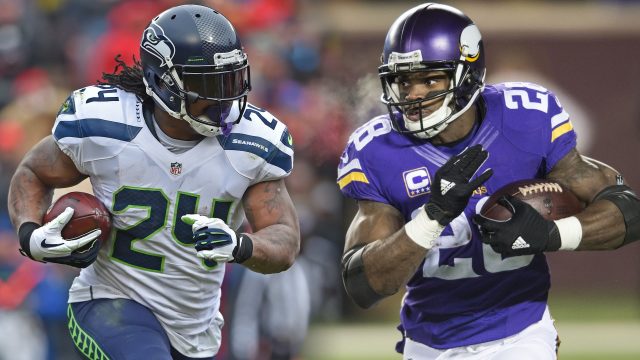 How Do Oddsmakers Think Adrian Peterson Compares to Marshawn Lynch?
After spending 10 seasons with the Minnesota Vikings, running back Adrian Peterson signed a two-year contract with the New Orleans Saints worth $7 million. The following day, Marshawn Lynch officially came out of retirement and was traded from the Seattle Seahawks to the Oakland Raiders in exchange for a future draft pick. Both of these players are future Hall of Famers on the wrong side of 30, and the comparisons were inevitable.
Lynch, whose powerful running style earned him the nickname "Beast Mode," has racked up over 10,000 career rushing yards including four consecutive 1,000-yard seasons with Seattle from 2011 to 2014. His retirement was somewhat abrupt after an injury-riddled 2015 season in which he rushed for a career-low 417 yards.
Peterson, who was selected just five spots ahead of Lynch in the 2007 NFL Draft, is also known for his bruising running style and dazzling highlight reel. In addition to being the Vikings' franchise leader in career carries, rushing yards, and rushing touchdowns, Peterson also has the league record for most rushing yards in a single game (296) and 200+ yard rushing games (6). Peterson was also the 2012 NFL MVP, but injuries and off-field issues have essentially kept him sidelined for two of the past three seasons.
The table below compares the career stats for both players (includes regular season and playoffs).
| Player | Team | Carries | Yards | YPC | YAC | TDs | Fumbles |
| --- | --- | --- | --- | --- | --- | --- | --- |
| Marshawn Lynch | Oakland Raiders | 2,337 | 10,058 | 4.3 | 2.8 | 83 | 20 |
| Adrian Peterson | New Orleans Saints | 2,496 | 12,088 | 4.8 | 3.1 | 102 | 34 |
Although he hasn't played in over a year, Marshawn Lynch seems to have found a better landing spot in Oakland where he's the undisputed number one running back with an excellent offensive line. Conversely, Peterson will be forced to share carries with Mark Ingram, a versatile back who has tallied over 1,000 total yards in each of the past three seasons.
On Tuesday morning, BetOnline posted several prop bets involving these two players and it appears they agree that Lynch will outpace Peterson next season.
Most Rush Attempts in 2017 NFL Regular Season
Marshawn Lynch (-44.5 Attempts) vs. Adrian Peterson
Most Rushing Yards During 2017 NFL Regular Season:
Marshawn Lynch (-174.5 yards) vs. Adrian Peterson
Most Touchdowns Scored in 2017 NFL Regular Season
Marshawn Lynch (-2.5 TD's) vs. Adrian Peterson
First Touchdown Scored
Marshawn Lynch (-140) vs. Adrian Peterson (+110)
Longest Rush
Marshawn Lynch (+120) vs. Adrian Peterson (-150)
First 20+ Yard Rush
Marshawn Lynch (-105) vs. Adrian Peterson (-125)
Will Either Player Be Traded?
Yes (+500) vs. No (-800)
Will Both Players Lead Their Teams in Rushing Yards?
Yes (+200) vs. No (-260)
Will Both Players Lead Their Teams in Rushing Touchdowns?
Yes (+180) vs. No (-225)
Oddsmakers expect Marshawn Lynch will rush for almost 200 yards more than Peterson, but I'm not optimistic about the prospects for either one of these players. Running backs typically lose a step after turning 30, and it's tough to imagine that either of these players (let alone both of them) can stay healthy while handling a full workload. For that reason, I'm willing to lay the juice and bet that both players won't lead their teams in rushing yards (-260).
The 2017 NFL season doesn't start for more than four months, but several offshore sportsbooks have already posted odds for every Week 1 matchup. Make sure to view these odds along with the latest public betting trends by visiting our free NFL odds page.
Have any questions for the staff at Sports Insights? Utilize our live chat to speak with a customer service representative or e-mail us at help@sportsinsights.com.