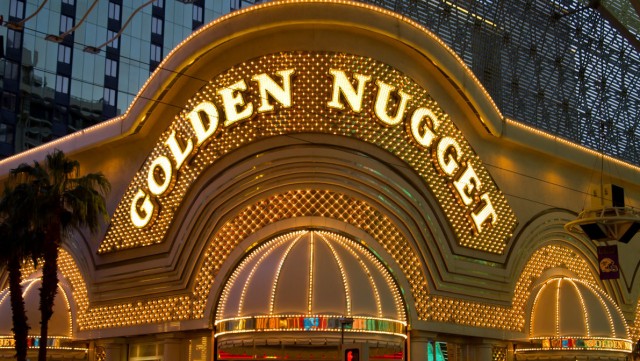 Golden Nugget Releases 2013 Games of the Year College Football Lines
For several years, the Golden Nugget has released early College Football lines for hundreds of "Games of the Year." Simply put, these are some of the most highly anticipated matchups on the College Football schedule, with dates ranging from late August to early December.
Although the legendary sportsbook typically allows a $1,000 limit, this is a great opportunity for casual fans to see who the oddsmakers will favor in the biggest games of the season. It's also an excellent opportunity to get a good line on what will likely be some of the most heavily bet games. In 2011, the average line at the Golden Nugget moved over four points from the time their Games of the Year college football lines were released until the kick-off.
Make sure to check out our College Football betting trends to see where all the early action is going, and let us know which games you are most eagerly awaiting. Without further ado, the 250 "Games of the Year" college football lines. (Note: All lines reflect the favorite.)
Thursday, Aug. 29
UNLV at Minnesota (-13)
North Carolina at South Carolina (-12)
Mississippi (-4) at Vanderbilt
Saturday, Aug. 31
Washington State at Auburn (-11.5)
Northwestern (-10.5) at California
Nevada at UCLA (-15)
*Colorado vs. Colorado State (-3.5) (Denver)
Temple at Notre Dame (-24)
*Penn State (-6.5) vs. Syracuse (East Rutherford, N.J.)
*Mississippi State vs. Oklahoma State (-14) (Houston, Texas)
BYU (-3.5) at Virginia
Boise State at Washington (-2)
*Alabama (-17) vs. Virginia Tech (Atlanta)
Georgia (-3.5) at Clemson
*LSU (-4) vs. TCU (Arlington, Texas)
Monday, Sept. 2
Florida State (-13) at Pittsburgh
Saturday, Sept. 7
Washington State at USC (-21)
South Carolina at Georgia (-4)
Syracuse at Northwestern (-13)
South Florida at Michigan State (-16)
Notre Dame at Michigan (Pick)
San Diego State at Ohio State (-21.5)
West Virginia at Oklahoma (-16)
Texas (-7.5) at BYU
Oregon (-21) at Virginia
Florida (-2.5) at Miami Fl
Arizona (-17) at UNLV
Thursday, Sept. 12
TCU (-4) at Texas Tech
Saturday, Sept. 14
Mississippi State (-1) at Auburn
Wisconsin at Arizona State (Pick)
Ohio State (-21) at California
Boston College at USC (-21.5)
Nevada at Florida State (-26)
Iowa at Iowa State (-4)
Louisville (-14) at Kentucky
UCLA at Nebraska (-6)
Tulsa at Oklahoma (-18)
Alabama (-6, 54.5) at Texas A&M
Mississippi at Texas (-8)
Oregon State at Utah (-6)
Washington (-11) vs. Illinois
Central Michigan at UNLV (-4)
Tennessee at Oregon (-25)
Notre Dame (-14) at Purdue
Vanderbilt at South Carolina (-11)
Thursday, Sept. 19
Clemson (-11) at North Carolina State
Saturday, Sept. 21
Oregon State (-6.5) at San Diego State
Arizona State at Stanford (-10)
Michigan (-12) at Connecticut
Tennessee at Florida (-12)
North Carolina at Georgia Tech (-4.5)
Michigan State at Notre Dame (-6)
Auburn at LSU (-18)
West Virginia (-2) at Maryland
Arkansas at Rutgers (Pick)
Kansas State at Texas (-9)
Utah at BYU (-7.5)
Colorado State at Alabama (-41)
Thursday, Sept. 26
Virginia Tech (-1) at Georgia Tech
Saturday, Sept. 28
Texas A&M (-17) at Arkansas
USC at Arizona State (Pick)
Miami Fl (-10) at South Florida
LSU at Georgia (-6, 52)
Southern Mississippi at Boise State (-21.5)
Oklahoma at Notre Dame (-2)
Florida (-20) at Kentucky
Florida State (-17) at Boston College
Wisconsin at Ohio State (-11, 45)
Colorado at Oregon State (-22)
Wake Forest at Clemson (-21)
Arizona at Washington (-5)
Stanford (-18.5) at Washington State
Oklahoma State (-11) at West Virginia
Mississippi at Alabama (-17)
South Carolina (-14) at Central Florida
California at Oregon (-34)
Thursday, Oct. 3
Texas (-12) at Iowa State
UCLA (-5) at Utah
Saturday, Oct. 5
Washington at Stanford (-10)
Oregon (-37) at Colorado
Arkansas at Florida (-17)
Ohio State (-8) at Northwestern
*Arizona State vs. Notre Dame (-4) (Arlington, Texas)
Minnesota at Michigan (-15)
Clemson (-8) at Syracuse
Kansas State at Oklahoma State (-9)
TCU at Oklahoma (-9)
Louisville (-17) at Temple
West Virginia at Baylor (-7)
North Carolina at Virginia Tech (-6.5)
LSU (-9) at Mississippi State
Michigan State (-9) at Iowa
Georgia Tech at Miami Fl (-7)
Kentucky at South Carolina (-23.5)
Georgia (-11) at Tennessee
Thursday, Oct. 10
Arizona at USC (-7)
Rutgers at Louisville (-10)
Friday, Oct. 11
Temple at Cincinnati (-18)
Saturday October 12, 2013
South Carolina (-13) at Arkansas
Colorado at Arizona State (-27)
California at UCLA (-16.5)
Missouri at Georgia (-18)
Alabama (-30) at Kentucky
Florida at LSU (-4, 41.5)
Texas A&M (-4) at Mississippi
Michigan (-2.5) at Penn State
Boston College at Clemson (-22)
*Oklahoma vs. Texas (Pick) (Dallas)
Georgia Tech at BYU (-3)
Stanford (-13) at Utah
Pittsburgh at Virginia Tech (-13.5)
Oregon (-14) at Washington
Oregon State (-13) at Washington State
Northwestern at Wisconsin (-6)
Baylor at Kansas State (-5)
Thursday, Oct. 17
Miami Fl at North Carolina (Pick)
Friday, Oct. 18
Central Florida at Louisville (-11)
Saturday, Oct. 19
Washington at Arizona State (-5)
Utah at Arizona (-12)
UCLA at Stanford (-10)
Oregon State (-13) at California
Minnesota at Northwestern (-15)
USC at Notre Dame (-5)
Florida (-6) at Missouri
LSU at Mississippi (-2)
Iowa at Ohio State (-23)
TCU at Oklahoma State (-10)
Florida State at Clemson (-2)
Georgia (-10) at Vanderbilt
Auburn at Texas A&M (-24)
Arkansas at Alabama (-29)
Washington State at Oregon (-35.5)
Friday, Oct. 25
Boise State at BYU (-1)
Saturday, Oct. 26
Utah at USC (-18)
Arizona (-20) at Colorado
North Carolina State at Florida State (-20)
Louisville (-13) at South Florida
Oklahoma State (-14) at Iowa State
South Carolina (-7) at Missouri
Penn State at Ohio State (-16)
Texas Tech at Oklahoma (-14)
Stanford (-3) at Oregon State
Vanderbilt at Texas A&M (-16)
California at Washington (-17)
Tennessee at Alabama (-27)
Notre Dame (-18) at Air Force
Northwestern (-12) at Iowa
West Virginia at Kansas State (-9)
UCLA at Oregon (-20)
Texas (-3) at TCU
Arizona State (-15) at Washington State
Friday, Nov. 1
USC at Oregon State (-2)
Saturday, Nov. 2
Auburn at Arkansas (-3.5)
Arizona (-11) at California
Colorado at UCLA (-22)
Miami Fl at Florida State (-8)
*Georgia (-4, 44.5) vs. Florida (Jacksonville)
Navy at Notre Dame (-18)
Michigan at Michigan State (-3)
North Carolina (-2.5) at North Carolina State
Illinois at Penn State (-19)
Kansas at Texas (-31.5)
Clemson (-13.5) at Virginia
Iowa State at Kansas State (-13.5)
Ohio State (-17) at Purdue
Mississippi State at South Carolina (-15)
West Virginia at TCU (-10)
Thursday, Nov. 7
Oregon (-4) at Stanford
Oklahoma (-6) at Baylor
Friday, Nov. 8
Louisville (-10.5) at Connecticut
Saturday, Nov. 9
UCLA at Arizona (-4)
USC (-17) at California
TCU (-9.5) at Iowa State
Nebraska at Michigan (-4)
Penn State (-8) at Minnesota
Florida State (-18) at Wake Forest
Kansas at Oklahoma State (-29)
Notre Dame (-10.5) at Pittsburgh
BYU at Wisconsin (-8)
Texas (-12) at West Virginia
LSU at Alabama (-11.5, 39.5)
Virginia Tech at Miami Fl (-3.5)
Auburn at Tennessee (-8)
Thursday, Nov. 14
Georgia Tech at Clemson (-9)
Friday, Nov. 15
Washington at UCLA (-2)
Saturday, Nov. 16
Georgia (-15) at Auburn
Oregon State at Arizona State (-4.5)
Washington State at Arizona (-19)
Stanford at USC (-1)
Syracuse at Florida State (-16)
Michigan at Northwestern (-3)
Houston at Louisville (-17)
Michigan State at Nebraska (-6)
Iowa State at Oklahoma (-20)
Purdue at Penn State (-13.5)
Oklahoma State at Texas (-6.5)
Alabama (-23) at Mississippi State
Ohio State (-23) at Illinois
TCU at Kansas State (-4.5)
Utah at Oregon (-28.5)
Florida at South Carolina (-5)
Saturday, Nov. 23
Oregon (-12) at Arizona
California at Stanford (-22)
Arizona State at UCLA (-3)
USC (-24.5) at Colorado
Kentucky at Georgia (-29)
Michigan State at Northwestern (-3)
BYU at Notre Dame (-11)
Memphis at Louisville (-24)
Texas A&M at LSU (-1, 47.5)
Wisconsin (-10) at Minnesota
Indiana at Ohio State (-25)
Baylor at Oklahoma State (-11)
Washington at Oregon State (-5)
Nebraska at Penn State (Pick)
Michigan (-10.5) at Iowa
Oklahoma (-4) at Kansas State
Virginia at Miami Fl (-15)
Vanderbilt at Tennessee (-1)
Thursday, Nov. 28
Texas Tech at Texas (-16)
Mississippi (-6.5) at Mississippi State
Friday, Nov. 29
Iowa at Nebraska (-14)
Miami Fl (-7) at Pittsburgh
Washington State at Washington (-14)
Iowa State at West Virginia (-7.5)
Oregon State at Oregon (-16)
Saturday, Nov. 30
Alabama (-24) at Auburn
Arizona at Arizona State (-5)
Notre Dame at Stanford (-5.5)
UCLA at USC (-7)
Florida State at Florida (-2, 44)
Georgia (-9) at Georgia Tech
Tennessee (-7.5) at Kentucky
Arkansas at LSU (-17)
Minnesota at Michigan State (-14)
Ohio State (-6, 50.5) at Michigan
Texas A&M (-13) at Missouri
Virginia Tech (-10) at Virginia
Penn State at Wisconsin (-9)
Northwestern (-13) at Illinois
Kansas State (-21.5) at Kansas
BYU (-7.5) at Nevada
Clemson at South Carolina (-4.5)
Baylor at TCU (-5)
Thursday, Dec. 5
Louisville (-3) at Cincinnati
Saturday, Dec. 7
Oklahoma at Oklahoma State (-3)
Texas (-8) at Baylor
Saturday, Dec. 14
*Army vs. Navy (-9) (Philadelphia)
* Denotes neutral site