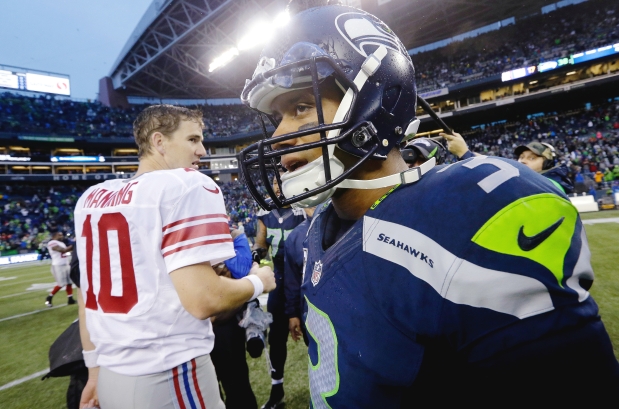 Giants and Seahawks Less Than Impressive to Start the Year…But Don't Give up Hope
We've all seen how bad the Giants have looked so far…hell, Rusty Wilson and the Seahawks haven't looked much better. With that being said, now may just be the best time to bet on them.
Heading into the season, New York had 12/1 odds to win the Super Bowl at the Westgate in Vegas, while Seattle was tied with Green Bay atop the NFC at 8/1. Clearly, the bar was set high by the oddsmakers for these two teams and in turn, fans and bettors had high hopes, too.
Howevah, they've done nothing but disappoint through two weeks. The Giants were without Odell Beckham in week 1 and he wasn't 100% in week 2, but that doesn't give them a free pass to totally suck. They've lost by a combined 43-13 in their first two games and are 0-2 ATS.
The Seahawks had a tough test in week 1 in Lambeau, losing 17-9 to the Packers. At least they were able to contain the Packers offense, but scoring just nine points against their sub-par defense is nothing to be happy about. Last week, they closed as -13.5 favorites against Brian Hoyer and the 49ers and only managed to put up 12 points. Unfortunately, the 49ers scored more than -2 so Seattle didn't manage to cover.
#49ers QB Brian Hoyer…you watch him now on the screen…and HERE HE IS…getting contrarian bettors THE COVER

HAVING THE TIME OF HIS LIFE pic.twitter.com/rzcbEVxVkR

— Sports Insights (@SportsInsights) September 17, 2017

With both teams 0-2 ATS, books and bettors are beginning to sour on them. New York is +5.5/+6 on the road against the Eagles and are commanding just 21% of the early spread bets. CG Technology had Philly as just a one point favorite on their lookahead lines posted this spring.
Meanwhile, Seattle opened at +1 on the road against the Titans and are already up to +3. The lookahead line for this game was Seattle -2.
Historically, betting ON teams that made the playoffs in the previous season and are off to a 0-2 ATS start has done quite well: 28-16 ATS for a 26.6% ROI. While others are souring on these teams, you should sweeten. This week is a good opportunity to take these teams at an inflated line that you normally wouldn't be able to get.
Wouldn't you know it, the Seahawks were actually in this same situation last season. They beat the 49ers 37-18, easily covering the -10.5 spread.
Check our NFL free odds page throughout the week for updated lines and percentages and follow us on Twitter @SportsInsights for more betting trends, news, and information.