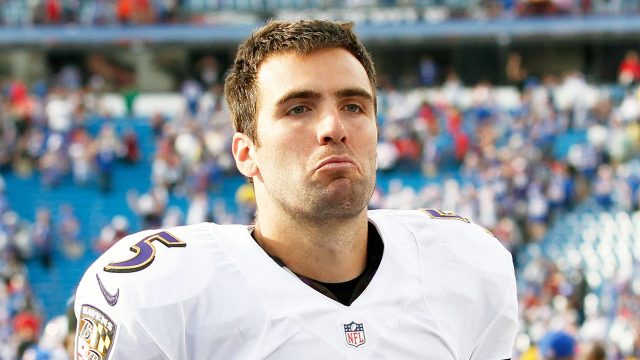 A Game Only a Bettor Could Watch: Texans at Ravens
You know what the folks at home like to see on their TV on a Monday night? Two quarterbacks with ratings in the 70s! Neither one has even had a 300 yard game this year. Can't get enough Tom Savage and Joe Flacco in primetime TV, let me tell ya…elite my ass.
Will I be watching this game? Hell no. Nevertheless, plenty of folks will be glued to their television set for one reason: they bet on it. I guarantee 90% of viewers outside of the local markets either bet on the spread or total, have guys on their fantasy team going, or played a little DFS. I can't even imagine diehard football guys watching this game…too much of a disgrace to the game. Maybe they ought to legalize gambling? Just a thought.
Alright, rant over.
In tonight's definitely-watchable, excellent football game between two exciting teams, we've seen very little to no sharp action all week. With many folks focused on Thanksgiving, Black Friday, and the always-enticing Cyber Monday, this game just hasn't gotten much attention. Not to mention the fact that there has just been several much more interesting sporting events over the past week.

How about this for line movement. After opening at -7.5 at Pinnacle last week, the Ravens have moved to…-7.5. They're getting two thirds of spread bets, but only the juice has moved at this sharp offshore book. If sharp bettors had been buying in on the Texans and The Absolute Savage, we surely would have seen the line move to seven, if not 6.5 at some point.
The total has seen a bit of love, as it has risen from 38 to 39.5 across the market. Shockingly, 70% of bets are on the over despite the fact that neither team has a lick of offense. I guess I said the same thing last week with Miami and Carolina and that game went bonkers.
Will you succumb to the dark NFL lord and watch this snoozefest? I suggest watching a little NBA, maybe a little NHL if that floats your boat…a bit of the countdown to the 25 days of Christmas on the station formerly known as ABC Family…anything but this.
Check the latest lines on our free odds page and follow @ActionNetworkHQ and @SportsInsights for news and analysis on the game tonight.