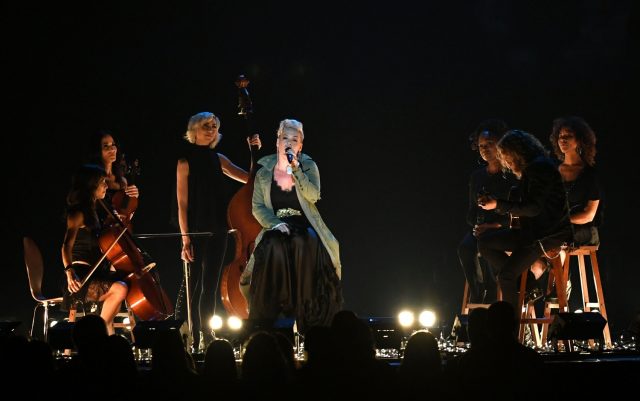 The First Non-Coin Flip Super Bowl Prop is Here!
For months, Super Bowl prop fanatics have been waiting on some new material they can bet on. They got so antsy that they started driving the odds on the coin toss. Let's just hope someone other than President George H.W. Bush flips (drops) it.
There's been some Super Bowl coin toss odds movement at Bookmaker

Heads now -102, tails -104

Sharps clearly picking a side in this random 50% chance outcome

— Marky Mark (@marky_money) November 27, 2017

Now, with Alecia Moore aka P!nk set to sing the National Anthem, Bovada has set the over/under for how long it will take her to sing it. Always a fan favorite.
The over/under for the time it will take Pink to sing the National Anthem at Super Bowl LII has been set by @bovadalv at exactly 2 minutes.

The Last Couple Of Years:
Luke Bryan — 2:09 (UNDER)
Lady Gaga — 2:20 (UNDER)
Idina Menzel — 2:01 (OVER)
Renee Fleming — 2:30 (UNDER)

— Darren Rovell (@darrenrovell) January 9, 2018
Rovell is right in that the time is set at two minutes, but he failed to mention that the juice is -140 on the over and +100 on the under. The official rules are, "From moment she sings first word until she completes saying Brave for the first time."
After some preliminary research, I can't find one video of her ever singing the national anthem. No P!nk trends in Bet Labs or anything, what a bummer. However, OddShark does have some records for the official times over the past decade plus.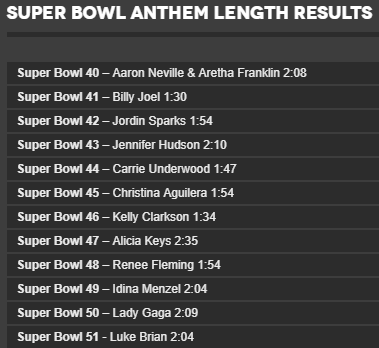 They basically range from 1:50ish to 2:10ish. Then you have Alicia Keys who was misinformed and accidentally sang Stairway to Heaven.
With several weeks to bet on this, we'll surely see some odds movement. Keep your eyes glued to your phone screen and follow @ActionNetworkHQ as we approach the Super Bowl.
Photo via Laura Farr – USA TODAY