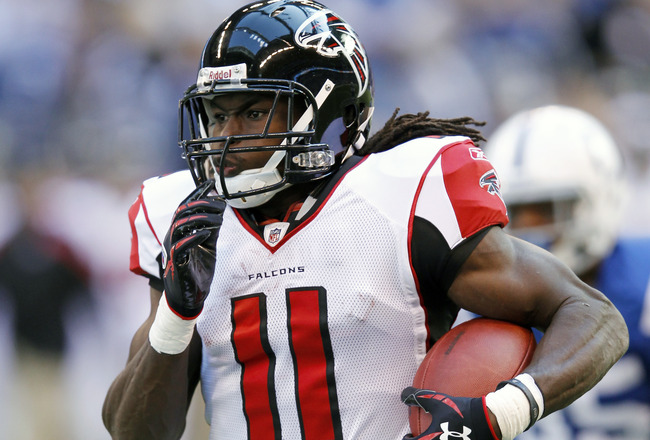 Fantasy Football 2012: Who Do the Oddsmakers Like this Season?
With the NFL pre-season in full swing and Week One lingering just around the corner, anticipation is quickly reaching a fever pitch. Unquestionably the most popular sport for bettors, the upcoming NFL season also arouses excitement for fantasy players as they ardently study for their upcoming draft. Of course, everybody and their mother have an opinion on potential sleepers and busts and it's always difficult to sift through the waves of predictions and prognosis, but who can we trust? How about the Vegas Oddsmakers? By comparing a player's average draft position (using ESPN's rankings) with the player prop futures at Bovada, we can easily determine who sportsbooks believe are primed for a breakthrough season. Conversely, we can also establish which players are being overhyped and overvalued.
Here, we will break down Player Props position-by-position to establish the true value of fantasy players based on their future odds.
As the rules have changed in the NFL, so have our emphasis on which players to value most. Drew Brees broke the NFL's single-season passing record last season with 5,476 yards, but he wasn't the only quarterback to post video-game numbers. Tom Brady and Matthew Stafford joined the Saints' gun slinging signal caller in the five-grand club, with Eli Manning falling just 67 yards short of this formerly exclusive club. In fact, ten quarterbacks passed for over 4,000 yards last season and ESPN projects that 13 of the top 16 scorers this season will be QB's. So where is their value for this crucial position?
If we compare average draft position (ADP) with Bovada's yardage projections, we can mostly find agreement at the top of the draft. Aaron Rodgers (2.8 ADP, 11/2 to lead the NFL in passing yards), Brady (5.3, 19/4) and Brees (6.8, 9/2) are clear-cut first round picks with Stafford (12.5, 13/2) right on their heels. After that, we see a much more significant disagreement. Peyton Manning is currently listed as a 10/1 favorite to lead the league in passing, yet his ADP of 41 places him 8th amongst quarterbacks.
Another interesting sleeper is Bears QB Jay Cutler. The rocket-armed QB will re-unite with Brandon Marshall, giving Cutler his first legitimate weapon in the passing game since he arrived in Chicago back in 2009. The last time this tandem played together in 2008, Cutler threw for a career-best 4,526 yards — nearly 900 yards higher than his next best season. Bookmakers must recognize this potential, as numbers indicate that Cutler is being significantly underrated. With an ADP of 102 Cutler is being ranked as the number 15 QB, which would make him a backup in standard 12-team leagues. However, Cutler's 20/1 odds to lead the league in passing ranks him 10th — which would put him on par with more highly touted QB's like Matt Ryan and Matt Schaub.
The one thing smart fantasy owners know is that you can never have enough running backs, but this seems like an exceedingly difficult year to handicap the position. Arian Foster, Ray Rice and LeSean McCoy are all being taken at the top of drafts, but the next tier of players is loaded with question marks. Will Maurice Jones-Drew continue his holdout? Can the injury-prone Ryan Matthews produce when he returns from a broken clavicle? Is Adrian Peterson fully recovered from his torn ACL? Does DeMarco Murray warrant a high draft pick despite a limited sample size and a history of injuries? These players are all surrounded with uncertainty, but there is one return from injury that oddsmakers seem the most certain about.
Despite an ADP of 24.1 (11th amongst running backs) Jamaal Charles is currently listed at 12/1 to lead the NFL in rushing — tying him with Darren McFadden and LeSean McCoy for 5th amongst backs. Last season, the Chiefs dynamic back tore an ACL in just the second game of the season, so unlike Adrian Peterson and Rashard Mendenhall (who also tore their ACL), Charles has had plenty of time to recover. And although he hasn't played in nearly a year, let's not forget what a healthy JC can do. In 2010, the Texas product rushed for 1,467 yards with an astounding 6.4 yards per carry average. Add in 45 receptions for 468 yards and it's easy to get excited about Charles' prospects this season. Really what it comes down to for fantasy players is this — with a litany of injury-plagued and unproven backs being selected high in the draft, why not take a flyer on a player with the highest upside? A healthy Charles is a first-round value, and he's currently being selected in the early 3rd round in most drafts.
Other potential sleepers include Shonn Greene (26th rated RB, 17th best odds), Darren McFadden (10th and 5th) and even the aforementioned Matthews (17th and 12th) who has slipped substantially since his injury.
The depth at wide receiver appears to be tremendous this season, but bookmakers believe there are plenty of sleepers — including some very trendy selections. After showing glimpses of greatness in his rookie season, fantasy football analysts have been very high on the prospects of Julio Jones. Despite missing three games last season (and parts of many other games) the former Alabama wideout hauled in 54 balls for 959 yards and 8 scores. That production has the athletic receiver being selected with the 32nd pick on average — ranking him 11th for his position. However, Jones has the 4th best odds to lead the league in receiving yards at 12/1, ahead of more highly touted players like current hold-out Mike Wallace (16/1), Wes Welker (18/1), Greg Jennings (20/1) and even teammate Roddy White (15/1).
Another interesting case study is Brandon Marshall. As mentioned earlier, the tall receiver will be united with quarterback Jay Cutler, and oddsmakers believe this will be beneficial for both players. Currently posting an ADP of 36.4 (12th amongst WR), Marshall's 15/1 odds tie him for 7th amongst receivers. The projected yardage is great and with a 6'5″ frame, Marshall always makes for an attractive goal line weapon.
If you're looking for a player to avoid, look no further than New England's Wes Welker. Assuming you are not playing in a points per reception (PPR) league, Welker appears to be highly overvalued. The quick slot receiver is currently the 6th ranked wideout with an ADP of 22.7, but according to Bovada's odds, he only has the 12th best odds to lead the league in receiving yards. Considering his size makes him a poor goal-line option (especially with Rob Gronkowski in tow), and that the Patriots have also added former 100 catch receiver Brandon Lloyd, Welker simply may not have the same opportunity as in years past.
Other sleepers include Bronco teammates DeMaryius Thomas (23rd ADP, 17th best odds) and Erik Decker (27th and 19th).
Lastly, it's worth taking a look at the rookie race — especially for those of you competing in dynasty or keeper leagues. While draft position indicates that many believe Robert Griffin III will be this season's version of Cam Newton, and others think that Trent Richardson is a potential number one fantasy back (despite his injury and the poor track record of rookie running backs), neither of them are projected to win the rookie of the year. That honor belongs to the top overall draft pick — Andrew Luck.
The former Stanford Cardinal currently has the 16th best ADP amongst quarterbacks, and is being selected, on average, 32 picks after RG3. Obviously Griffin's rushing ability is a valuable fantasy asset, but sportsbooks still like the more polished Luck. While RG3's odds to win rookie of the year are 7/2, Luck is just ahead of the speedster with 5/2 odds. Other highly ranked rookies include Richardson (11/2), Justin Blackmon (9/1), Doug Martin (12/1) and the barely mentioned Browns QB Brandon Weeden (8/1). Those looking for potential sleepers? Giants rookie David Wilson (25/1) could prove valuable if Ahmad Bradshaw suffers an injury, while Alshon Jeffrey (22/1) has gotten rave reviews from the Bears coaching staff.
If you are a serious fantasy player, make sure to check out our injury reporter app for the fastest updates around. Own the waiver wire, and never start an injured player again.
Disagree with oddsmakers selections? Have any sleepers of your own? Any potential busts to avoid? Make sure to leave your comments in the section below.