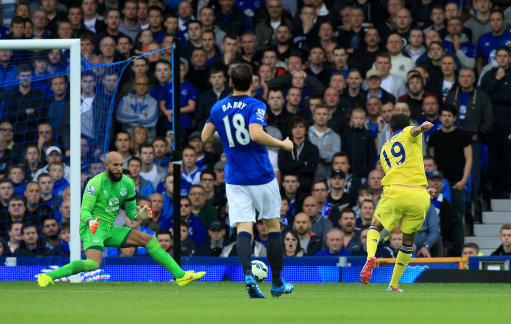 EPL Week 3 Betting Recap and Look Ahead
Week 3 of the Barclay's Premier League was awesome. Manchester United dropped points AGAIN, this time at Burnley, and their neighbors Manchester City lost at home to Stoke City 1-0. Chelsea annihilated Everton on their home turf by a score of 6-3, and Arsenal were held in check at Leicester City.
Bettors are usually keen on United but may need to think twice this season as they've yet to capture a victory. Here's a betting recap of Week 3:
Week 3 Most popular bets at CRIS and Results:
Arsenal -118 (84%)  |   Drew 1-1 at Leicester City
Manchester United -167 (69%)  |   Drew 0-0 at Burnley
Sunderland +220 (69%)  |   Lost 1-0 at QPR
Chelsea -105 (68%)   |   Won 6-3 at Everton
Another week and another solid output for those fading the masses. Minus Chelsea's domination at Everton, the three other most popular picks were not able to come through for bettors.
Week 3 Biggest Payouts:
Stoke City Win +1,850
Burnley/Manchester United Draw +325
Newcastle/Crystal Palace Draw +270
Chelsea to win at Everton was not a big shock, but the final scoreline was. According to OddsChecker.com, Chelsea to defeat Everton by the exact score of 6-3 was listed at 1000:1 odds prior to the match, meaning a $10 bet netted $10,000.
What to look for in Week 4: 
The Premier League will be off next weekend but resumes on Saturday, September 13. Here are the top games to look for in two weekends and the early betting lines via SIA  (Home teams are always listed first):
Arsenal +185   |   Manchester City +145   |   Draw +241
Manchester United -330   |   QPR +1100   |   Draw +453
Chelsea -332   |   Swansea City +900   |   Draw +451
Two title contenders will go at it at the Emirates Stadium in London as Arsenal take on Manchester City. Both teams are coming off disappointing games and will not want to fall further behind EPL leaders Chelsea this early in the season. City open as a slight favorite on the road and books will likely open the total at 3 so we should see some goals.
Chelsea are big favorites at home against a Swansea City team that may be surprising people early on. Despite their good start, the Swans are big dogs just to earn a point in this one and we'll likely see this line move up even higher from Chelsea -332.
Where to begin with Manchester United? The Red Devils have been pretty generous giving up points to teams they would have taken care of in the Alex Ferguson era, and anything but a win against QPR would be unacceptable. Even if some bettors are losing faith in United, I can't see this line going anywhere but up from -330.
All Premium and Pro members have access to the Premier League and other leagues around the world, and we provide opening odds, current odds, and betting percentages around the market. We also encourage any feedback and ideas that bettors would like to see in this weekly EPL rundown so feel free to leave any comments below.
[adrotate group="4″]