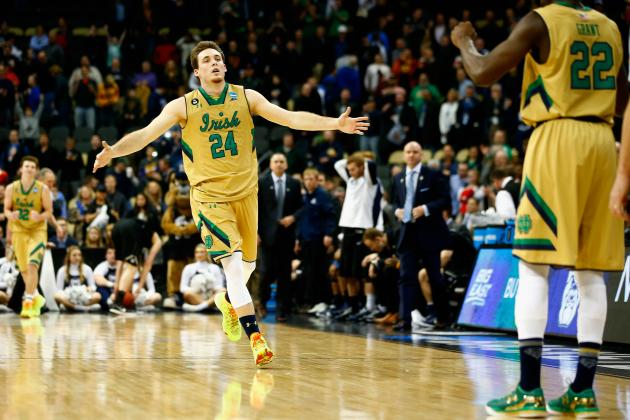 Elite 8 Betting Information
Kentucky has been the talk of the tournament with good reason- they're now the first NCAA team to start a season 37-0 and need just 3 more victories to cap off a perfect 40-0 year. For their Elite 8 matchup with Notre Dame, they opened -9.5 and were bet up to -12.5 pretty quickly before settling at -11.5 at the market-setting Pinnacle sportsbook. Currently betting percentages are pretty split for the game but it's obvious some early, sharp money was pounding the Wildcats. Some other betting news and notes regarding the Elite 8:
– Kentucky (-11.5) is the third double-digit favorite in the Elite 8 since 2005. The previous two both failed to cover (Florida in 2014 vs. Dayton, and Kansas in 2011 vs. VCU). Kansas even lost that game outright by 10 points.
– There are multiple Kentucky prop bets from before the tournament that are still in tact:
+600 win every game by 10+ pts
+400 never trail in 2nd half
+220 lead after every 1H
– Kentucky doubled up West Virginia in the Sweet 16, winning 78-39. Via ESPN, this was the first time a team got doubled up this late in the tournament since 1940. If Kentucky scored 0 points in the 2nd half of last night's game, they still would have won.
– Historically, teams coming off of a 35+ point win in the tourney have gone just 6-8 ATS in their next game. 4 of the last 7 actually lost their next game outright including Villanova's loss to NC State this year.
– Historically, teams receiving less than 40% of bets have gone 8-2 ATS in the Elite 8, covering by an average of 5.75 points per game. In the entire tourney, teams getting less than 40% of bets have gone 196-162 ATS. Be sure to check out our Free Live Odds page to view the latest odds and betting percentage breakdowns for each Elite 8 matchup.
– Underdogs have gone 27-16 ATS on Sweet 16 Thursdays but just 19-24 ATS on Sweet 16 Fridays. Dogs have gone 14-6 ATS on Elite 8 Saturdays but just 10-10 ATS on Sundays. While we don't have a definite reason as to why this is, it's eye-catching to see how much better underdogs perform on the first day of the round compared to the second day.
– Michigan State (-2.5) is currently getting 75% of bets against Louisville. The most popular Elite 8 side in our database was Kentucky (-4.5) in 2010 getting 75% against West Virginia. The Wildcats lost that game outright by 7.
– Louisville is the only team left in the tourney that failed to cover at least half their games this year (12-22 ATS). Here's how the Elite 8 teams have fared ATS this season:
Arizona 23-14
Duke 21-14
Mich St 21-15
UK 19-15
Gonzaga 18-14
ND 16-13
Wisconsin 19-17
Louisville 12-22
– The Elite 8 has been the best tournament round for Overs since 2005, going 26-14.