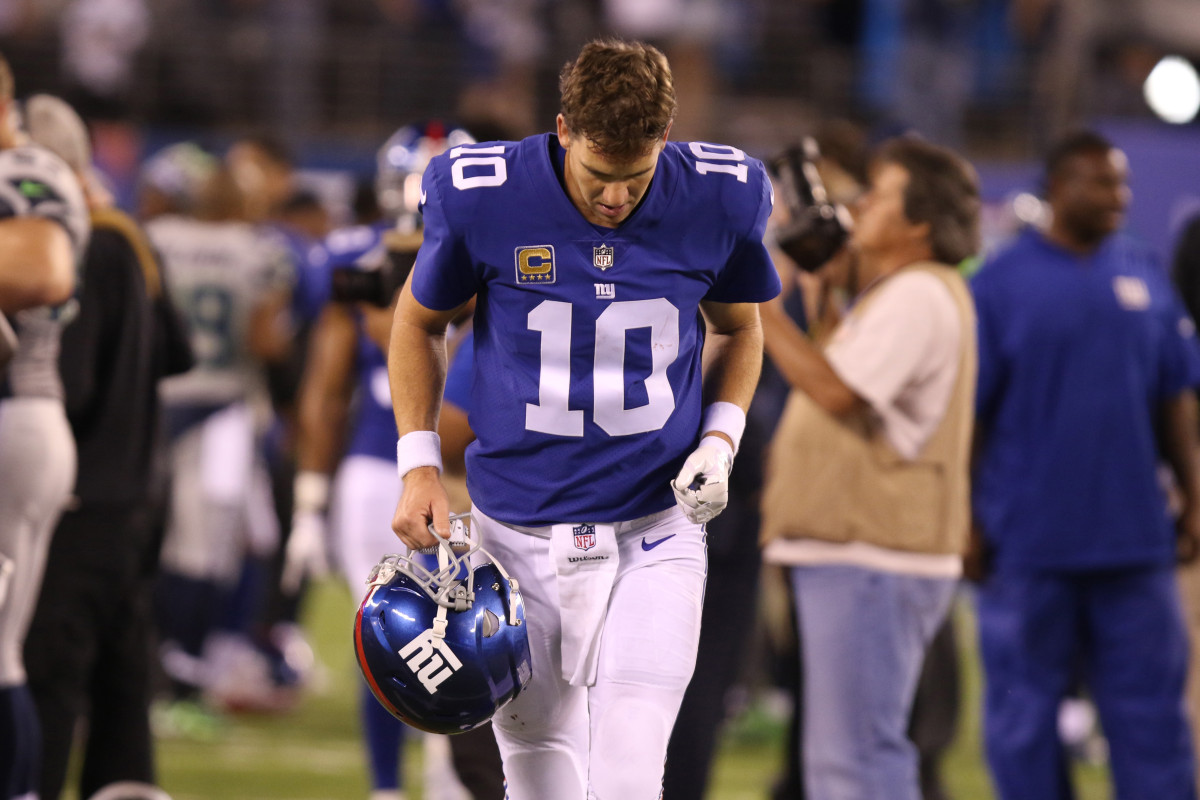 How Does Eli Manning's Value to the Spread Compare to Other Key Players?
The Giants announced on Tuesday afternoon that Eli Manning will not start this week in Oakland, meaning Geno Smith will be under center for New York (yes, he's still in the NFL). The last time Eli didn't start for the Giants was 13 years ago, meaning this Sunday will end the second longest consecutive-starts streak in NFL history.
Eli Manning has started every Giants game since Nov. 21, 2004, a streak of 210 consecutive games. Streak ends Sunday, 87 games short of Brett Favre's record.

— Adam Schefter (@AdamSchefter) November 28, 2017
For sports bettors that's all fine and dandy, but we really only care about one thing: how will this affect the line? And based on the movement at the Westgate Las Vegas Superboook, it seems the line won't be affected by much.
Westgate had this game at Raiders -6.5 prior to Eli's benching, and moved it to -7 following the announcement, meaning, yes, Eli's value to the spread right now is a mere half-point.
Out of respect for Eli, we should point out a few factors that might be contributing to the surprisingly small line move. For one, the Giants' receiving core is completely depleted. With no viable options to catch the football, it's not going to matter as much who's throwing it.
Another is the fact that this line was already centered around the key number of 7. Given the frequency of 7-point victory margins, it'll take more for sportsbooks to move the line off that number. If this game started at, say, 4.5, it would be no surprise to see it move to 6, or even 6.5 following the news.
Now that that's out of the way, let's compare Eli's half-point value to those of the other big name players that have gone down this season.
Aaron Rodgers
Rodgers is arguably the most valuable player in the NFL to the point spread; his first tier status gives him a spread value of about 6-7.5 points. In our most recent polling of oddsmakers, Ben Roethlisberger was the only quarterback comparable to Rodgers' value to the spread. However, with the Patriots shipping Jimmy Garoppolo to Silicon Valley, Tom Brady joins the top-tier due to a less capable backup in Brian Hoyer.
Deshaun Watson
After asserting himself as the clear offensive rookie of the year, Watson suffered a torn ACL in practice prior to Houston's Week 9 game with Indianapolis, ending his rookie campaign. Because the line for that week's matchup was already posted, the move from Texans -13 to -7 revealed that the difference between Watson and Tom Savage is approximately six points to the spread.
Jameis Winston
Our preseason analysis concluded that Winston is worth 3-4 points to the spread. However, with subpar performances, injury issues and troubling pregame speeches, we wouldn't be surprised to see the market now value Jameis closer to three points than the full four.
Carson Palmer
Palmer took a huge drop in our point-spread tiers from 2016 to 2017, resulting in a value of approximately 2-3 points to the spread.
Ezekiel Elliott
While not a quarterback, Zeke's suspension drama provided insight into how the betting market values a key skill position player. According to Scott Cooley of Bookmaker.eu, Elliott is considered to be worth one-half point to the spread with market perception often moving him up to a full point.