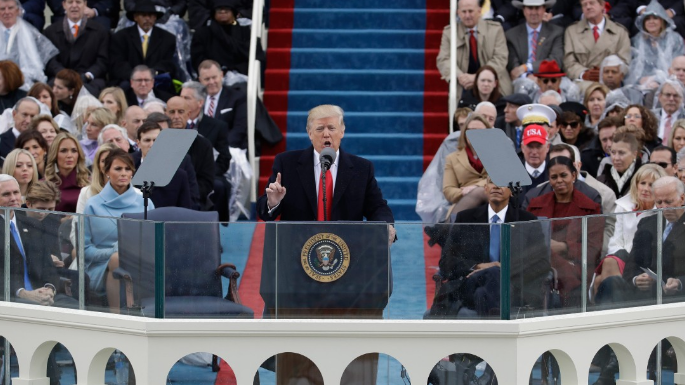 Donald Trump Joint Address Props
Tonight at 9 PM ET, President Donald Trump will address a joint session of congress for the very first time.
In his "biggest speech yet," Trump is expected to highlight his accomplishments thus far as president and outline his vision for America over the next four years. According to White House Press Secretary Sean Spicer, the theme of the speech will be "the renewal of the American spirit." Some topics likely to be discussed: health care, education, jobs, the economy, immigration, military spending and foreign policy.
Right on cue, oddsmakers have released a plethora of prop bets for Trump's prime-time "State of the Union" speech.
The following props come from BetOnline
Will Trump say "Affordable Care Act"? Yes +200, No -260
Will Trump say "American People"? Yes -800, No +500
Will Trump say "Barack Obama"? Yes -150, No +120
Will Trump say "Believe Me"? Yes -220, No +175
Will Trump say "Bernie Sanders"? Yes +450, No -700
Will Trump say "Big League"? Yes +260, No -350
Will Trump say "Dishonest Media"? Yes +350, No -500
Will Trump say "Donald J. Trump"? Yes +240, No -300
Will Trump say "Fake News"? Yes +500, No -800
Will Trump say "George W. Bush?" Yes +800, No -1500
Will Trump say "Hillary Clinton"? Yes +350, No -500
Will Trump say "Illegal Leaks"? Yes +350, No -500
Will Trump say "Make America Great Again"? Yes -220, No +175
Will Trump say "Obamacare"? Yes -600, No +400
Will Trump say "Veterans' Health Care"? Yes +175, No -220
Will @realDonaldTrump say "Vladimir Putin" during tonight's #JointAddress? (via BetOnline)

Yes +800
No -1500 pic.twitter.com/T5m0NxMIrm

— Sports Insights (@SportsInsights) February 28, 2017
Paddy Power, a prominent Irish bookmaker, is also hanging several "interesting" Trump prop bets.
Will Steve Bannon succeed Trump as POTUS during the next 4 years? Yes +2000
Will Trump withdraw US from the UN? Yes +700
Will Trump back Taiwanese independence? Yes +350
Will Trump visit North Korea during his 1st term? Yes +5000
Will Trump broker peace in the Mid East? Yes +5000
Will the Border Wall begin being built in 2017? Yes +100
Will Mexico pay for the Border Wall? Yes +2500
Will Trump and Putin receive a joint Nobel Peace Prize? Yes +5000
First family member to condemn a decision Trump Makes? Tiffany +600, Ivanka +700, Eric/Donald Jr +900, Barron +1600
Will France ask for the Statue of Liberty back? Yes +5000
Will Trump meet with a KKK leader during his first term? Yes +3300
Will Trump legalize waterboarding? Yes +700
Will Trump re-open Alcatraz as a working prison? Yes +1400
https://twitter.com/Josh_Insights/status/836646752178556928
Trump's supporters are ecstatic with his performance thus far (his approval rating among Republicans is a staggering 85%). However, the country remains bitterly divided. Overall, Trump's approval rating stands at 44%, a "record low for a newly inaugurated commander-in-chief."
Trump has gotten in hot water by relentlessly attacking the media and trying to pass a controversial immigration ban. He has also been plagued by leaks coming from within his administration. Worst of all, he remains dogged by allegations that his campaign colluded with Russia to help him win the presidency. As a result, many sportsbooks are posting odds for Trump to be impeached.
https://twitter.com/Josh_Insights/status/836635447090634752
Some books have already begun posting 2020 odds. At BetOnline, Trump is that favorite at +180, followed by Vice President Mike Pence (+600). The leading Democratic contender is Massachusetts Senator Elizabeth Warren (+650).
Early 2020 Odds (BetOnline)

Trump +180
Pence +600
Warren +650
Michelle Obama +1000
HRC, Booker, Biden, Cuomo +2500
Bernie, Ryan +2800 pic.twitter.com/E90UTo9mD5

— Josh Appelbaum (@Josh_Insights) February 28, 2017
What do you think?
Will you be watching Trump's prime-time speech tonight? Do you see any prop-bets worth betting? Please leave your thoughts in the comments section below.