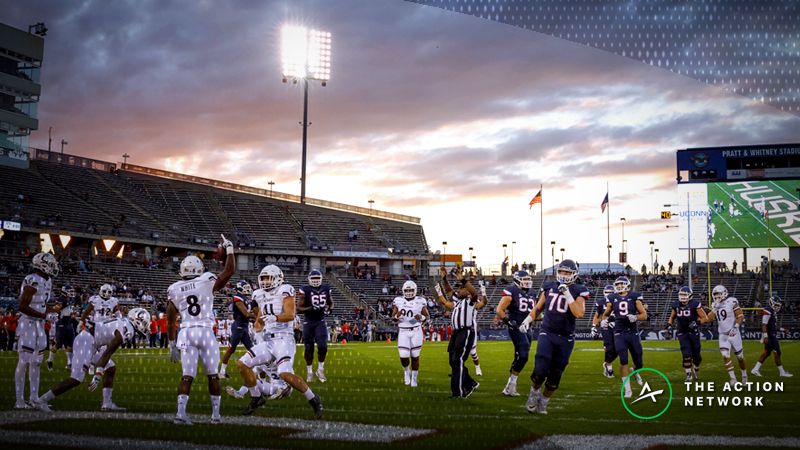 Wet, Windy Forecast Sending Massachusetts-Connecticut Over/Under Plummeting
Unfortunately for fans of weather, smart analysis and entertainment value, Marky the Meteorologist is on vacation this week, presumably using the time to hone his craft.
Luckily, the forecasts for college football's Week 9 slate are much milder than what we experienced last weekend as 18 games were played in winds averaging at least 10 mph.
As of Thursday, eight Saturday games project to experience double-digit winds, and none is forecasted for winds higher than 15 mph.
As we know from our Bet Labs software, unders are 1,027-861-25 (54.4%) in college football games played in winds of at least 10 mph since 2005, so bettors should keep tabs on which matchups will be affected by weather.
Here are two of Saturday's games currently forecasted for double-digit winds:
*All lines based on opening and current over/unders from Pinnacle
Massachusetts at Connecticut
Saturday, Oct. 27 | 12 p.m. ET on ESPNU
Opening total: 74
Current total: 65.5
UMass-UConn is expected to be played in the windiest conditions of the week with steady 14-mph breezes that pick up throughout the game. In addition, an 83% chance of rain makes this forecast even sloppier.
It's no surprise to see this over/under dropping with both rain and wind expected in East Hartford, but a fall from 74 to 65.5 is massive.
Oregon State at Colorado
Saturday, Oct. 27 | 3 p.m. ET on Pac-12 Network
Opening total: 63.5
Current total: 62.5
Boulder is also expecting sustained winds around 13 mph on Saturday. With steady breezes forecasted, the over/under has dipped from 63.5 to 62.5 at Pinnacle.
BookMaker has even made the move down to 62, meaning the rest of the betting market could soon follow.
To see the rest of college football Week 9's windy matchups, sign up for Bet Labs and follow the Weather Unders Pro System.
This article was originally posted on ActionNetwork.com by PJ Walsh. Sports Insights is part of The Action Network.