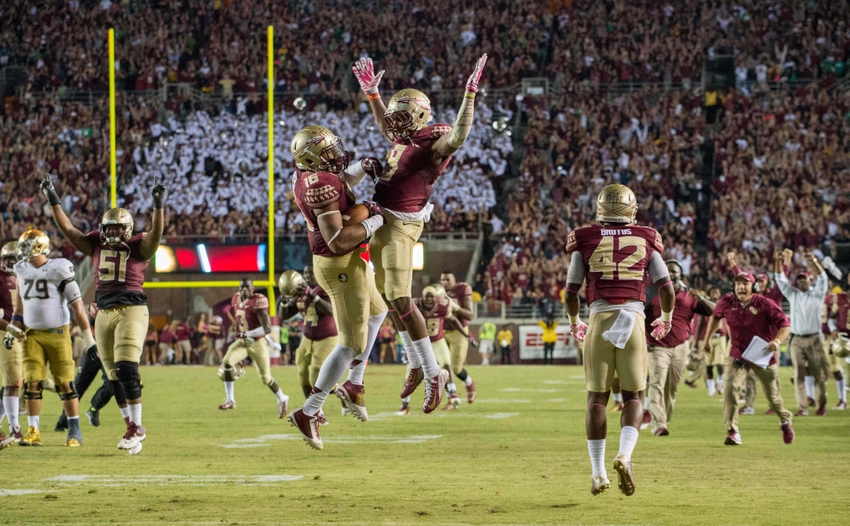 College Football Week 8 Recap
Another week in college football means another off-field incident with the NCAA. Not surprisingly, FSU QB Jameis Winston has been investigated for signing memorabilia (similar to UGA RB Todd Gurley the week prior) but FSU Head Coach Jimbo Fisher claims he's done nothing wrong. In any case, the line for the Notre Dame game was taken off the board early last week after opening FSU -13.5. By Thursday afternoon, 5Dimes was offering 2 different lines on the game: FSU -11 if Winston starts, FSU -6.5 if Winston doesn't start. By Friday night, most sportsbooks around the market was offering FSU -9.5/-10 without any stipulation of Winston playing. The public was heavy on Notre Dame as an underdog up until gametime and they weren't disappointed, as FSU hung on to win 31-27, giving ND the cover.
– Oklahoma found ways to lose at home against Kansas State, missing an XP that would have tied the game late in the 4th quarter and then missing a 19-yard field goal that would have given them the win. Kansas State hung on to win 31-30, essentially destroying Oklahoma's title hopes (moving from 9:1 to 115:1). With the cover and win, Kansas State Head Coach Bill Snyder moved to 25-10 ATS as an underdog since 2005, only bettered by Willie Taggart (South Florida) and Brian Kelly (Notre Dame). Both Taggart and Kelly also covered ATS as an underdog on Saturday.
– #4 Baylor was the only ranked team to be upset this week, while all other ranked losers lost to other ranked teams- #5 Notre Dame lost to #2 Florida State, #11 Oklahoma lost to #14 Kansas State, #15 Oklahoma State lost to #12 TCU, #21 Texas A&M lost to #7 Alabama, and #23 Stanford lost to #17 Arizona State.
Via our Bet Labs software:
– Last year there were 11 teams that failed to win more than 3 games ATS (combining to go 30-100 ATS). Those same teams have greatly improved and are now 43-35 ATS on the year, already 13 more wins combined than all of last season.
– Teams that were receiving less than 35% of spread bets went 11-4 ATS last week and are now 144-126 ATS on the year.
– Teams that were +7 or greater on the spread went 17-13 ATS this past week and are now 181-160 ATS on the year.
– Underdogs went 27-25 ATS this past week and are now 253-232 ATS on the year.
– One week after UMASS snapped their 12-game losing streak by thrashing Kent, Idaho snapped their 13-game losing streak with a win over New Mexico State. Interestingly, Idaho was actually a -5.5 point favorite in that game and won by 14 points.
– The Total for Baylor-West Virginia closed at 80, just the 12th time an O/U has closed above 80 over the last 10 regular seasons. The Under is now 6-6 in those games, and Baylor has been involved in 7 of the 12 games.
Marcus Mariota +140 from +300
Amari Cooper +1500 from +3500
Everett Golson +2000 from +500
Ameer Abdullah +2500 from +5000
Bryce Petty +3000 from +400
Ole Miss +650 from +1500
Georgia +750 from +1400
Oregon +750 from +1200
TCU +2000 from +5000
Oklahoma +11500 from +900
AP Top 10 Poll with Current Title Odds and Preseason Title Odds (via Sportsbook):
1. Miss St  +750 | +12000
2. FSU +750 | +500
3. Ole Miss +650 | +4500
4. Alabama +650 | +650
5. Auburn +1200 | +850
6. Oregon +750 | +750
7. Notre Dame +3500 | +6500
8. Michigan St +700 | +3500
9. Georgia +750 | +1300
10. TCU +2000 | +17500
Key Week 9 early line moves (via CRIS):
Miami FL -3 from +3
Alabama -17 from -16
Kansas State -10 from -9
West Virginia +2.5 from +3
Check out all of the latest Week 9 College Football betting lines, public betting trends, breaking injuries and more at our new free NCAAF live odds page.
Our College Football Best Bets have started the season 43-30 ATS (+9.1 units) performance and you can get them all through the entire season along with all other sports with our discounted packages.
[adrotate group="3″]