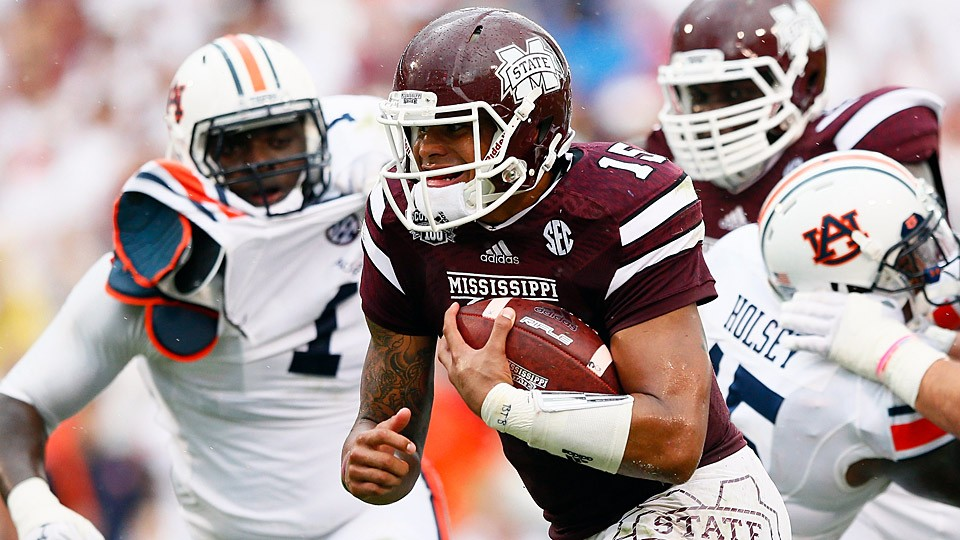 College Football Week 7 Betting Recap
College Football Week 7 Betting Recap:
– Thursday night's slate of games weren't spectacular, but each saw a close game in regards to the spread (Stanford, SDSU, UNLV).
– The big news of the week was the indefinite suspension to UGA RB Todd Gurley. This dropped UGA's odds vs. Missouri from -3 to -1 before the game was taken off the board completely, but interestingly re-opened UGA -3 (Georgia won easily, 34-0). The suspension also took his Heisman odds off the board everywhere, and dropped UGA's title odds from +800 to +1000. By Monday morning, they were at +1400.
– Baylor won in an epic comeback over TCU on Saturday afternoon. Trailing 58-37 with 11:38 to play, Baylor's odds to win were as high as +1600 in live betting at William Hill, according to David Purdum (@DavidPurdum). Baylor stormed back with big plays and solid defense and kicked a FG to win it 61-58.
– Mississippi State is the new #1 team in the AP Poll, and it's the first time that a team has gone from unranked to #1 over the span of 5 weeks (via @ESPNStatsInfo). Before the season when they were as high as 175:1 to win the title, MGM Sportsbook in Las Vegas took 29 small wagers on them (via @DavidPurdum).
Backup QBs that filled in:
Houston: Ward, Jr (covered)
Illinois: O'Toole (covered)
Syracuse: Wilson (covered)
Tulane: Montana (covered)
BYU: Stewart (did not cover)
Via our Bet Labs software:
– Last year there were 11 teams that failed to win more than 3 games ATS (combining to go 30-100 ATS). Those same teams have greatly improved and are now 36-32 ATS on the year.
– The four least popular bets of the day (Purdue, Texas, Kansas, Syracuse) all covered the spread, and the least popular Total (just 10% on the ECU-USF Under) easily covered.
– Teams that were receiving less than 35% of spread bets went 17-10 ATS last week and are now 133-122 ATS on the year.
– Teams that were +7 or greater on the spread went 19-8 ATS this past week and are now 153-130 ATS on the year.
– Underdogs went 29-25 ATS this past week and are now 226-207 ATS on the year.
– UMASS snapped their 12-game losing streak by thrashing Kent. Idaho now owns the nation's longest losing streak at 13 games.
Dak Prescott, Miss St, +175 from +180
Marcus Mariota, Oregon, +300 from +800
Bryce Petty, Baylor, +400 from no odds
Melvin Gordon, Wisconsin, +400 from +2500
Everett Golson, Notre Dame, +500 from +800
National Title Odds on the rise:
Michigan State +650 from +800
Mississippi State +700 from +2200
Oklahoma +900 from +1200
Ohio State +1000 from +1800
Oregon +1200 from +2500
AP Top 10 Poll with Current Title Odds and Preseason Title Odds (via Sportsbook):
Miss St  +700 | +12000
FSU +700 | +500
Ole Miss +1500 | +4500
Baylor +1500 | +3000
Notre Dame +1000 | +6500
Auburn +1200 | +850
Alabama +800 | +650
Michigan St +650 | +3500
Oregon +1200 | +750
Georgia +1400 | +1300
Key Week 8 odds (via CRIS):
Baylor -9 at West Virginia
Georgia -3.5 vs Arkansas
Stanford -3.5 at Arizona State
Alabama -12.5 vs Texas A&M
Mississippi -17 vs Tennessee
Key QB injuries for Week 8:
Clemson, DeShaun Watson, OUT
Cincinnati, Gunner Kiel, PROBABLE
Akron, Kyle Pohl, QUESTIONABLE
Indiana, Nate Sudfeld, OUT FOR YEAR
Tulane, Tanner Lee, QUESTIONABLE
Arizona St, Taylor Kelly, QUESTIONABLE
Texas San Antonio, Tucker Carter, QUESTIONABLE
Check out all of the latest Week 8 College Football betting lines, public betting trends, breaking injuries and more at our new free NCAAF live odds page.
Our College Football Best Bets have started the season 37-27 ATS (+6.5 units) performance and you can get them all through the entire season along with all other sports with our discounted packages.
[adrotate group="3″]