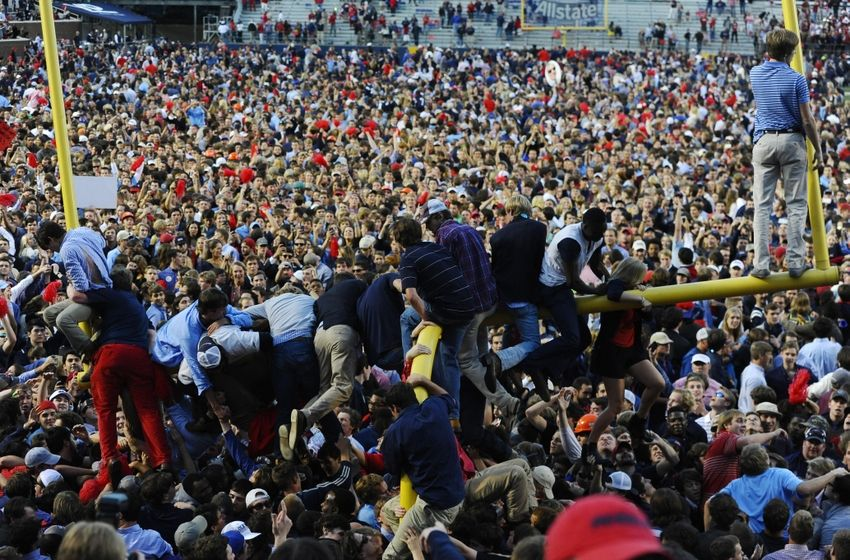 College Football Week 6 Betting Recap
College Football Week 6 Betting Recap:
– This was a memorable week in the college football season and it all started on Thursday night with Arizona's shocking upset over 21-point favorite Oregon. Arizona was as high as +1,375 on the moneyline at 5Dimes to beat the Ducks on their home turf and they came out with a 31-24 victory. The loss immediately dropped Oregon's title odds from 9:1 to 22:1 and improved Arizona's title odds from 225:1 to 125:1. By Monday morning, Arizona was as low as 50:1 at Sportsbook.com.
– Friday night then brought on another huge road upset win, this time Utah St beating 21-point favorite BYU. Heisman hopeful QB Taysom Hill suffered a broken leg for BYU during the game and they were never able to recover. These two upsets set the stage for a tremendous Saturday of football.
– Saturday was a great day for sportsbooks with a number of upsets and late covers (Ole Miss, Notre Dame, Nebraska).
Most Popular Parlays/Teasers: 
NIU 97% (did not cover)
BGSU 94% (did not cover)
GA Southern 93% (did not cover)
MTSU 92% (did not cover)
Baylor 91% (covered)
Via Todd Fuhrman (@ToddFuhrman), Pros were on:
Indiana (covered)
Memphis (covered and won outright)
TCU (covered and won outright)
Florida (covered and won outright)
Ole Miss (covered and won outright)
Colorado (did not cover)
Nebraska (covered)
Joes were on:
ECU (did not cover)
Marshall (covered)
Oklahoma (did not cover, lost outright)
Baylor (covered)
Alabama (did not cover, lost outright)
Bad Beat/Stupid Coaching Decision:
Texas A&M -1.5 2H.  The 2H odds were Texas A&M -1.5 and with the 2H score of Miss St 20-14, bettors on A&M needed a TD and 2-point conversion to cover. Texas A&M rallied late in the game despite being down big and scored a TD to make the game 48-30 with less than 2 minutes left. Instead of going for 2 to get the game to 16 points (only 2 possessions), A&M Coach Kevin Sumlin decided to kick the XP to make it a 17-point game and breaking the hearts of A&M 2H bettors.
Ranked teams to lose in Week 6 with their closing spreads:
ORE -21.5
BAMA -4
OKLA -3
TA&M +2.5
UCLA -13
STAN -3
LSU +6.5
USC -11.5
WISC -7.5
BYU -21
NEB +6.5
Via our Bet Labs software:
– Last year there were 11 teams that failed to win more than 3 games ATS (combining to go 30-100 ATS). Those same teams are now 31-27 ATS this year.
– Air Force defeated Navy 30-21, leaving the game Under the Total of 56. Unders are now 20-7 between service academies (Army, Navy, Air Force) since 2005.
– There are still two teams that haven't covered a game yet (UCONN, UNC). Both are 0-5 ATS.
– Miami Ohio snapped their 21-game losing streak with a 27-point comeback to beat UMASS. Now UMASS holds the nation's longest losing streak (12) with Idaho.
UGA RB Todd Gurley +175 from +350
MS-ST QB Dak Prescott +180 from +1500
AUB QB Nick Marshall +400 from +1500
National Title Odds on the rise:
UGA +800 from +1200
MI-ST +800 from +1400
ND +1000 from +2800
MISS +1500 from +2800
MS-ST +2200 from +3500
Key Week 7 odds (via CRIS):
Baylor -10.5 vs. TCU
Texas A&M -3 vs. Ole Miss
LSU -2 at Florida
Oregon -3 at UCLA
USC -2.5 at Arizona
Check out all of the latest Week 7 College Football betting lines, public betting trends, breaking injuries and more at our new free NCAAF live odds page.
Our College Football Best Bets have started the season 33-24 ATS (+5.8 units) performance and you can get them all through the entire season along with all other sports with our discounted packages.
[adrotate group="3″]