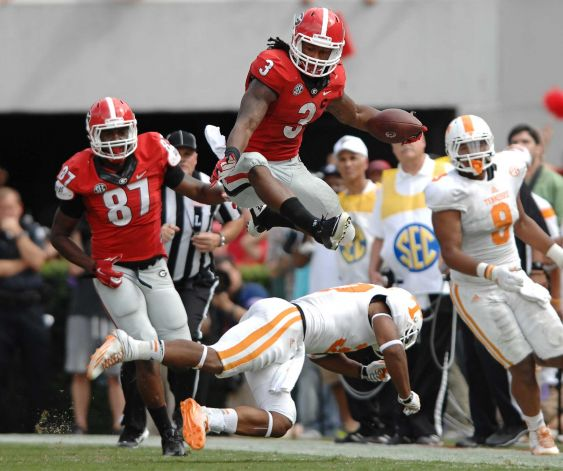 College Football Week 5 Betting Recap
College Football Week 5 Betting Recap:
– In what was hyped to be a competitive Top-25 meeting on Thursday night, UCLA clobbered ASU on their own turf 62-27. UCLA QB Brett Hundley improved his Heisman status yet again, moving from 25:1 to 20:1 by Friday morning and to 12:1 by Monday morning after compiling over 400 total yards and 5 total TDs.
– Two of the four largest line moves of the day actually lost outright. Michigan moved from -8 to -13 and BC moved from -4 to -9.5 but both lost their games outright at home. UMass opened +10.5 and closed at +4.5 which was big because they ended up losing by 5 points. But the biggest move of the day was on NC State from +23 to +17 even with Jameis Winston returning for FSU. NC State was competitive all game but ultimately lost 56-41, covering both the opener and closer and improving NC State to 9-1 ATS in their last 10 games against FSU.
– Via Todd Fuhrman (@ToddFuhrman): Pros were on Maryland (covered and won outright), Iowa St (did not cover), Colorado St (covered and won outright), Texas St (covered and won outright), UTEP (did not cover). Joes were on Pitt (did not cover, lost outright), Rutgers (covered), Louisville (did not cover), TCU (covered), UAB (did not cover, lost outright), ULM (did not cover), and Nebraska (covered).
– Bad Beats:
Part I: Texas State at Tulsa Under 65 (via Jason Logan of Covers (@CoversJLo)): Game was 7-0 at halftime and on pace for just 14 total points. The teams were tied 17-17 at the end of regulation and Under bettors were still feeling OK unless the game went into at least 3 OT's. Well, it did, and the final score ended 37-34, sending the total over by 6 points.
Part II: Tulane at Rutgers 1st half Over 27.5: In a game that most probably didn't notice, Rutgers led Tulane 21-0 with 6 minutes left in the 1st half and Over bettors needing just a touchdown and extra point to win their bet. Tulane did their part and scored quickly on a long TD run but their kicker missed an Extra Point to leave the score at 21-6 and still Under the 1st half total. Tulane then got another chance to score but missed a 36-yard Field Goal with 12 seconds left in the half to keep the 1st half total at 27.
– Via our Bet Labs software: Moneyline underdogs of +200 or greater are 101-92 ATS but are just 34-161 on the ML for -31.61 units.
– Last year there were 11 teams that failed to win more than 3 games ATS (combining to go 30-100 ATS). Those same teams bounced back to go 22-16 ATS through the first four weeks but went just 2-7 ATS in Week 5.
– In Week 5, Home teams went 20-30 ATS and are now 158-155 ATS on the season. Favorites went 24-28 ATS and are now just 157-166 ATS on the season.
– Top 25 teams are now 40-41 ATS against unranked teams on the year, and Top 5 teams are just 6-11 ATS on the year.
– Brett Hundley's big performance on Thursday night catapulted him from +2500 to +1200 to win the Heisman Award. Here are the considerable movers for the 2014-15 Heisman Odds following Week 5:
UGA RB Todd Gurley +350 from +1500
Nebraska RB Ameer Abdullah +800 from +2000
UCLA QB Brett Hundley +1200 from +2500
Wisconsin RB Melvin Gordon +1800 from +2800
– Only 1 ranked team went down to an unranked team this week (South Carolina losing to Missouri) but it was a devastating one, moving SC from +4500 to +100000 to win the title. Here are the major moves for the 2014-15 National Title Odds following Week 5:
South Carolina +100000 from +4500
Georgia +1200 from +1600
UCLA +1200 from +1400
Baylor +1200 from +1800
Mississippi State +3500 from +5000
– Key Week 6 games (via CRIS):
Alabama at Mississippi (Alabama opened -4.5 but 82% of bets has pushed them to -6)
Notre Dame at Stanford (Stanford opened -2.5 but with over 60% of bettors on the Irish, the current number is now Stanford -1)
Texas A&M at Mississippi State (Miss St opened +2.5 but despite split betting, have moved to -1.5)
LSU at Auburn (Auburn opened -9 but the public is all over LSU, with 79% of bets moving the line down to Auburn -7.5)
Arizona State at USC (USC opened -9.5 and receiving the slight majority of bets, moving them to -10.5)
Florida at Tennessee (Game opened as a Pick 'Em but over 70% of bets has moved Tennessee to -1)
Check out all of the latest Week 5 College Football betting lines, public betting trends, breaking injuries and more at our new free NCAAF live odds page.
Our College Football Best Bets have started the season 30-20 ATS (+7.20 units) performance and you can get them all through the entire season along with all other sports with our discounted 6-month Pro package.
[adrotate group="3″]