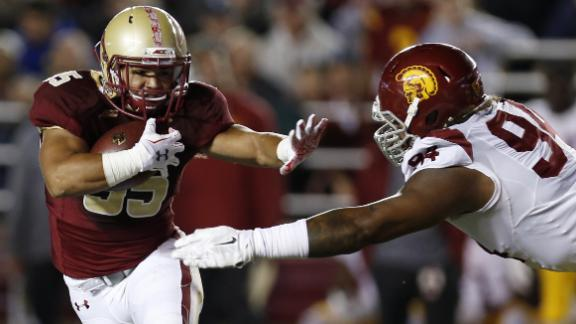 College Football Week 3 Betting Recap
College Football Week 3 Betting Recap:
– Something wacky always seems to happen on Thursday nights and this week it was the BYU-Houston 1st half finish. Houston was +13 for the 1st half and with 3:12 to go down 23-0, Houston kicked a FG and threw a TD pass to cut the lead to 23-9 but then they missed the extra point. However, Houston got the ball back at the end of the half and completed a Hail Mary with no time left on the clock to cut the deficit to 23-15 at the half and somehow cover the 1st half spread.
– Most popular NCAAF parlayed teams: Arizona State 95%,  Texas A&M 93%,  UCLA 90%,  NIU 88%,  USC 86%. Only NIU covered the spread out of the five and USC lost outright as an 18-point favorite.
– The lesser bet team covered in 3 of the 4 most bet NCAAF games of the day with only Oklahoma covered as a public favorite:  Georgia-South Carolina,  UCLA-Texas,  Tennessee-Oklahoma,  Purdue-Notre Dame
– Biggest NCAAF Saturday Spread moves: Georgia So. +22.5 to +17 (Covered),  Old Dominion -14 to -19 (Did not cover),  Utah St. -11 to -15 (Won by 12),  Arizona -15 to -19 (Did not cover)
– Biggest NCAAF Saturday OU moves: IND-BGSU 69.5 to 75.5 (Over),  AF-GSU 59 to 64 (Over),  USC-BC 51 to 56 (Over)
– Via our Bet Labs software: Moneyline underdogs of +320 or greater went 0-28 straight up in Week 1 and just 10-18 ATS. In Week 2, they improved going 2-31 straight up and a very good 22-11 ATS. In Week 3, ML dogs of +320 or greater did even better going 4-27 straight up but just 15-16 ATS.
– NCAAF Best Conferences ATS in 2014: Conference USA 24-13,  SEC 23-16
– NCAAF Worst Conferences ATS in 2014:  Big Ten 15-23,  Pac-12 14-19
– Last year there were 11 teams that failed to win more than 3 games ATS (combining to go 30-100 ATS). Those same teams have bounced back tremendously and are now 17-12 ATS through the first three weeks of the season.
– In Week 3, Home teams were 27-29 ATS and Underdogs were 31-27 ATS.
– NCAAF Dogs are now 114-101 ATS this season so far. NFL Dogs are also out to an 18-12 start ATS. Via @SharpFootball, should we have expected this? Hint: Yes.
– BYU QB Taysom Hill moved from 70:1 to 40:1 to win the Heisman Trophy before Thursday's game and moved again to 18:1 following the game. Other major moves for the 2014-15 Heisman Odds following Week 3 include (Sportsbook):
Baylor QB Bryce Petty +1600 to +800
Georgia RB Todd Gurley +550 to +1500
BYU QB Taysom Hill +4000 to +1800
– USC took a major hit to their title chances, losing at Boston College. They had moved from +2000 to +1200 after beating Stanford last week, but are now all the way down to +3000. Other major moves for the 2014-15 National Title Odds following Week 3 include (Sportsbook):
Auburn +1200 to +800
Georgia +1000 to +1800
Notre Dame +6500 to +2500
– Key games heading into Week 4 (odds via CRIS):
Auburn at Kansas State (Opened Auburn -7.5 and has moved to -10 with 82% of bettors on Auburn)
Florida at Alabama (Opened Alabama -15 and is now at -14.5 with bets roughly 50/50)
Clemson at Florida State (Opened FSU -19.5 and moved to -20 despite 67% of early bets on Clemson)
Miami (FL) at Nebraska (Opened Nebraska -8 but has moved to -7 despite 64% of bets on Nebraska)
Check out all of the latest Week 4 College Football betting lines, public betting trends, breaking injuries and more at our new free NCAAF live odds page.
You can also check out systems we've added to the Bet Labs Think Tank including a profitable way to take advantage of Top 25 rankings.
Our College Football Best Bets have started the season with a solid 18-13 ATS (+3.3 units) performance and you can get them all through the entire season along with all other sports (including NFL which has started 8-2 ATS) with our discounted 6-month Pro package.
[adrotate group="4″]