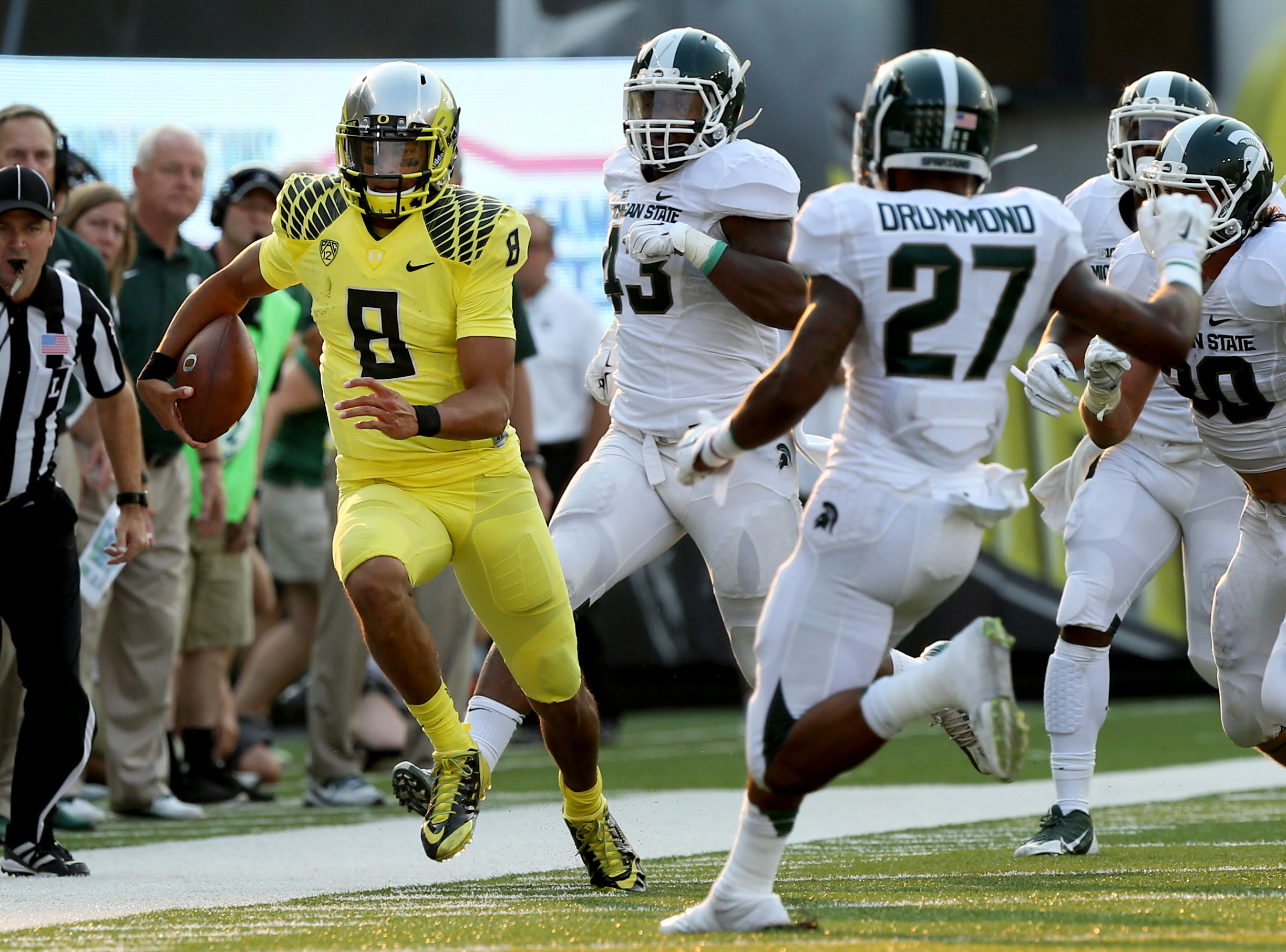 College Football Week 2 Betting Recap
College Football Week 2 Betting Recap:
– The Thursday night game wasn't a marquee matchup but was an interesting one for bettors. Line closed on Arizona -8, OU 55. With Arizona up 26-23 and no time left in the game, they intercepted a pass and returned it for a TD but the play was ruled an illegal forward pass, leaving bettors on Arizona -8 and the Over 55, very unhappy.
– The Alabama/FAU game was suspended and completed after just 52 minutes of play. The game was technically graded as a no-action at sportsbooks because NCAAF games are not considered Final until 55 minutes are played. FAU opened 40.5 and moved to 42.5 without QB Jaquez Johnson, and the game interestingly 'ended' 41-0 Alabama.
– Bad Beat? Oregon St was favored by 9.5 over Hawaii and took a 38-7 lead into 4th qtr. Hawaii then scored 23 unanswered points in 4th qtr to get the backdoor cover as it ended OSU 38, Hawaii 30.
– Biggest Line Moves of the weekend: Akron +19.5 to +13.5, Auburn -29 to -33, Kentucky -9.5 to -13, New Mex +27 to +23.5.
– Biggest OU Moves of the weekend: SMU-UNT 52.5 to 44,  AF-WYO 58.5 to 51, KSU-ISU 60.5 to 54.5, NMSU-GSU 60.5 to 66.
– Michigan State-Oregon was by far the most bet game of the day with public bettors on MSU (2.5:1 ticket count according to David Purdum) but sharper money on Oregon. Sharps moved the line from Oregon -11.5 to -14 despite less than 40% of spread bets all week. Oregon scored 28 unanswered points to come back in the 2nd half and beat Michigan State 46-27 and cover the spread.
– 15 teams scored 50+ points on Saturday including 6 teams scoring 60+, 3 teams scoring 70+, and 1 team scoring 80+ points.
– Via our Bet Labs software: College football home favorites receiving less than 30% of spread bets have gone 40-29 for +9.1 units and a 13.2% ROI since 2005 and Illinois almost fit that criteria before closing at 31% as a 3-point favorite (Won and covered).
– Moneyline underdogs of +320 or greater went 0-28 straight up in Week 1 and just 10-18 ATS. In Week 2, dogs of +320 or greater went 2-31 straight up but a very good 22-11 ATS, with Virginia Tech +367 and La Tech +532 covering and winning outright.
– The best conferences ATS were the Independent (5-0) and Conference USA (8-3). The worst conference ATS by far was the Big Ten, going a terrible 2-11 ATS.
– Last year there were 11 teams that failed to win more than 3 games ATS (combining to go 30-100 ATS). Those same teams are now 11-9 ATS through the first two weeks of the season.
– In Week 2, Home teams were 33-40 ATS, Underdogs were 41-32  ATS, and Overs were 38-35.
– NCAAF Dogs are now 83-74 ATS this season so far. NFL Dogs have also done well, going 10-4 ATS in Week 1. Via @SharpFootball, should we have expected this?
– Major moves for the 2014-15 Heisman Odds from Week 1 to Week 2 include (via Sportsbook.com):
USC QB Cody Kessler: +3000 to +2200
BYU QB Taysom Hill: +7500 to +4000
Auburn RB Cameron Artis-Payne: +2800 to +1500
– Major moves for the 2014-15 National Title Odds from Week 1 to Week 2 include (via Sportsbook.com):
USC: +2000 to +1200
Virginia Tech: +20000 to +6000
BYU : +35000 to +7000
– Key games heading into Week 3:
Georgia -5.5 at South Carolina (UGA getting 80% of early bets)
Tennesse +21 at Oklahoma (Bets currently 50/50)
UCLA -7 vs. Texas (UCLA currently getting 91% of bets, game is in Arlington, Texas)
Check out all of the latest Week 3 College Football betting lines, public betting trends, breaking injuries and more at our new free NCAAF live odds page.
You can also check out systems we've added to the Bet Labs Think Tank including a profitable way to take advantage of Top 25 rankings.
Our College Football Best Bets have started the season with a solid 13-7 ATS (+4.82 units) performance and you can get them all through the entire season along with all other sports with our discounted 6-month Pro package.
[adrotate group="4″]