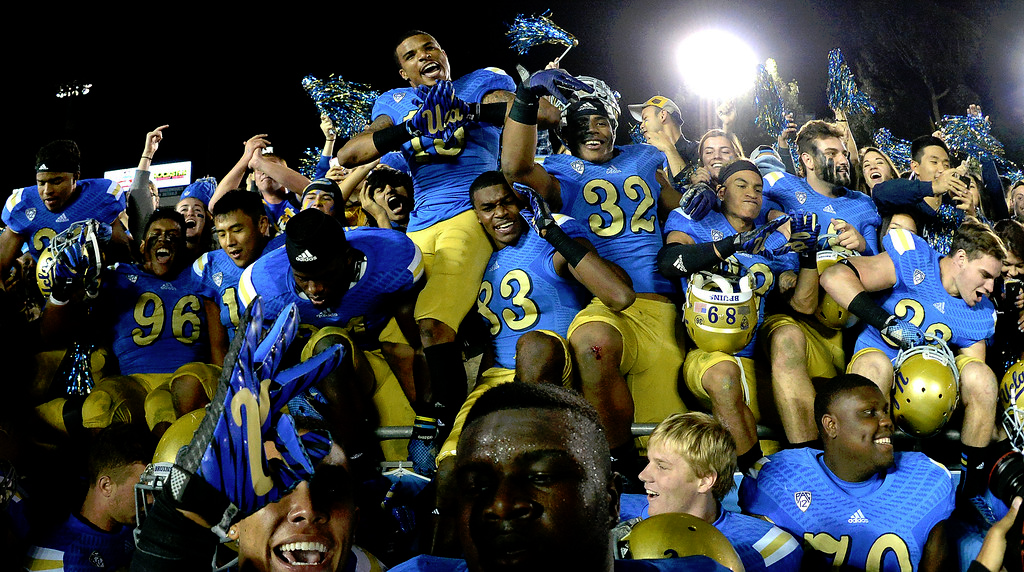 College Football Week 13 Betting Recap
– College Gameday was in Cambridge, MA this past weekend for Harvard-Yale and there was free money available to anyone with both a 5Dimes and Sportsbook account. The following prop bet allowed bettors to bet the + money on both sides to ensure a profit:
Who will Lee Corso pick to win?  Sportsbook: Harvard -400  |  Yale +250    5Dimes: Harvard +190  |  Yale -270
Corso ended up picking Yale, which cashed at +250 at Sportsbook.
– FSU remains unbeaten on the season but fell to just 3-8 ATS this year after narrowly escaping with a 20-17 win over BC. Sharps saw this coming though, as Florida State dropped from -20 to -16 by the start of the game and BC was in it the whole way through.
– Oklahoma true freshman RB Samaje Perine broke Melvin Gordon's single-game rushing record (which stood for an entire 6 days), totaling 427 yards against Kansas. Perine has no Heisman odds available anymore but was in the Top 15 before the year even began, so his production shouldn't be a complete shock.
– Arkansas won their second straight SEC game last week after losing 17 straight conference games. According to chief oddsmaker Ed Salmons at the LV Superbook in Las Vegas, Arkansas would be just +1.5 if they played FSU on a neutral field right now.
Via our Bet Labs software:
– The 11 schools that failed to win more than 3 games ATS last season (30-100 combined ATS) are now 66-53 ATS this season.
– The Total for Wake Forest-Virginia Tech closed at 37.5, the lowest of the season and lowest since October 5, 2013. Unsurprisingly the teams went into overtime tied 0-0 and since 2005, the Under is now 139-101 involving either Va Tech or Wake.
Marcus Mariota -700
Melvin Gordon +200
JT Barrett +2,500
Trevone Boykin +5,000
Jameis Winston +7,000
Dak Prescott +10,000
Amari Cooper +10,000
Current Title Odds | Highest Odds during season:
Alabama +175     |   +800 on October 13
Oregon +450       |  +2,500 on October 6
Ohio St +600      |   +3,000 on September 8
Baylor +700        |   +3,000 on November 3
Florida St +750   |   +850 on November 10
TCU +750           |   +17,500 on August 23
Miss St +750      |  +12,000 on September 15
TCU -6.5 at Texas (Over 60% of early bets on TCU but line has stayed at -6.5)
LSU -2.5 at Texas A&M (Nearly 70% of early bets on LSU but line remains at -2.5)
Ohio St -20 at Michigan (Despite losing Heisman favorite Braxton Miller at the beginning of the year, OSU is on a title quest and 80% of bettors expect a blowout over Michigan)
Wisconsin -13.5 vs. Minnesota (Betting has been split but Wisky has moved from -13 to -13.5 at Pinnacle. However, they've moved from -14 to -13 at CRIS, likely indicating sharps are on Wisconsin under -14 and Minnesota at +14 and above.
Oregon -20 at Oregon St (No surprise the early bettors are on Oregon but no line movement yet)
UCLA -4.5 vs. Stanford (UCLA getting nearly 80% of early action)
Florida HC Will Muschamp "mutually" agreed to leave the University after the season but he has a chance to go out with a bang against rival FSU. This will be the fifth straight game that Florida has been an underdog to Florida State but the Gators are getting the early love with over 70% of bets, moving them from +10.5 to +7.5.
We're currently extending our Pro trial to 6 DAYS which includes all of our College Football Best Bets (61-45 ATS for +10.4 units won this season) and our Contrarian plays (35-24 for +8.1 units) as well as Live Odds, Betting Trends, Breaking News, Line Predictions, Alerts, and more.