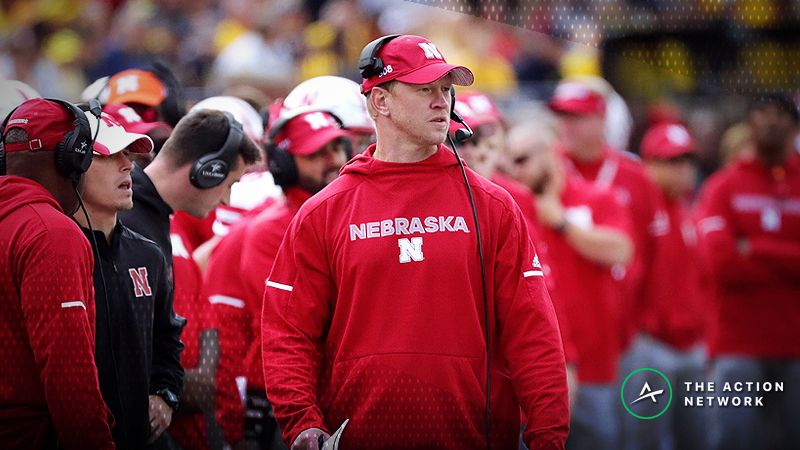 Sharp Action Driving One of the Biggest CFB Line Moves of the Year
You could say Nebraska's attempt at a miracle turnaround under Scott Frost isn't going quite as planned. The Huskers are 0-5 through their first five games this season, featuring home losses to both Troy and Purdue.
Their Week 7 opponent, on the other hand, is coming off two very impressive performances against big and little brother in the state of Michigan.
Northwestern nearly knocked off the Wolverines, ultimately falling, 20-17, after being up, 17-0, to open the game. The Wildcats followed that up with a 29-19 victory over No. 20 Michigan State on Saturday, and are now legitimate contenders to win the Big Ten West this season.
Nebraska and Northwestern have met seven times since 2000, and per Bet Labs, Nebraska has been favored in all seven games.
The two teams did meet in the 2000 Alamo Bowl — a game that I can only assume the ninth-ranked Huskers were favored over No. 18 Northwestern — and once in 1974, when then No. 10 Nebraska beat the unranked Cats, 49-7.
That means it's probably safe to assume that Nebraska has not been an underdog to Northwestern since at least the matchup before that one … you know, the one back in 1931.
Earlier this week, however, the Wildcats opened as 9-point favorites at BookMaker for Saturday's game.
While it looked like the 87-year trend was surely dead — and it still probably is — sharp bettors have given it a slim chance to live on.
Since opening, that line has fallen all the way down to -3.5. Although 5.5 points isn't enough to make this the largest line move this season, it's certainly among the most significant ones because of the key numbers it's fallen through.
According to Sportsbook Review's spread to moneyline converter, a 9-point favorite corresponds to a -368 on the moneyline, which implies a 75.05% chance on winning. A 3.5-point favorite would be only -174 — a 60.63% implied probability.
Now for those sharp bettors I mentioned.
It's still early in the betting week, but Nebraska has picked up only 28% of bets in this game, so public money is clearly not moving this line. The Huskers have also triggered three Bet Signals at Sports Insights, which are a result of market-wide line movement that occurs after a sharp wager.
What's more? Even though the Cornhuskers are getting fewer than 30% of bets, they've accounted for 41% of the dollars wagered in this game, indicating that bigger bets — the ones more likely from sharps — are behind them.
So while it's very unlikely that sharp bettors would see enough value to bet Nebraska all the way to a favorite, it's clear that they strongly disagree with the notion that there's more than a touchdown separating these teams, regardless of the Cornhuskers' allergy to winning thus far.
This article was originally posted on ActionNetwork.com by Danny Donahue. Sports Insights is part of The Action Network.