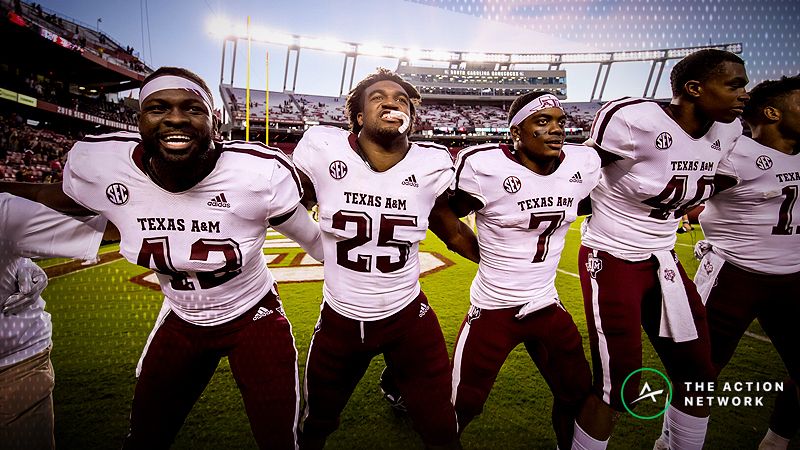 Texas A&M Leads Week 9's Most Popular College Football Bets
For the second time in three weeks, Texas A&M is the most popular bet in college football.
Public bettors have also been hammering away at two Pac-12 teams throughout the week, as Washington and Oregon round out Week 9's most popular bets.
Washington (-11.5) @ California
6:30 p.m. ET
The 79% of bettors behind Washington haven't been able to push this line past its opening number of -11.5, as the nearly 80% of tickets wagered on the Huskies account for only 33% of the money.
Why the public loves Washington: Cal is just 1-3 in Pac-12 play, with its lone win coming against one of the worst Power Five teams in the country (Oregon State).
It shouldn't come as a surprise that bettors are expecting the most talented team in the conference to roll on Saturday.
Texas A&M (+1.5) @ Mississippi State
7 p.m. ET
Eighty-five percent of bettors are taking the Aggies on Saturday, making them the most popular bet of the weekend and the only team to see more than an 80% backing. They've also drawn 88% of dollars to move from +2.5 to +1.5.
Why the public loves Texas A&M: Mississippi State is coming off an ugly loss to LSU in which it was able to muster only three points.
A&M, on the other hand, is coming off a bye and has won three straight SEC games to improve to 5-2 overall. Oh, and its only two losses have come against the top two teams in the country.
Oregon (-9.5) @ Arizona
10:30 p.m. ET
Oregon is attracting 77% of bettors this weekend, making the Ducks the third most popular bet. That backing hasn't led to much activity from oddsmakers, however, as this line is holding steady at its opening number.
Why the public loves Oregon: Even when Khalil Tate was healthy, there wasn't much to cheer about in Tucson this season.
So now with Tate potentially missing a second straight game, it's easy to see how bettors would be drawn to the No. 19 team in the country.
This article was originally posted on ActionNetwork.com by Danny Donahue. Sports Insights is part of The Action Network.