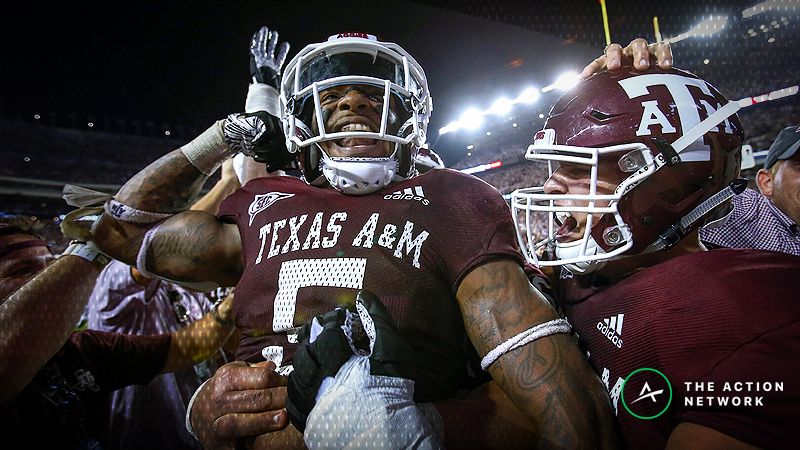 Texas A&M, Florida Lead Week 7's Most Popular College Football Bets
Public bettors enjoyed a 2-1 Week 6, as two of the three most popular bets last weekend were winners.
This week, they've hammered three more favorites, each of which is seeing at least 80% of both bets and money wagered.
Florida (-7) @ Vanderbilt
12 p.m. ET
Florida is the second-most popular bet of the weekend, getting 82% of bets and 86% of dollars wagered on the game. Despite that, the line has fallen from -8 to -7.
Why the public loves Florida: The Gators have been rolling. Since losing their opening SEC game to Kentucky — a loss that doesn't look nearly as bad now — they've reeled off four straight wins, with their two most recent victories coming against Mississippi State and LSU.
Laying only seven points against a 3-3 Vandy team makes Florida an unsurprising public favorite.
Texas A&M (-2.5) @ South Carolina
3:30 p.m. ET
The most popular bet of the week has been Texas A&M. The Aggies are drawing 86% of bettors and 89% of dollars, and have moved from -2 to -2.5 as a result.
Why the public loves A&M: Coming off a victory over a 13th-ranked Kentucky team — which beat South Carolina two weeks ago — Texas A&M has reentered the AP Top 25 at No. 22. A ranked team laying almost nothing against an unranked opponent is almost always going to have a heavy public backing.
Central Florida (-4.5) @ Memphis
3:30 p.m. ET
Believe it or not, this AAC matchup is the seventh-most heavily bet game so far this week. Eighty percent of those bets are coming on UCF, along with 82% of the money wagered, and the Knights have gone from -4 to -4.5 at Bookmaker.
Why the public loves UCF: Causal bettors know UCF as the team that didn't lose a game last year, and they can justify 4.5 points as an essential moneyline play. With the 10th-ranked Knights facing an unranked opponent, it should come as no surprise to see UCF on this list.
This article was originally posted on ActionNetwork.com by Danny Donahue. Sports Insights is part of The Action Network.